News
Stay informed about the latest enterprise technology news and product updates.
VMware ESX virtualization project yields 165% ROI for integrated technologies provider
In an effort to address space constraints, Open Solutions consolidated servers with VMware ESX, and in a mere nine months has yielded a 165% return on investment.
Ryan Marsee is the director of corporate networking at Open Solutions Inc., an integrated technologies provider with six data centers that span North America, and he has his hands full. Today, these six data centers house 450 physical servers and 300 virtual servers that support 3,000 clients and 2,800 employees and an estimated 2,000 to 3,000 customers for the 13-year-old Glastonbury, Conn.-based company.
But even with six data centers -- one at its headquarters and others in Indianapolis, Houston; Cherry Hill, N.J.; Chicago; and Vancouver, British Columbia -- Open Solutions had run up against serious space and server constraints, which in turn had undercut business opportunities.
"We were actually turning potential clients away because we didn't have a physical slot to put a server in," Marsee said. The company faced a critical decision: build a seventh data center or find a less costly alternative.
Data center cooling: An airflow return problem
Before Glastonbury, Conn.-based Open Solutions Inc. embarked on its virtualization project, Marsee realized that he had to address mission-critical cooling problems at its central data center.

"In addition to floor space being a problem, we were having hot spots in our data center that were really affecting server performance," said Marsee, even though the data center was outfitted with six 5-ton capacity Liebert Challenger 3000 computer-room air conditioners (CRACs).

At one time, Marsee said, his team had used fans and opened doors to address the problem and also considered moving all servers out of the Glastonbury data center to a secondary site. Various consultants said that the data center needed two additional Challenger 3000s – a costly solution to the cooling problem -- but after hiring an airflow specialist, Marsee learned that the culprit was in fact an airflow return problem.

"The way the exhaust air was getting back-thrown was truly inefficient," said Marsee. Two of the four rooms in the main data center didn't have CRACs [computer room air conditioners], so in those two rooms the air was back-circulating. Hot airflow wasn't returning to the Lieberts, so the top of the rooms couldn't cool. At the specialists's advice, Open Solutions turned the drop ceiling into a plenum return for all six existing Lieberts, used air ducts to force the hot air to the Lieberts, dropped vents above all of the racks, and replaced hard tile in the ceiling with perforated vents across all of the server racks. According to Marsee, thus far, the changes have worked efficiently. -- H.D.
So instead of building a costly new data center, Open Solutions turned to VMware Inc.'s server virtualization technologies to consolidate servers and conserve space. With virtualization, the company can scale to accommodate future growth. And today, nine months after launching the project, the company has already realized significant return on investment.

Running out of space
Two years prior to its enterprise-wide VMware deployment, Open Solutions moved into its current headquarters. Marsee and his 31-member IT staff chose the new site based on their predictions that the facility could support projected company growth over the subsequent few years. But with several unplanned company acquisitions, the new facility's data center quickly began to pose space constraints.

"By the time we moved in, we had grown to almost three times the size from a data center perspective," Marsee recalled. "Almost from day one, we were bursting at the seams."

According to Barb Goldworm, the president and chief analyst at Boulder, Colo.-based Focus Consulting, a firm specializing in virtual technoloies, adoption of virtualization is often an important piece of growing companies' strategies. "Businesses are being forced to take a more serious look at virtualizing to avoid both having to come up with capital for new data centers and because of acquisitions that dramatically expand a company's computing infrastructure."

A company-wide virtualization deployment
While Open Solutions had already delved into VMware ESX for test and development – it had already retired 35 physical servers in that environment -- it had yet to deploy virtualization in production. And in fact, the company might have deployed production environment-virtualization sooner but for a critical data center cooling problem that took six months to resolve.

Although Marsee realized that Open Solutions could benefit from a company-wide deployment, he still had to make the case to management that the company could gain the necessary flexibility to grow and react to new business needs and space concerns.

"We started with a minimal approach, got a couple of licenses and started consolidating. From there, we built the case and showed upper management how successful this could be," he said. As a result, Marsee received approval to continue the ESX project. "We then adopted a virtual-first policy."

About a year into the project and 100-plus virtualized servers later, however, Open Solutions confronted new hurdles. The company had eight dual-core 2U rack servers acting as host machines for 12 or 13 virtual servers each, and virtual sprawl had become an issue. "The environment grew where we weren't comfortable," Marsee recalled. "We were spending a lot of time troubleshooting the simple catches that you run into if you don't have been-there-done-that experience."
Virtual desktop infrastructure: The next step
With Open Solutions Inc.'s two offices in India and many remote workers, virtual desktop infrastructure (VDI) became the logical next step in for the Glastonbury, Conn.-based company's virtualization deployments.

But Open Solutions began with no previous VDI experience. After a satisfactory experience with its virtualization consolidation project, it also engaged Virtera to learn VDI fundamentals, including how to set up a provisioning server for Citrix Systems Inc. technologies. Previously, Open Solutions used Microsoft Terminal Services as a means for its employees in its two India-based offices to access the main data center, but sometimes transferring bandwidth-heavy data from the U.S. to India could take up to 12 hours.

"The problem was that one individual [using a resource-intensive application] can take down the whole farm or the whole server," Marsee said. "We were looking at being able to isolate that. We could have 15 to 25 people on each single terminal server. But if someone is using a resource-intensive application, it kills everyone's session."

Marsee rejected VMware ACE because of application latency. "Bringing the desktop to India isn't an option," he said. "We have to bring the desktop to Glastonbury, and with ACE you get RDP [Remote Desk Protocol] session latency," he said. Instead, Marsee deployed VMware Virtual Desktop Manager and does provisioning with Ardence. Marsee is now evaluating terminal device options to reduce desktop virtualization's total cost of ownership, and will soon test Pano Logic. --H.D.
Networking design also presented problems for the company's servers, especially at the 12:1 or 13:1 consolidation ratio. "Our uplinks to the core switches were a point of contention. The IOS [Internetwork Operating System] we were on and the Cisco switch firmware level created problems, as we couldn't get the throughput we needed to move as quickly with blade adoption as we would have liked," Marsee said.
Creating a scalable infrastructure
To design a successful, scalable virtualized infrastructure address Marsee enlisted outside help. After a first failed consulting firm engagement – the first firm lacked the necessary knowledge for Open Solutions' infrastructure size -- the company hired Virtera, CRI Technology's consulting branch.
A Virtera engineer devised a game plan for Open Solutions' current and future infrastructure. "He told us all of the things we could do to make improvements, and the things we were doing right, and put together a document," Marsee explained. "He also gave us a build document on how to build out hosts going forward," which included using 10 Gb redundant connections with blade servers to circumvent earlier problems.
Today, Open Solutions has virtualized the majority of its infrastructure on VMware ESX 3.5 and some on VMware ESXi. IT relies heavily on VMware High Availability, Distributed Resource Scheduler and VMware Consolidated Backup, and despite the size of its architecture, Marsee said he hasn't found a reason to buy third-party virtualization management software. The company has virtualized numerous applications, including Microsoft Active Directory and Exchange, PeopleSoft Financials, the company intranet and Microsoft SharePoint. Once the next version of VMware ESX is released, Microsoft SQL Server will be virtualized as well. So too, Open Solutions' disaster recovery plan is 100% virtualized, according to Marsee, involving live replication and backup self-replicating virtual tape library (VTL) technology.
Open Solutions has increased its adoption of HP ProLiant DL385 blade servers from a 1% to 15% year-over-year adoption rate to 20%, according to Marsee. With 64 GB of memory and quad-core processors, Marsee said he's satisfied with the 50:1 consolidation ratio achieved with blade servers, and server utilization is at about 45% of capacity (see Figure 1). With its virtualized infrastructure, Open Solutions can easily scale in accordance with the company's growth.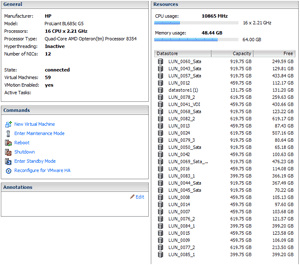 Figure 1
Nine months into the virtualization project, Open Solutions has realized an estimated 165% ROI from its virtualization efforts because of equipment it no longer had to purchase and improved time to delivery, according to Marsee. Despite these benefits, however, Marsee has a piece of advice for data center managers and architects: Plan. "Make sure you understand how virtualizing affects everything, from storage to network infrastructure – all aspects," Marsee emphasized. Without adequate planning, you simply have to address the problems that emerge – in full force – once a project is already in motion. That Band-Aid approach can be more costly and less efficient than architecting for certain issues up front. And if it means hiring – or firing – a consulting company to get a solid game plan, it's worth the money.
Hannah Drake is an associate editor at SearchVMware.com. Write to her at hdrake@techtarget.com. And check out our Virtualization Pro blog.
Dig Deeper on Server consolidation with virtualization