News
Stay informed about the latest enterprise technology news and product updates.
VMware cloud talk stirs interest -- and some skepticism
VMware CEO Paul Maritz pitched vSphere and related management tools as key to the company's cloud computing vision, but VMworld 2009 attendees want more proof, less talk, before buying in.
SAN FRANCISCO -- VMware is pretty well positioned for a cloud computing push given its virtualization strengths, but even ardent VMware shops aren't quite ready to swallow its cloud sales pitch whole.
Company CEO Paul Maritz took the VMworld 2009 stage sans tie and jacket on Tuesday to sell a number of upcoming vSphere tools and the company's cloud agenda to nearly 15,000 attendees.
"A lot of us have to deal with today's data center, built up with these pillars of complexity that kind of work. How do we get from there, to this promised land [of cloud computing]?" he asked.
His answer, of course, was VMware. Specifically, Maritz claimed that the cloud-oriented vSphere can solve the problems associated with data center complexity.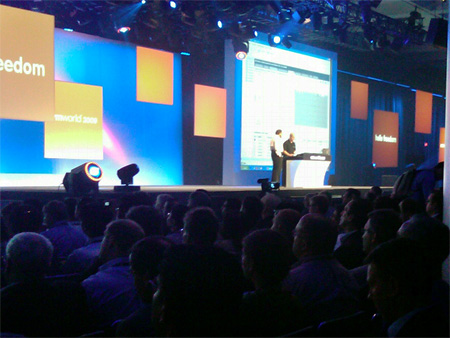 VMware CEO Paul Maritz and COO Tod Nielsen deliver VMworld 2009 keynote address.
Customers, many of whom are intrigued by the notion of cloud computing but also a bit put off by what they see as a lack of security and controls, want fewer words and canned demos and more real-life proof points.
Rick J. Scherer, a systems administrator at San Diego Data Processing Corp., a nonprofit IT organization that handles the city's IT needs, said the cloud vision sounds promising, but he isn't convinced it can work in real environments, despite VMware's attempts to show attendees how it works at VMworld.
"Show me a real VMotion of a virtual machine from my data center to [cloud hosting provider] Verizon within the vSphere client, not a fake demo doing a VMotion between two hosts in the same room," Scherer said.
The chief technology officer of a big Chicago-based financial company that runs thousands of virtual machines (VMs) expressed some confusion around where VMware is going in comparison with its parent company, EMC Corp.
"The Maritz vision is interesting and likely directionally correct, but many steps from reality," he said via email. "Interestingly, but perhaps not surprisingly, EMC has much the same pitch for what they are doing internally. We have built an internal cloud on vSphere and done some work with Amazon (which uses Xenworks not ESX as the hypervisor) on secure public clouds."
The CTO, who declined to be identified, maintained that companies like his want the potential benefits of cloud computing -- such as adding scale as needed and pay-as-you-go computing -- but he reiterated the usual corporate concerns about security and manageability.
"The compelling factor is speed and flexibility rather than cost. Challenges are manageability, reliability and security," he said. "The cloud business model is a little vaporous (pun intended) right now. Also, data movement didn't get any easier, so this is better for compute-intensive rather than data-intensive workloads."
Maritz's pitch is that vSphere furnishes "'the mojo" that lets IT move in-house apps into the cloud. The goal is to bring IT back to "the place of the mainframes" where you would "just drop your applications in the top of the machine, and they just work," he said.
In the next few months, VMware plans to launch a top-level management tool that lets IT break up segments of the data center into "virtual data centers" that IT will "be able to "slide into the cloud," Maritz said."
VMware is working with cloud service providers to provide clouds for vSphere users "with serious computing loads" who want to move them out of the data center and be able to move those loads back to the data center if they want to. So far there are over 1,000 service providers working with VMware on this initiative, Maritz said.
He also announced vCloud Express -- that lets vSphere users put applications in the cloud quickly. During a demonstration of the service, a VMware engineer entered credit card information and transferred the application to the cloud in just a couple of minutes. The cost? About a nickel an hour, or about $30 to $40 a month. VCloud Express is now in public beta with hosting partners Terremark, Logica, BlueLock, Melbourne IT and Hosting.com
Maritz said that over the next six months, VMware will introduce vSphere-related capacity-planning, configuration, operations scheduling and disaster recovery tools. New application management tools promise to give IT finer control over the development process.
Following the keynote, some show attendees said they are tired of hearing about cloud computing because it isn't something they are anywhere near ready to use.
Chris Wells, an administrator at ice cream manufacturer Dryer's, said, "The keynote was useless" because Maritz talked a lot about concepts and promises about what clouds can do for companies but didn't explain the "how" part." "I want to know how will cloud revolutionize what I'm doing. How does it work? They have been talking about this since last year, and I still don't know," Wells said.
Wells and other IT administrators at the show said cloud computing market is the "wild, wild West," with storage companies, networking companies and virtualization vendors trying to define what cloud computing based on what the vendors want it to be. The market is confusing -- there is no standard.
Virtualization consultant and "Gabe's Virtual World" blogger Gabrie van Zanten said that Maritz's cloud message isn't far-fetched for large corporations. Van Zanten added that some organizations are already using cloud computing, but for the average IT shop, putting applications into a hosted environment is not on the agenda.
Check out more VMworld 2009 coverage.
Let us know what you think about the story; email Bridget Botelho, News Writer
Dig Deeper on VMware conference coverage