VMware EVO:RACK timeline, features revealed
VMware EVO:RACK is still a work in progress that won't emerge for many months, but some details, including a new name, have been released.
SAN FRANCISCO -- The year-long wait for VMware's EVO:RACK hyper-converged infrastructure is over. Now enterprise IT can begin their wait for EVO SDDC.
At this week's annual VMworld conference here, company officials said EVO:RACK finally enters broader testing next month, but still won't be available until sometime toward the middle of next year. But they did re-brand EVO:RACK to EVO SDDC.The product will include the same base components as expected in EVO:RACK including vSphere, Virtual SAN 6.1 and NSX 6.2, which work together to provide the compute, storage and networking capabilities that runs on a single layer of software atop x86-server hardware.
What is new, however, is the addition of EVO SDDC Manager, described by company officials as an intelligent automation engine designed to simplify the power-up, provisioning and monitoring of both virtual and physical resources.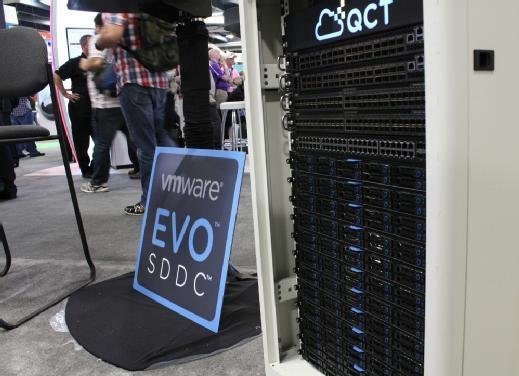 The new management software is capable of pooling resources across multiple racks making it appear to administrators as a single rack that can determine workload domain capacity based on individual performance needs. The product is also designed to handle lifecycle management of all the underlying hardware as well as VMware's software stack.
"[EVO:RACK] never made much of an appearance but the new management software is a necessary piece for most enterprises," said Herb Weiss, a procurement agent with a Hayward, Calif.-based insurance company. "It looks like they want both a strong software focus with the product as well as to own the management of it, if it is going to run on different vendor's hardware."
VMware has signed up three partners to sell the upcoming hyper-converged infrastructure (HCI) offering including Dell, VCE and Quanta Cloud Technology. Users eventually will have the option of buying the software direct from VMware and then work hand in glove with third-party integrators to piece together their own configurations.
EVO Manager will also work with the company's VMware vRealize OperationsManager, which provides operations management across both virtual and cloud infrastructures using predictive analytics.
Racks built and managed with VMware EVO SDDC will scale in capacity starting from one-third rack to multiple racks and thousands of nodes at single-server increments. Each fully populated rack will support more than 1,000 cloud-based virtual machines or more than 2,000 desktop virtual machines.
VMware officials didn't offer any updates on EVO SDDC's little brother EVO:RAIL, the company's lower-end HCI product. The product so far lags far behind the offerings of market leaders such as Nutanix and Simplivity.
Some users with large enterprises were not entirely disappointed by the lack of an EVO:RAIL update. One IT pro mentioned he has always been more interested in EVO:RACK, now EVO SDDC, in the first place.
"[EVO:RAIL] seems built more for smaller shops; EVO:RACK is what I am more seriously considering, but they need to get it into people's hands pretty soon," said one systems administrator and veteran user of a variety of VMware products. "I'll say this though, for EVO SDDC, they should keep the EVO:RACK name."