VExperts won't buy into VMware NSX without eval options
VMware NSX could be a game changer, but IT pros won't believe it – and won't invest in it – until they can test it for themselves.
SAN FRANCISCO -- VMware continues to push its software defined data center vision, but widespread adoption of NSX – a key portion of the SDDC software stack –lags as customers ask for better access and a try-before-they-buy option.
Earlier this year, VMware partnered with the VMware User Group (VMUG) to offer the EvalExperience program, which gives VMUG Advantage members who pay a $200 subscription fee access to year-long evaluation versions of many VMware products. It includes a number of platforms including vCloud Suite, various vRealize tools, and Virtual SAN, however NSX has remained conspicuously missing from the list of options.
But that could change soon.
A VMware employee within the NSX group said during this week's VMworld conference here the company has seen great growth in NSX adoption, but admitted that improving customer access was a challenge the company still hopes to solve, and hinted at upcoming news.
IT shops need to try NSX before they buy
Over the past year, VMware has offered several NSX training workshops to IT professionals around the country and talked up the product's benefits during keynote addresses at VMworld, but customers say it's been difficult to get hands-on experience in their own environments to see how network virtualization can help their business.
"We are a VMware [enterprise license agreement] customer and we have a fairly significant contract, and even with that we can't get access to the software to validate how it would work in our environment to see if it does what [VMware] marketing says it does," said Ben Moore, senior systems engineer at Preferred Mutual, an insurance company in New Berlin, N.Y."
"If they were to offer an [evaluation] trial, it would make it easier to sell to upper management, and prove that it can solve the problems we need it to solve," Moore said.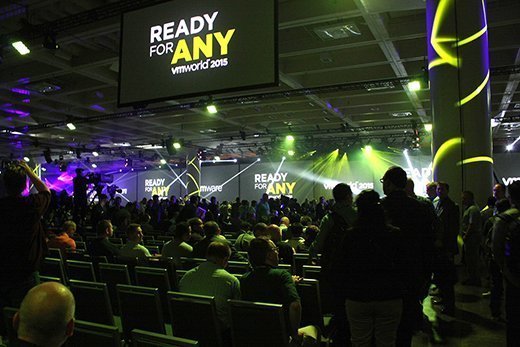 Part of VMware's hesitation to offer a free or limited trial version of NSX is because company executives believe the product could be too politically disruptive – crossing multiple traditional IT silos – and because it can be extremely complex to deploy, said Carl Brooks, IT analyst at 451 Research, an IT market analysis firm based in New York.
"VMware hasn't been open to giving it away because they think it's too much for the average enterprise user to navigate," Brooks said. "The reality is they need to do more to get it in the door. It's the crown jewel of their SDDC approach. Without NSX you can't do all of the great things they talk about."
VMware sells NSX with a perpetual license model starting at $4,995 per CPU and a term license starting at $34 per VM per month. VMware also recently bundled NSX with several other software products and it is sold as part of EVO SDDC, which won't be available until next year.
"[NSX] is a huge investment. How do you expect your customers to pay for such an expensive product without getting their hands on it first, when it's central to what you're trying to do?" Brooks said.
It's unclear whether VMware will ultimately relent to customer requests to offer more incentives or access options for NSX, but an evaluation version would be welcomed by many and could help convince potential customers of its value and ultimately spur adoption of a product that VMware needs to succeed.
"A trial version would be great and would absolutely help adoption," said Edward Haletky, principal analyst at The Virtualization Practice. "It's not a simple product and people have to learn it. The only way to learn it is to use it."
However, an NSX evaluation available only to a select group of customers may not be enough, Haletky said. A broader program to give vExperts the option to play with the software and then publicly share their experiences might do more to convince other IT pros to buy in to the software-defined data center vision.
"The question is whether they want to give it away to boost adoption, or sit back patiently and let the benefits accrue until enough people decide it's worth the investment," Brooks said. "[The latter] will work, but it's going to take an extra three or four years."
Nick Martin is a senior site editor for TechTarget's SearchServerVirtualization.com. Contact him at [email protected].
Margie Semilof also contributed to this report.