VCDX certification price change frustrates prospects
For the first time in years, VMware increased prices for its certifications -- and IT pros aren't thrilled with how much more they'll have to pay for the VCDX certification, in particular.
If you're thinking about becoming a VMware Certified Design Expert, prepare to spend a lot more than just time.
VMware increased prices for its certification exams -- in most cases, reasonable price hikes. But VMware tripled the price to become a VMware Certified Design Expert (VCDX), which has frustrated would-be certification holders.
The cost of a VCDX certification jumped from $1,200, which includes a $300 application fee and $900 defense fee, to $3,995 -- $995 application fee and $3,000 defense fee -- and goes into effect on April 1, 2017. VCDX candidates who apply for both March and June 2017 are locked into the old price, and VMware offers a voucher for the prior price, as well.
The largest price increase among VMware's other certifications was $50. The VMware Certified Advanced Professional (VCAP) exam increased from $400 to $450, while VMware Certified Professional rose from $225 to $250 and VMware Certified Associate jumped from $120 to $150.
This price hike comes three years after VMware implemented a VCP recertification policy, requiring IT pros to re-up every two years.
A VMware spokesperson said the previous price was "very low" compared to similar credentials, and moving forward, the VCDX certification will be priced according to its value. Plenty of VCDX-hopefuls are in the midst of their journey, having spent hundreds and possibly thousands of hours on designs and studying, but many won't take the VCDX exam until much later than March or June of 2017. Also, plenty of IT professionals don't pass on the first or second try, and they will have to pay triple to go through the process again.
"There is no doubt in my mind that this will reduce the number of VCDX candidates attempting the journey," said René van den Bedem, a triple VCDX certification holder and practice manager at RoundTower Technologies LLC, based in Cincinnati. "This price increase definitely removes the self-funded VCDX candidate from the equation."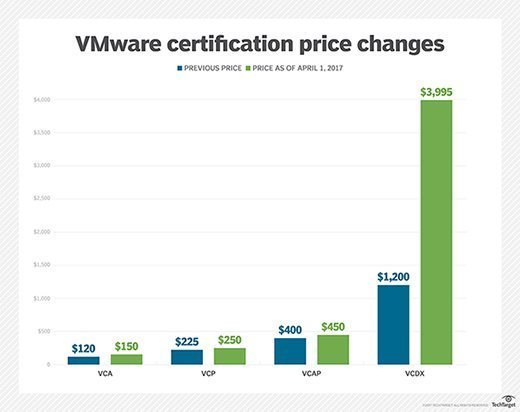 Van den Bedem is one of three people in the world who holds a VCDX certification in three paths: cloud management and automation (CMA), data center virtualization (DCV) and network virtualization (NV). While he said he understands the need to increase prices that haven't changed for a couple of years, the bigger issue is the spike in the cost of VCDX compared with the other three certifications.
"People achieving the VCDX certification are not really recognized or rewarded by VMware at this time," van den Bedem said. "When you achieve VCDX today, you get added to the VCDX Directory, you receive a voucher to buy a VCDX-branded T-shirt, you are entitled to the vExpert award and you can attend the VCDX Town Hall meeting at VMworld each year. Truth be told, the vExpert program has a higher profile than VCDX within the industry."
One question asked by many VCDX holders and potential candidates is where the extra revenue will go. In order to build, administer, maintain and grow a certification, the company needs to continue investing, according to a VMware spokesperson. The increased revenue will focus on improving infrastructure and processing, revising and improving scoring methods, better support for panellists in defense events, and sponsor workshops for candidates, he said.
If you're already a VCDX certification holder, adding an additional track -- CMA, DCV, NV or desktop and mobility -- costs $900 per certification. In order to upgrade a VCDX certification, such as from VCDX5 to VCDX6, you don't need to pay for the entire test or even a new track; you just have to pass the VCAP6 design exam for the proper tracks -- now $450, as noted above.
Currently, fewer than 250 people worldwide hold the VCDX certification. Due to the price increase and the difficulty of the certification, that number likely won't soar anytime soon.
Paul Woodward Jr., a systems engineer with an IT services provider headquartered in New York, holds both the VCP5-DCV and VCP6-DCV certifications, and he was on track to VCDX. He had planned to pursue a VCAP certification and eventually the VCDX certification, but those plans have changed.
"Over the last six months or so, I've been re-evaluating where I see data center technologies and my career focus going in the next five years, and I've been leaning away from being so tightly ingrained with just VMware technologies," Woodward said. "Up until the past week, VCDX was still on my radar. Now, with the price jump, I feel I can get better value for myself and my training dollars by pursuing multiple associate- and professional-level certifications, rather than the VMware Certified Design Expert title."
Woodward also noted that if he feels the need to obtain an expert-level professional title, he'll consider the Nutanix Platform Expert program because there is no cost.
"While this program is newer than the VCDX, it still shows an amazingly high level of technological understanding and expertise," Woodward said.
Ryan Lanigan is an associate site editor with TechTarget. Contact him at [email protected]
Dig Deeper on Virtualization costs, licensing and support issues