Share this item with your network: BACKGROUND IMAGE: iSTOCK/GETTY IMAGES
The data center of the future

iSTOCK/GETTY IMAGES
Power consumption solutions for modern virtual data centers
Data centers are taking small steps toward an energy-efficient future.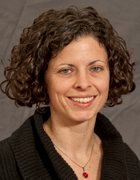 By
What will data centers look like in another decade or two? Will data centers run on DC power, using economizers and real-time infrared monitoring?
Maybe, but in the meantime, it's all about baby steps. The future of the virtual data center is creeping up on us, whether we're ready for it or not. But creeping is the key word—changes are often small, incremental moves on the path toward an efficient, powerful data center.
Some of what will power the data center of the future isn't so much glamorous as practical, workaday practices and technologies. Servers are getting more energy-efficient, but data center managers are learning how to use them more efficiently, too (see Steve Bigelow's piece for more on "chasing the daylight" techniques).
And Mike Laverick has discovered that many IT managers are still finding their way to virtual power management features. Expert Robert McFarlane says that energy efficiency's time has finally come in the data center: many years of talking about standards has led to a few that are becoming mandatory. And other changes are showing up outside the data center, rather than in it: Job titles and departmental relationships may change, as technologies consolidate and practices like chargeback become more common. Mobile devices, public clouds and social media are all making waves for data centers, too.
This continued evolution promises to keep data center managers busy and learning new things. Tell us what's on your data center wish list, and check out SearchServerVirtualization.com for the latest. We're as interested as you are to see what the future holds for virtual data centers.
Dig Deeper on Server hardware and virtualization