Five things I learned at VMworld 2012
There were a slew of product announcements at VMworld, but some of the most important things I learned won't appear in any technical release notes.
There are many reasons to attend a virtualization conference. Organizations expect that the employees they send will learn something about how to use new software, or be able to share insights with fellow coworkers. But, often the real value in a virtualization conference, like VMworld, is the ability to network and share ideas with like-minded IT professionals.
Sometimes the most important lessons you learn from a virtualization conference don't have anything to do with new product announcements or technical updates. With that in mind, here are five things I hadn't expected to learn at VMworld 2012 that you won't see listed in any technical release notes.
1. Sometimes rumors aren't true (or, they're hard to prove)
Rumors about VMware's purported public cloud infrastructure as a service intuitive, code named Project Zephyr, began turning up in early August. As usual, VMware was tight-lipped, responding to requests for comment simply by saying the company does not respond to rumors. The company's strong focus on its vCloud line, along with its slow adoption, had many wondering if it would build its own public cloud. So far, at least, it seems not.
At a breakout session titled "Datacenter of the Future," Bogomil Balkansky, VMware senior vice president for cloud infrastructure products, responded to a question about the company's vision for its cloud offerings by saying, "Our ambition is not to be a cloud service provider ourselves." While VMware has not officially denied Project Zephyr, or explained its plans for a large data center facility in Las Vegas, it seems the rumor is dead – for now.
2. When rumors are true, nobody's too surprised
Leading up to VMworld 2012, many attendees had heard about the rumor to nix the vastly unpopular vRAM licensing model that was first introduced with vSphere 5. Since then, the pricing model has been the focus of unnumbered complaints. At Monday's keynote, incoming VMware CEO Pat Gelsinger told attendees, "We heard you," and officially announced vRAM was no more. His words drew a modest applause from the audience, who undoubtedly had expected the announcement. Gelsinger paused a moment, and then admitted he predicted a more vocal reaction, prompting the crowd of 20,000 for another cheer. If it was a louder reaction Gelsinger was looking for, he likely would have gotten it if he instead announced vRAM would stay in spite of the complaints.
3. Planning lunch with 20,000 of your closest friends is hard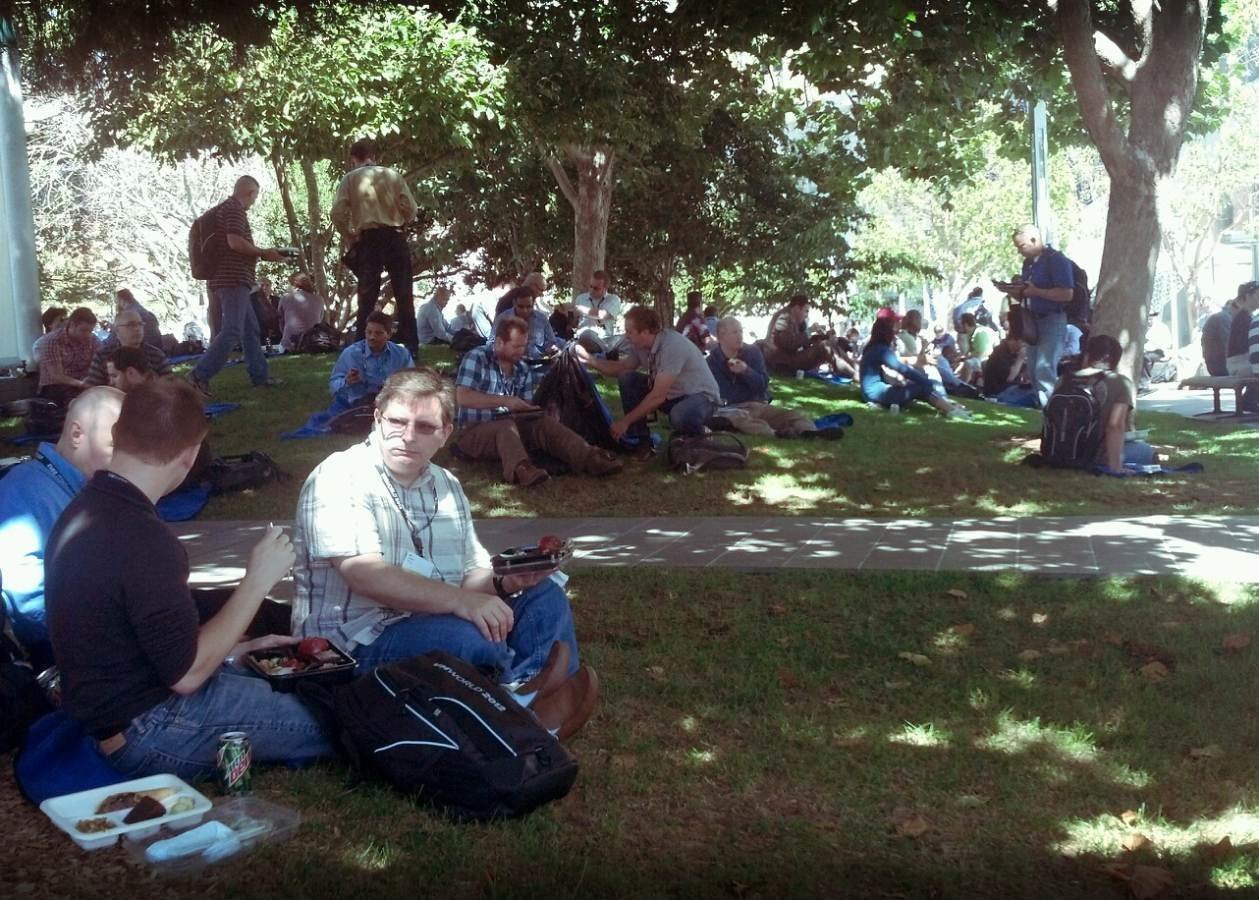 Lunch accommodations at VMworld 2012
I can't begin to imagine what a logistical nightmare it was to plan VMworld 2012. That said, there were few complaints on how well the event flowed. When 20,000 people cram into one room, and then all try to leave at the same time, you're asking for trouble. But trouble there was not – at least not that I could see. The one complaint I did hear was about the lunch accommodations. Lunch was held on the Yerba Buena Gardens adjacent to Moscone Center North (the location of the keynote).
The problem was, there was very little seating, and only a handful of tables to eat on. Some attendees carried their box lunch across the street to eat inside, but most plopped down on the grass, picnic style. I'm betting there were a few spilled sodas (there was a notable absence of bottled water) as attendees weaved through the maze of bodies and lunches on the ground. Fortunately, San Francisco weather cooperated with mild temperatures and bright sun.
4. Data center networking can be a social exercise
One of the lighter moments of the keynote address Monday that generated a few chuckles from the audience was an experimental technology demonstration that showed how ideas borrowed from social media can improve data center management. In the example, VMware used SocialCast (a recent VMware acquisition) to help simplify data center notifications. In the event of a problem with a datastore, for example, a server would generate a message on the admin's "wall" and each server or VM that was affected by the problem would "like" the status, providing a quick snapshot into what workloads would be affected. While you aren't likely to see SocialCast transformed into a real administration tool any time soon, the concept of using social networking to improve data center networking is an interesting one. Just remember, friending your servers only makes you feel more popular.
5. The future is now, unless it's not ready yet
As the editor of my college newspaper, I once received an article from an aspiring writer titled "The future lies ahead." As absurdly obvious as that suggested headline was, it would have been a better title for the day two keynote at VMworld 2012. Instead, we got the ludicrously ironic, "Empowering the Workforce of Tomorrow, That's Here Today." I say ironic because the end-user products VMware showcased aren't ready yet. When you tell your audience something is "here today," that's what they expect. Instead, we got another preview. I have no problem with technology previews, but that's all VMware has produced in the way of mobile virtualization. VMware first announced it was moving toward mobile virtualization in 2008, but still hasn't released a product. VMware's new Horizon Suite isn't expected to be available until sometime next year – hopefully.
What did you learn at VMworld? Leave a comment below, or let me know on Twitter @ServerVirt_TT.
Dig Deeper on VMware conference coverage