News
Stay informed about the latest enterprise technology news and product updates.
Top five Hyper-V 3.0 features that will excite IT pros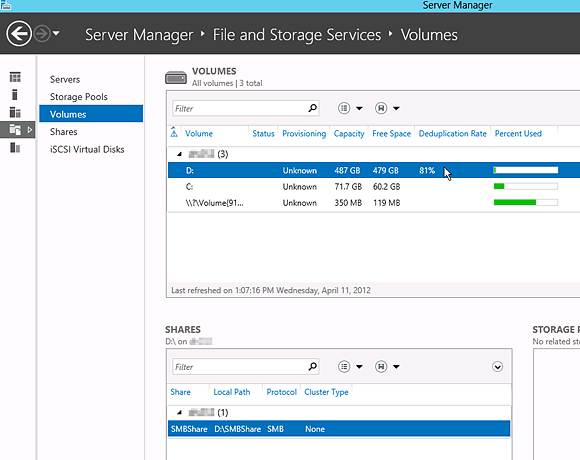 Windows deduplication is not necessarily a new Hyper-V 3.0 feature-- rather a Windows Server 8 role service added to the File Services role. IT pros can use Windows depulication in Hyper-V 3.0, and this addition may help solve many of the storage-bloat issues that currently plague virtual environments.
To ensure consistent disk I/O response, it is commonplace to provision Hyper-V production VMs with fixed Virtual Hard Disks. Fixed VHDs provided better performance than dynamically expanding disks, which grow on the fly as more data is written to the VM. (That said, some IT pros prefer Pass-Through Disks.)
Fixed VHD files usually have some percentage of unused space and a common operating system, such as  Windows. As such, they share many of the same bits.  Using deduplication on a volume with many VHD files could save significant disk space, because the common bits are only stored once.
It's still unknown whether it will be possible to dedupe live VMs on a volume in Windows Server 8 RTM because of the potential for I/O performance degradation. But it's certainly possible in the release candidate. Even if this capability is not supported or recommended for live VM workloads, there are other areas where deduplication could potentially save disk space, including VM template libraries or ISO file shares. If architected correctly and the I/O performance does not suffer, data deduplication could be the star Hyper-V 3.0 feature.
By Rob McShinsky, Contributor
View All Photo Stories