News
Stay informed about the latest enterprise technology news and product updates.
Top five Hyper-V 3.0 features that will excite IT pros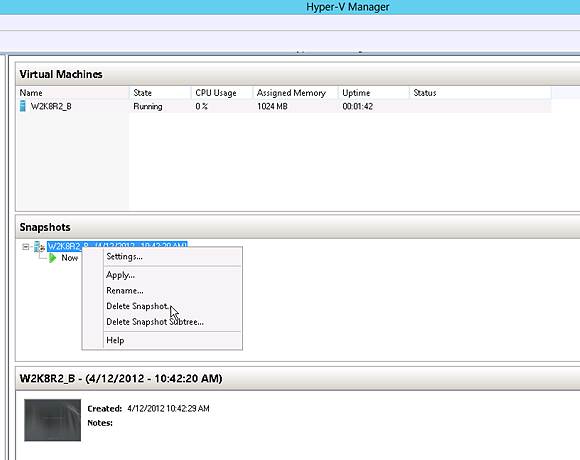 VM snapshots have been around since the Hyper-V RTM. But they've suffered from an unfortunate shortcoming: You need to shut down a VM to completely remove a snapshot after deleting it from the graphical user interface.
This problem usually arises after an application upgrade, patch or configuration change in which you took the previous snapshot. To remove the snapshot or merge the changes, you need a second downtime at some point after the upgrade or patch is verified. In some environments, it's not a big problem, but for VMs that are used 24/7, taking downtime is always tough.
In Hyper-V 3.0, you can either delete snapshots or merge them into the parent VHD file without a secondary downtime, which will save administrators from performing these tasks during off hours. These capabilities also open up potential for granting application owners the ability to create and delete their own snapshots. Because an application had to be shut down after a snapshot was removed, many IT administrators didn't provide application owners with this access. But, with Hyper-V 3.0, it may be viable to finally enable this feature within the Self-Service portal, which could reduce support calls from application owners and after-hours work for Hyper-V administrators.
Many virtualization administrators will welcome the maturation Hyper-V's feature set. As someone that has worked with Hyper-V from its early betas, the aforementioned Hyper-V 3.0 features, in particular, could reduce my after-hours work and simplify the configuration of my environment.
By Rob McShinsky, Contributor
View All Photo Stories