Virtual machine sprawl prevention FAQs
Virtual machine sprawl can make a mess of your infrastructure. Learn what causes the problem and get tips on taming virtual machine sprawl in this podcast with expert Rick Vanover.
Virtual machine sprawl happens because it's so easy to provision virtual machines (VMs).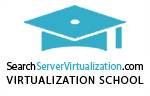 In this podcast on taming virtual machine sprawl, learn why the ease of provisioning VMs is both a blessing and a curse for systems administrators.
With virtualization, deploying new production servers and setting up test and development environments can be as simple as clicking a mouse. But without the proper capacity planning and lifecycle management, these new VMs can overwhelm your data center and take up valuable computing resources.
Listen as server virtualization expert Rick Vanover answers frequently asked questions about virtual machine sprawl. He explains its root causes and evaluates different methods of taming virtual machine sprawl, such as inventory databases, management software and policies for VM provisioning.
You'll also learn about the dangers of virtual machine sprawl. It can get you into hot water when it comes to software licensing, and at its worst, it can chip away at the cost benefits you expect to reap from your virtualization deployment.

Virtual machine sprawl prevention FAQs


Dig Deeper on Preventing virtual machine sprawl