Problem solve
Get help with specific problems with your technologies, process and projects.
Addressing VirtualBox P2V conversion issues
VirtualBox P2V conversion issues you must address after the VM boots. Learn how to tackle driver installation and management problems after VirtualBox conversions.
This two-part tip details physical-to-virtual (P2V) conversion options for Sun Microsystems' VirtualBox hypervisor. Part one of this series focuses on how to prepare a VMware virtual machine (VM) for a VirtualBox P2V conversion. Now, in part two, we cover VirtualBox P2V conversion issues – such as driver installation, management and other postconversion problems.
After the VirtualBox VM boots, the next step is to install Guest Additions -- VirtualBox's VM driver kit.
Once installed, you can manipulate a VM as you would on any platform, such as by removing the hardware drivers and management tools. Generally, if a VM is converted from another virtualization platform, it's best to remove the virtualization tools and drivers from the operating system (OS) as well.
Remember: VMware vCenter Converter isn't a supported method for populating a VirtualBox environment. This is not uncommon, however, as many free products venture into unsupported tasks and configurations.
The VirtualBox Wiki, for instance, explains that the I/O Advanced Programmable Interrupt Controller (APIC) feature should be disabled after the Guest Additions are set up. In my experience, though, some converted workloads need to retain this configuration option. If you receive boot errors and blue screens of death on conversions, you will most likely be at the mercy of Google searches for technical support.
As for configuring the I/O APIC, scripting options exist. VirtualBox has a rich set of options available through the vboxmanage command.
Figure 1
This scripting command can enable the I/O APIC setting on a VM. (Click image for an enlarged view.)


VirtualBox disk format considerations
The example above is the most seamless way to convert an existing server to a VirtualBox VM. But what if you're migrating a Virtual Machine Disk (VMDK) file format instead of VirtualBox's native Virtual Disk Infrastructure (VDI) format? To me, it doesn't matter, but VirtualBox will provide more options for its native format.
Going back to the example above, the vboxmanage command allows disk format conversions, while the clonehd command can clone disks to new virtual disk formats. VirtualBox also supports the Virtual Hard Disk (VHD) format used by Xen and Microsoft Hyper-V, which provides another option for virtualization administrators.
To convert a VMDK to a VDI disk format, the clonehd command is passed on the individual disk file that is located in the Virtual Media Manager. Figure 2 below shows this command being passed on the VMDK disk file that was used in the prior conversion example.
Figure 2
Caption…(Click image for an enlarged view.)


This command takes time (depending on the size, disk speed, network speed, etc.). Once the clone task is complete, the new disk file can be imported into Virtual Media Manager for assignment to a VM.
Figure 3
a newly created disk available for assignment to a VM (Click image for an enlarged view.)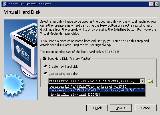 Because VirtualBox natively supports major virtual disk formats, it's less important to require VDI, VMDK or VHD formats for VM workloads.
Overall, VirtualBox is a good hypervisor in spite of its relatively sparse support from partners. VirtualBox makes up for that by being interoperable with other formats, allowing users to easily move between virtualization platforms.
About the author:
Rick Vanover (vanover-rick@usa.net), VCP, MCITP, MCTS, MCSA, is an IT infrastructure manager at Alliance Data in Columbus, Ohio. He is an IT veteran specializing in virtualization, server hardware, operating system support and technology management.

Dig Deeper on P2V, V2V and V2P migration