Automation tools for virtualization provisioning: Weighing the options
When choosing automation tools for your virtualization provisioning, carefully weigh all options to ensure that you get the most bang for your buck.
Virtualization provisioning is so easy that managing automation tools as well as the growth of virtualized environments becomes more critical than in physical environments. Consider VM sprawl, the move toward cloud computing and pricing models.
Virtualization makes it easier to automate tasks in the data center, but it also poses administrative challenges. Many organizations are looking at automation tools as a way to ensure that repetitive and tedious tasks are done quickly and properly. Automation tools are a key step toward cloud computing and can also help with the management of virtual machines, which can rapidly grow in number. The unique architecture of virtualization makes automation much easier to implement compared with traditional physical environments.
The virtualization layer turns hardware into software, which is emulated hardware presented to the servers running on a host. This makes integration and automation much easier because you can use application programming interfaces (APIs) to interact directly with virtual machines (VMs). As a result, you can automate many common tasks such as creating VMs, changing power states, managing snapshots and conducting host/storage migrations.
Because VMs do not have a hard cost and are easy to create, virtualized environments, for the most part, are continually growing. Administrators may still have to follow some manual steps in virtualization provisioning to meet business needs.
In larger IT environments, the process of creating VMs en masse can be quite time-consuming. Virtualization is all about efficiency, and automation tools and workflows can help you maximize efficiency. Whether or not you're moving to a cloud environment, third-party automation tools can greatly reduce the effort it takes to manage a virtual environment.
Learn about factors to consider when selecting a third-party automation tools for virtualization provisioning. You should also be ready to modify your virtual environment.
When we talk about automating tasks in the data center, the word scripting typically comes to mind. Many scripting languages, such as PowerShell and Perl, can be used to perform automation in a virtual environment. Using these languages to develop scripts, however, requires programming skills and can be very time-consuming. Scripts are often built in-house, where programming skill levels may vary. As a result, scripts can be buggy, inefficient and poorly documented. They are also not very interactive, making them difficult to use and monitor as well as implement in a workflow process.
Uniting virtualization with automation tools
Many third-party tools help admins automate certain tasks without requiring any programming knowledge. Because automation is a key component of cloud computing, most tools that provide automation are being sold as cloud automation tools.
Cloud computing is really the marriage of virtualization and automation. So as you shop for automation tools for your virtual environment, don't be surprised if you hear the word cloud a lot. The upside of the rush to the cloud is that by adding automation to your virtual environment, you are one step closer to transforming it into your own private cloud.
While creating a VM is much easier than procuring a physical server, configuring virtual hardware is still a multistep process. This can be a tedious task in large environments, where many servers or desktops may need to be created at one time.
VM sprawl, the uncontrolled growth of virtual machines, is always a concern. VMs are often created with more resources than they need. Automation tools can help you keep tight control of a virtualized environment by introducing discipline. Automation can do the following things for your data center:
greatly reduce administrative effort;
reduce human error;
minimize time between when request is made and its completion;
prevent VM sprawl with a workflow process that requires approval to create new VMs; and
help monitor the lifecycle of VMs and ensure that they are removed when they are no longer needed.
Comparing automation tools for virtualization provisioning
Many automation and provisioning tools do a lot more than simple automation. Automation is typically bundled with other features in cloud environments, such as reporting, chargeback, self-service, multi-tenancy, security services and resource management. CA's Virtual Automation provides self-service VM provisioning.
So take a good look at the features provided with each product, and make sure they align with your requirements. If you are just looking for an automation tools, choose one that focuses on that task. If you want more features, consider multifunctional products.
If you want automation only, then don't buy more product than you need. Not only will it cost more, but it will also be more complex to implement and manage. ManageIQ Inc.'s EVM Automate, for example, is part of a four-product suite that you might need to purchase to gain the full benefits. This can be good as you can expand your virtual environment in a modular fashion to get only the features that you are looking for.
You should also identify how deeply a tool integrates into your environment and if it can do everything you need it to do. For VMware environments, vCloud Director has very good integration, but it is a first release and still rough around the edges compared with more mature products such as Quest Software Inc.'s Cloud Automation Platform. Embotics Corp.'s V-Commander is designed to work only with VMware environments. Workflow is very important; it ensures you have the proper approvals. Self-service can help further automate your processes.
Direct comparisons of automation tools are often difficult. Each product may provide the features you need, but each product tends to differ greatly from the next. Your choice may come down to evaluating which product you feel most comfortable with and think will integrate best in your environment.
If you're a mostly VMware shop, choosing another VMware product may be the best fit. Likewise, if you already use products from other vendors, such as Quest and CA, they may be the best fit for your organization.
Pricing models for automation tools
Pay attention to pricing models for the tools you are considering. Virtualization vendors commonly use two models: per CPU socket and per VM. Many vendors use a per-CPU socket pricing model except for VMware, which uses a per-VM pricing model.
With per-CPU socket pricing, you are charged by the number of CPU sockets—not cores—in your host. With CPUs now scaling to more than 12 cores per CPU, this model is cost-effective if you have many VMs running on a host.
Per-VM pricing gets expensive on larger hosts that have higher VM capacity, but it gives you flexibility so you can apply the right amount of management to each VM. That way, management capability follows the VM, and there's no worrying about whether the hardware is licensed appropriately.
Ensuring compatibility in your virtual environment
When evaluating automation tools for virtualization provisioning, make sure they will integrate well and work smoothly in your environment. If a tool requires constant attention and maintenance, then it defeats the purpose of providing automation. Also, evaluate long-term plans for your virtual environment. Today, you may be interested only in automation, but down the road you may be interested in other cloud features, so getting the best tool to meet present and future needs can save time and money in the long run.
Because APIs are important to automation, remember to check out how well each tool integrates with other software products in your data center. VMware is most notable for its extensive APIs, which it includes in all its products to enable tight integration and custom automation via scripting.
Virtualization vendors are releasing major updates to their hypervisors much faster these days, so make sure that whatever tool you choose can keep up. VMware, for example, has a vested interest in making its vCloud Director compatible with the latest releases of vSphere as soon as possible. Other vendors may take longer to provide support for new releases.
You may have to make some architectural changes in your virtual environment to achieve the most cost-effective licensing. Automation tools can make a huge difference in the efficiency of large virtual environments, but only if you implement the best tool to meet your organization's needs. Make cost, integration, ease of use, support and scalability your priorities when choosing automation tools for virtualization provisioning. By making informed decisions, you can start enjoying the benefits of an automated virtual environment and take one step closer to the cloud.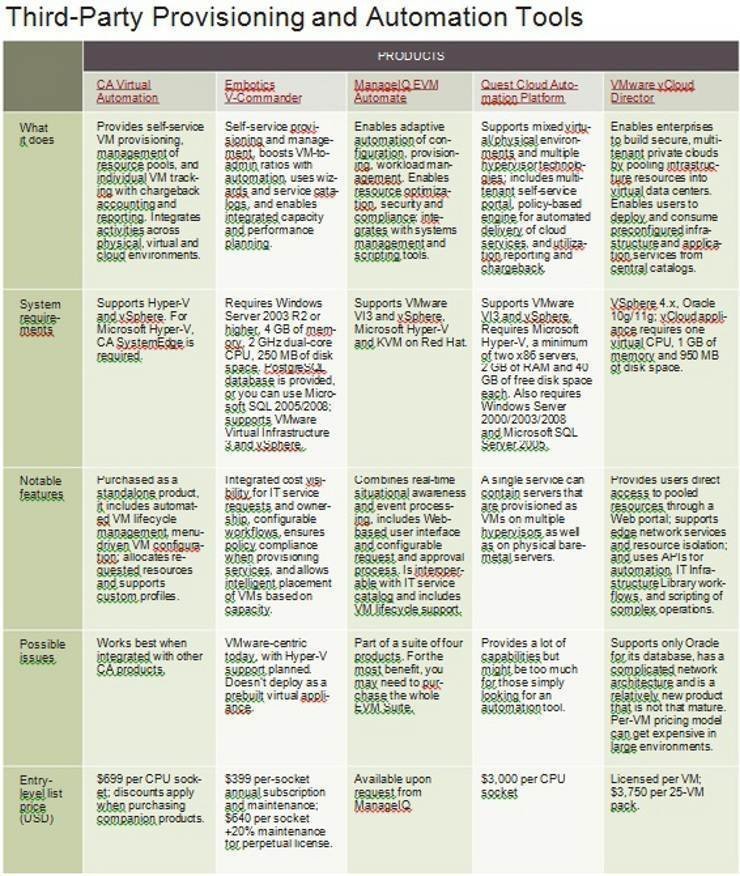 This article first appeared in the Virtualization Management Tools Buying Guide and was commissioned by the TechTarget special projects team.
Dig Deeper on Virtual machine provisioning and configuration