WavebreakmediaMicro - Fotolia
Building your virtual infrastructure with SCVMM 2012 R2
SCVMM 2012 R2 plays a vital role in managing your Hyper-V infrastructure. Learn how to set it up properly to avoid potential problems.
Setting up a virtual infrastructure can be a complex undertaking, even with tools designed to streamline the process, such as Microsoft's System Center Virtual Machine Manager. This article is the second in a two-part series on creating virtual environment with SCVMM 2012 R2. In the first article, I discussed how to get started defining user roles, adjusting general settings and set up host groups. In this article, you'll learn how to add hosts, set up a SCVMM library and provision storage.
You can add storage devices with System Center Virtual Machine Manager at any stage during your deployment process, but it's better to add these devices before you create hosts. Note that storage will be used by virtualization hosts and the virtualized workloads. In order to ensure the most efficient use of the storage, you must classify the storage to ensure that the least expensive storage media is used by the non-critical workloads and expensive storage is reserved for mission-critical workloads.
As a general rule, you should classify the storage based on the workloads you are running. For example, I can create three categories for the storage, such as gold, silver and bronze and then assign the storage devices to these categories. Let's say I decide to include solid-state storage as the gold category that I plan to use for I/O intensive applications such as SQL and Exchange servers. The silver category could include Fibre Channel and the bronze category could include SATA storage devices.
Note that when you want to decide to create a private cloud in SCVMM 2012 R2 at a later stage, you would be required to select the storage classification for the cloud as shown in the screenshot below: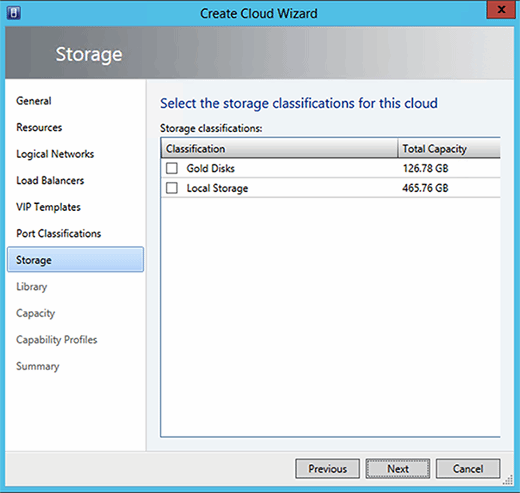 This would not only save you time when deciding which storage to choose, but would also help you avoid assigning expensive storage devices to non-critical workloads.
Adding virtualization hosts to SCVMM host groups: Once you have defined the SCVMM host groups, you can start adding the virtualization hosts to the SCVMM host groups. SCVMM 2012 R2 can add both an individual virtualization host and a clustered instance. Adding a virtualization host is a simple step if you have the required network ports opened between SCVMM and hosts. As you can see in the below screenshot, when adding a virtualization host, you will need to provide a Run As account so SCVMM can perform the necessary tasks, such as installing the SCVMM agent on the destination host and gathering host configuration.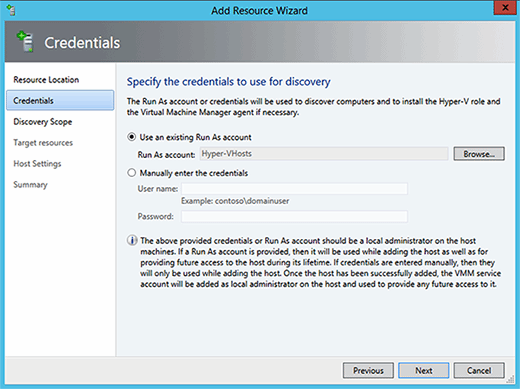 Modify SCVMM host group property: By default, a child host group inherits settings from the parent host group. As you can see in the screenshot below, the Building1 host group inherits dynamic optimization settings from the parent host group.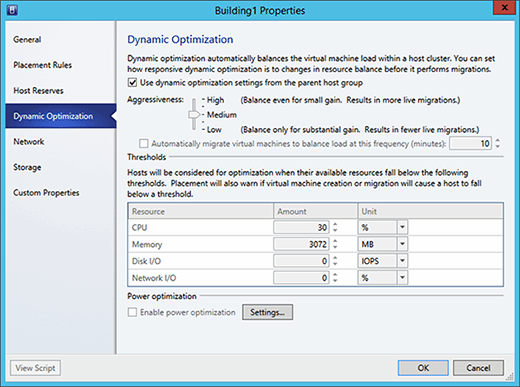 This might not be desirable in some situations and you may want to change this behavior depending on your requirements. For example, you might want to have different dynamic optimization options for hosts running in the Building1 and Building2 host groups. Similarly, you might have different placement policies for hosts that are located in the Building1 host group.
Allocate storage pools and logical units: Once you are done adding, plan on allocating the storage pools and logical units to the hosts. However, hosts will not see the storage pools and logical units unless you allocate them on the properties page of the SCVMM host group. While the storage pools will be used for the VM workloads, the logical units will be used by the Hyper-V hosts to store the VM files -- such as configuration files, virtual hard disk files and snapshot files. The logical units will also be used when you create a Hyper-V cluster.
You must create necessary logical units from the storage workspace in SCVMM 2012 R2 before you can add them on the host group. To allocate storage pools and logical units, all you need to do is click on the storage tab on the properties page of the SCVMM host group, and then click on Allocate Storage Pools and Allocate Logical Units, as shown in the screenshot below: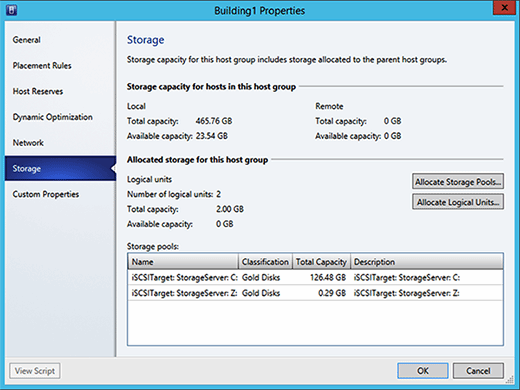 Set up the SCVMM library: Setting up the SCVMM library includes creating necessary library shares/servers and adding items to the library shares (such as virtual hard disks, ISO images and scripts). You will also need to create a different set of VM and service templates by defining memory, processors, OS family and OS editions depending on business units operating in the production environment. For example, you can create a Sysprep VM template for testing and development teams. Similarly, a VM template can be created for users running the line-of-business applications. Creating VM and service templates beforehand will help you deploy the VMs rapidly as needed. Please note that VM and service templates can also be made available to users running System Center App Controller. Users running App Controller can then rapidly deploy a VM without needing administrator intervention.
Create servicing windows: Servicing Windows allow you to create a maintenance window during which hosts and VMs can be patched, configured or updated. Once created, servicing windows can be assigned on the properties page of a host.
Finally, modify the host properties:. There are several configuration options available on the properties pages of a virtualization host. Keep in mind that when a host, such as Hyper-V, is added under the SCVMM management, it retrieves all the settings from the destination Hyper-V host. The default Hyper-V settings might not be desirable. For example, a Hyper-V host running Windows Server 2012 R2 is configured to allow 20 concurrent live migrations as the default setting. The default live migration setting may not be suitable for a particular Hyper-V host running in a production environment. To configure live migration settings, go to the Migration Settings configuration tab and specify a value for live and storage migrations as shown in the screenshot below.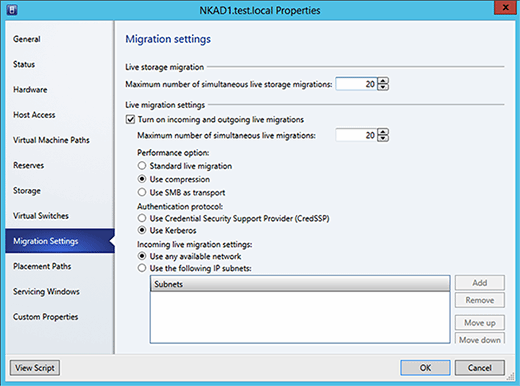 Apart from modifying the live migration settings, you may also want to add or modify the placement paths that are used during the VM placement.
While it is necessary to allocate the storage pools on the properties page of a SCVMM host group, you will still need to add the disks from the storage pools by navigating to the Storage configuration tag as shown in the screenshot below: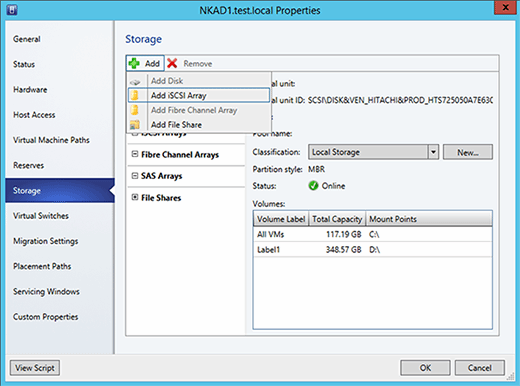 SCVMM 2012 R2 is the heart of System Center product family and plays a vital role in managing a virtualized infrastructure. Configuring SCVMM properties in the order I've laid out above not only helps you run a virtual environment efficiently, but will also help you avoid adding unnecessary complexities when managing hundreds of virtualization hosts via SCVMM 2012 R2.