Manage
Learn to apply best practices and optimize your operations.
Cloud management with Microsoft Concero: Battling VMware vCloud Director
Microsoft Concero offers better virtualization integration, but VMware vCloud Director has the edge when it comes to other cloud management criteria.
If you're looking at Microsoft's Project Concero for cloud management, consider the product's maturity, features and integration with your existing virtual infrastructure.
When compared with VMware vCloud Director, Microsoft Concero's pros and cons come to light. Neither product has everything you need for cloud management, but each offers some compelling points. VCloud Director, for instance, includes the technology you need to bring automation to your cloud, whereas Microsoft Concero offers greater integration with Hyper-V.
VMware vCloud Director vs. Microsoft Concero
Comparing Microsoft and VMware's cloud management tools is not exactly an apples-to-apples evaluation. VMware vCloud Director has been available for more than a year, and Project Concero is only in public beta.
Microsoft announced Project Concero at TechEd 2011, and much of the content for this self-service cloud management tool is now freely available online. Concero is a Microsoft IIS "application" -- a Web portal that sits between the end consumer and pools of Hyper-V servers managed by System Center Virtual Machine Manager (SCVMM). You can also make Microsoft Concero aware of Windows Azure subscriptions. (See Figure 1.)
Figure 1
Microsoft Concero's architecture. (Click image for an enlarged view.)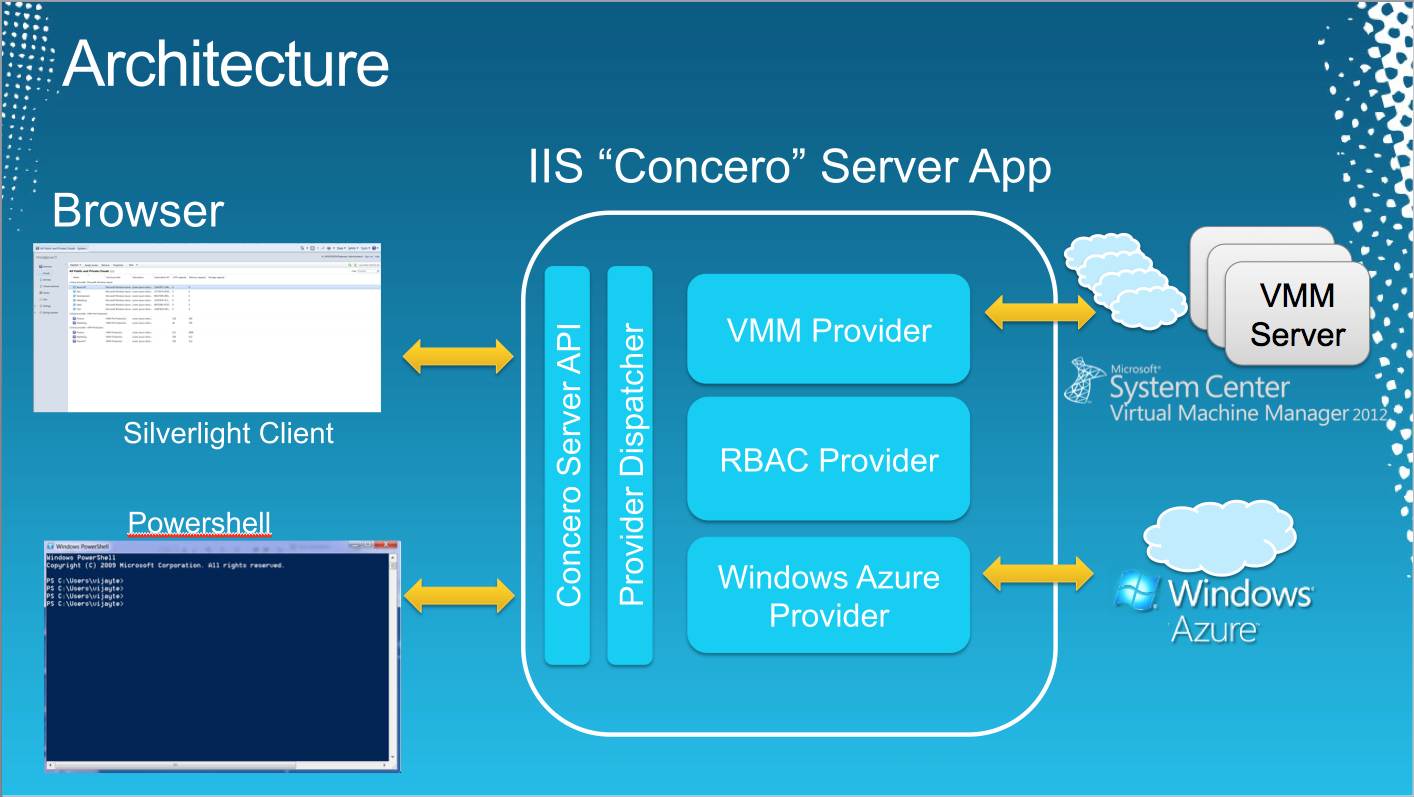 VMware vCloud Director, announced at VMworld 2010, manages Infrastructure as a Service architectures by controlling security, virtual machine (VM) provisioning, billing and self-service access. VCloud Director requires additional tools, such as an Oracle database. And to take advantage of advanced features, it must interact with other vendors' products through application programming interfaces.
Points for Microsoft Concero
The first thing that makes Microsoft Concero interesting is its direct integration with Hyper-V. VMware vCloud Director, on the other hand, does not automatically integrate with VMware's SpringSource or Cloud Foundry offerings. You could argue that such integration isn't actually necessary for cloud management, but what's interesting is that Microsoft thinks it is.
Although cloud isn't exclusively a virtualization concept, it's hard to see how we can spin up new resources without the flexibility that virtualization brings. It's just so much easier to clone a VM than it is to order up a physical server and rack it in a data center.
Microsoft Concero also offers service templates, which are very similar to VMware's vApps. These templates wrap around multiple VMs that are bonded together to create a single service. End users with the proper permissions can choose a template and spin up any cloud they want. (See Figure 2.)
Figure 2
A service template is deployed with Concero.(Click image for an enlarged view.)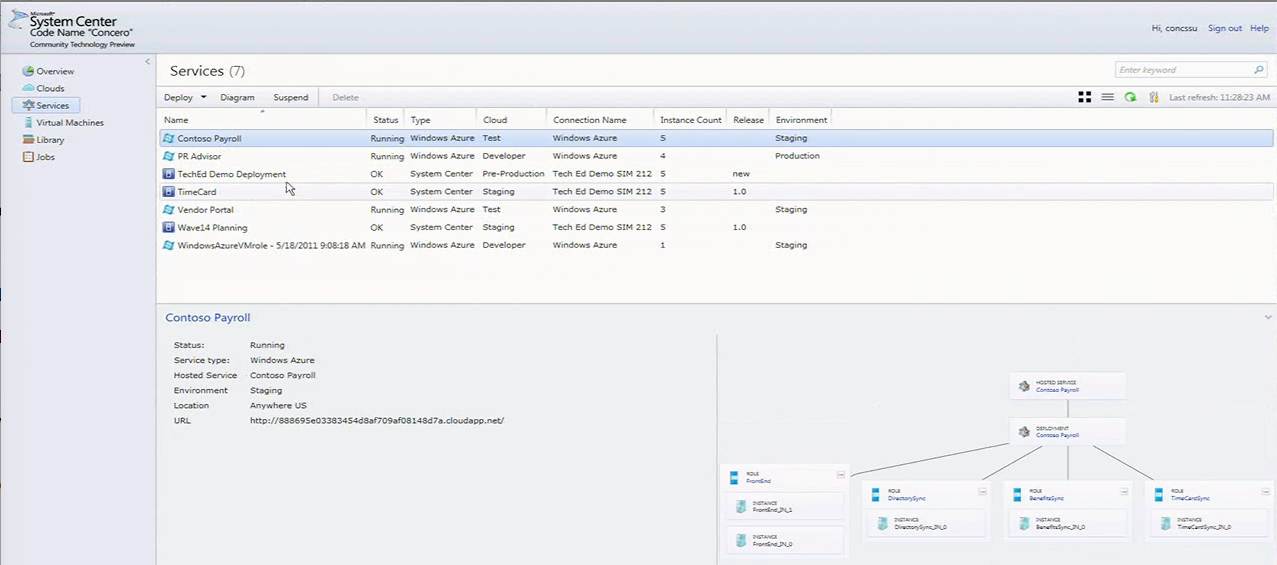 You can also port these service templates to the Windows Azure cloud. That means a developer could build an application on an internal Concero-based cloud and then import it to a public cloud. The templates also integrate with application-deployment technologies such as WebDeploy, App-V and SQL dedicated administrator connection packages.
Another nice feature of the service templates is a spinner that allows you to increase capacity in a given part of the template to meet demands. With the classic three-tier application (Web front end, application and database back end), for instance, you can have Microsoft Concero spawn additional instances of the Web front end if your workload demands more resources.
That said, Microsoft's vision for its service templates is very much the same as VMware's: The VM encapsulation allows multiple VMs to be pre-configured with the necessary software before deployment.
Does Microsoft Concero fit the automation bill?
Of course, Microsoft Concero has its limitations. The service templates reside in SCVMM, not Concero, so SCVMM roles control access to the templates. The same goes for quotas and limits, which restrict cloud users to a set number of VMs and resources so they don't oversubscribe the system.
For VMware cloud management, quotas and limits are attached to Organization Virtual Data Centers in vCloud Director, which are logical containers that represent a business or business unit. Microsoft, on the other hand, attaches quotas and limits to SCVMM instead of Concero itself. Almost all cloud management is therefore through SCVMM, which means cloud admins need direct access to the virtualization layer to execute tasks.
From a network perspective, Concero doesn't include anything like VMware's vShield virtualization security technology or the ability to create networks on demand from pools of virtual LANs. In fact, network access in Concero is through a port group assigned to the VM before it's made into a service template.
Microsoft Concero also lacks a few requirements of cloud automation. One key element that's missing is some kind of chargeback or showback system. VMware vCloud Director ships with VMware vCenter Chargeback and offers a pay-as-you-go model, but Concero doesn't even have a feature that can show how much its services are costing an organization.
Another concern I have with Microsoft cloud management is that Concero is constrained by the scalability limits of Hyper-V and SCVMM. You can add multiple SCVMM hosts to create a single view of resources, but many large-scale Hyper-V shops are forced to scale out their environments much earlier than VMware customers. SCVMM 2012 will still be limited to 400 hosts.
VMware, on the other hand, offers a maximum of 1,000 ESX hosts per vCenter. If you're considering Microsoft Concero, it may be tricky to convince the higher-ups that a large-scale cloud will drive down costs when the underlying management platform cannot scale with it.
When it comes to cloud management, Microsoft Concero has some downsides, but VMware vCloud Director is still in its early days too. (For example, it lacks integration with other VMware products, such as View and Site Recovery Manager.) Both vendors have ambitious roadmaps to deliver further integration, but customers can only go with what's currently available for cloud management.
For now, they must decide between Microsoft's cloud portal, which offers Hyper-V integration, and the more established VMware vCloud Director. VMware shops are likely to choose vCloud Director because it only works with vSphere, and Microsoft camps will probably go with Concero to integrate with SCVMM and Hyper-V. But both sides should also cast a wider net and consider other cloud management products, such as Skytap, DynamicOps and NewScale. There are lots of choices that can help your organization create and manage a private cloud just as well as the major vendors can.