 BACKGROUND IMAGE: iSTOCK/GETTY IMAGES
Evaluate
Weigh the pros and cons of technologies, products and projects you are considering.
CloudPhysics' resource management tool studies virtual infrastructures
A new service from startup CloudPhysics may have admins rethinking resource management. Would you send data to the cloud for analysis and comparison?
Virtualization and cloud resource management tools are a dime a dozen. However, startup CloudPhysics is standing out from the crowd. Founded and run by ex-VMware developers, CloudPhysics' resource management software went beta at VMworld 2012. Let's dive into CloudPhysics to determine what makes it so innovative.
Efficiently connecting to a new hosted service is always a challenge. For instance, when using the public cloud to augment your internal infrastructure, you'll likely have to create a virtual private network tunnel to connect, and, in turn, create a hybrid cloud.
Up until now, not many vendors have offered resource management tools as a service because of security concerns when sending data to the provider as well as the challenge of connecting the tool to internal virtual infrastructures. Most companies, however, have begun offering their resource management tool as an easily deployable virtual appliance.
CloudPhysics wants to break that traditional model and not only deploy its software as a virtual appliance but also offer it as a service. Once you deploy the virtual appliance in your vSphere infrastructure, it takes inventory of resource data and performance data, removes sensitive information for security and then uploads it to the CloudPhysics cloud. Using that data, CloudPhysics has an almost unlimited number of virtualization management and analysis services.
Building a big data repository of virtual infrastructure information
A CloudPhysics-organized big data database of information and demographics about multiple virtual infrastructures would compare to the data Google collects about its users. Software companies, VARs, hardware vendors, marketing companies even major virtualization vendors VMware and Microsoft could benefit from a database indicating how real-world companies use virtualization.
The data that CloudPhysics collects is, in my opinion, infinitely valuable.
Free RMaaS for VMware admins
So how does CloudPhysics persuade administrators to download their virtual appliance and send anonymous information about their virtual infrastructure to the cloud? They offer something valuable in return.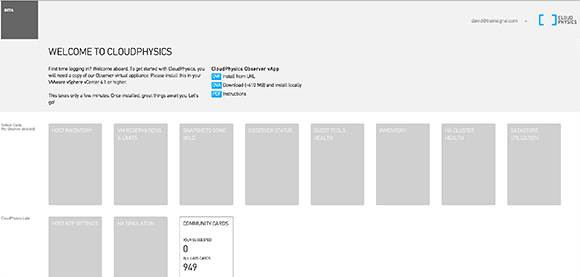 Figure 1. CloudPhysics Web Interface.
CloudPhysics calls it Resource Management as a Service (RMaaS). Much of the data it receives deals with performance and resource optimization. As such, CloudPhysics helps admins manage resources in the virtual infrastructure. Today, the service is free, but it's unclear if it always will be.
Admins access RMaaS through the CloudPhysics Web interface, which looks like a deck of cards (Figure 1).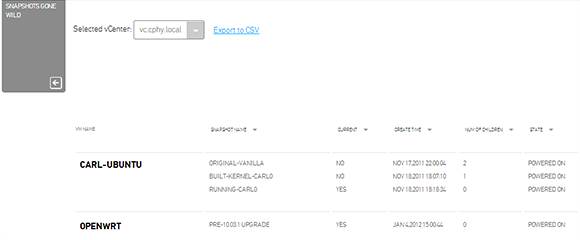 Figure 2. Snapshots Gone Wild Report.
Each card offers a different type of resource management report, including virtual machine (VM) reservations and limits, snapshot information (Figure 2), a high availability (HA) best practice analysis by Duncan Epping and Frank Denneman (a VMware DRS analysis is coming soon) and data store contention. There are also cards that give numerous comparisons between your company and others, made possible via the big data database. These comparisons allow companies to see how resource-efficient they are compared to other VMware shops.
CloudPhysics has also been holding a community challenge, asking users for card ideas. Many of those cards can be found in their community cards section.
How CloudPhysics will move forward
CloudPhysics' resource management tool is currently in beta form and only supports vSphere infrastructures. It's not clear how or if it will sell the tool.
The company may always offer the tool for free, or offer a free version to VMware admins, but it may eventually be funded by vendors around the world that want to learn about VMware environments. The venture-capital-backed startup continues to offer more unique reports of greater value to VMware admins. I encourage you to try CloudPhysics for free, see how it helps you and suggest new ideas for cards.
You can also watch a video from VMworld with CloudPhysics co-founder Irfan Ahmad about how CloudPhysics RMaaS works.
Dig Deeper on Cloud computing and virtualization strategies