Configuring and provisioning production-ready SMB 3.0 storage
Yes, SMB 3.0 can go beyond test environments. But before you can take SMB 3.0 storage into production, there are a few things you need to tackle.
The updates to the Server Message Block protocol included in Microsoft Hyper-V 3.0 could prove valuable to data...
Continue Reading This Article
Enjoy this article as well as all of our content, including E-Guides, news, tips and more.
centers deploying a single-server configuration, but many IT shops might choose to test-drive SMB 3.0 first.
Once you've evaluated SMB 3.0 storage in a test environment, you can easily amend the architecture for production. As the criticality and quantity of virtual machines (VMs) increase, you'll need to ensure throughput and reliability for production-ready workloads. Fortunately, SMB 3.0 -- which allows Hyper-V hosts to handle VM processing requirements while offloading disk activities to remote Windows file servers -- also comes equipped with new features to safeguard against failure. In addition, it can ensure proper load balancing, and groups host shares for easier management.
Preparing for potential failures
To house the share location in a production-ready environment, you will need a cluster with two to 64 nodes. With previous versions of Windows Server, resource failovers caused by network or node failures might have resulted in a momentary interruption to a share location. When a share location that's accessed by direct and ongoing I/O from Hyper-V hosts is used, such an interruption is more dangerous.
Unlike previous versions of the hypervisor, Hyper-V 3.0 allows file shares with Cluster Shared Volumes. This feature, called "SMB Scale Out," gives all nodes access to resources on the same volume at the same time, which shortens resource failover times.
Note
You can have multiple shares on the storage cluster, which could be a good way to segregate the storage locations for Hyper-V hosts, or could be good for certain tiering options relevant to performance or management. This configuration allows you to create preferred owners for the separate share resources on the cluster if certain cluster nodes or groups of nodes have different resources. Rather than one share to pool all VMs, this configuration creates added administrators when new virtual hosts come online and potential storage migration scenarios when VMs bounce between hosts.
For a production-ready environment, you also will have to consider the speed and type of the transport mechanism used between the Hyper-V host and the SMB 3.0-aware storage cluster. Network Interface Card (NIC) teaming, included in Windows Server 2012, will allow you to scale up your bandwidth from multiple 1 Gigabit Ethernet connections to multiple 10 GbE connections. You could also use a Remote Direct Memory Access device, such as InfiniBand, which has both large bandwidth capabilities and a high-speed direct-connect option called SMB Direct.
In a production environment, it's important you consider the load balancing of computing resources in a network infrastructure. A nonredundant share location with low bandwidth connections won't provide you with adequate I/O resources. Size your host resources, transport mechanism and storage performance accordingly.
Properly balancing host resources means knowing your prospective host-to-guest ratio based on combined VM resources. Failing to find this balance is similar to putting a Ferrari engine in a Honda Civic: You'll never be able to maximize the power of the engine before the tires fall off.
Configuring SMB 3.0 storage and new VMs
You can house SMB 3.0 storage in several clustered configurations and with multiple hardware options. Storage is the most complex piece of the Hyper-V environment to configure. Once you have made a decision about the storage and transport design to house your SMB 3.0 share location, you can finish the configuration and provision your VMs.
Share-out the SMB folder
When you share-out the SMB folder, you must give the computer accounts (Hyper-V hosts) and VM administrators permission to access and change files at the Share and Security tabs.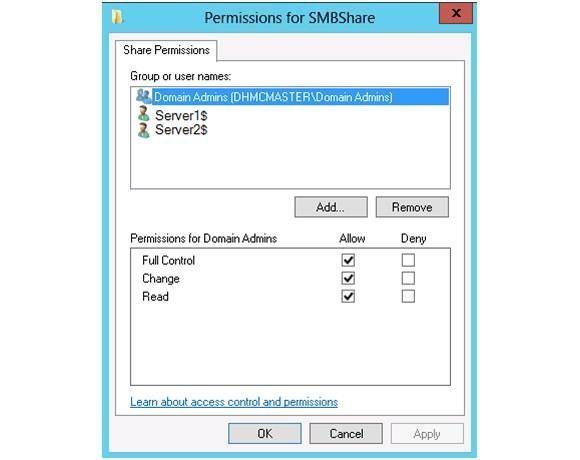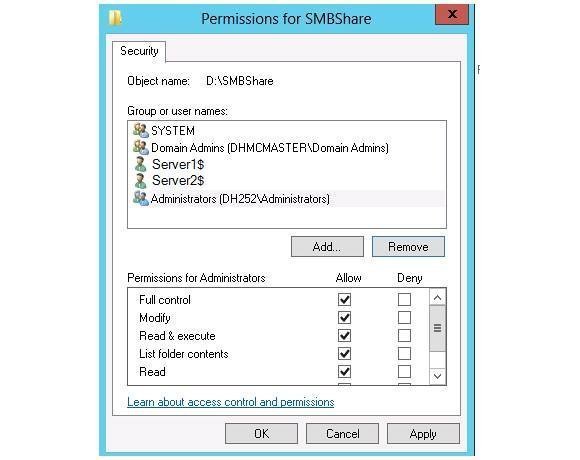 If you are adding several Hyper-V hosts or administrators, using groups will be more efficient than changing permissions for every user account.
How to configure a new VM on SMB 3.0 storage
1. Click New, then click Virtual Machine.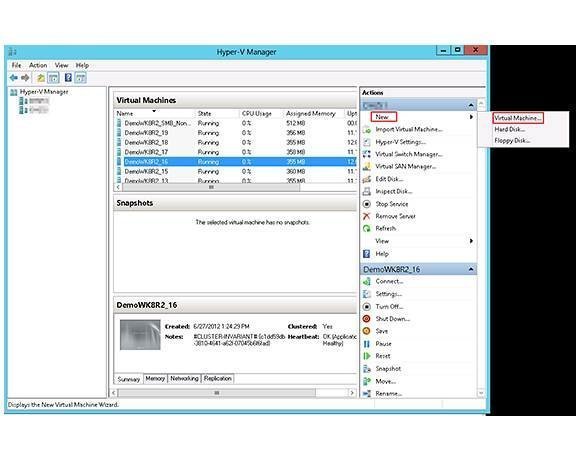 2. Give the VM a name and point to the shared location you have set up on the Windows Server 2012 server or cluster.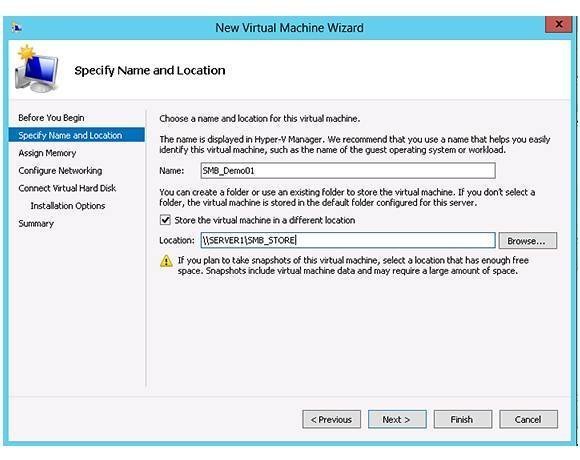 3. Set memory levels based on your VM's needs. You can also configure dynamic memory from the wizard.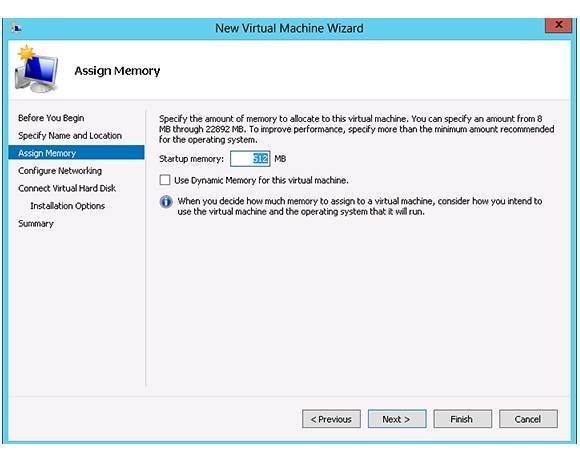 4. Select the Virtual Switch for normal VM network traffic.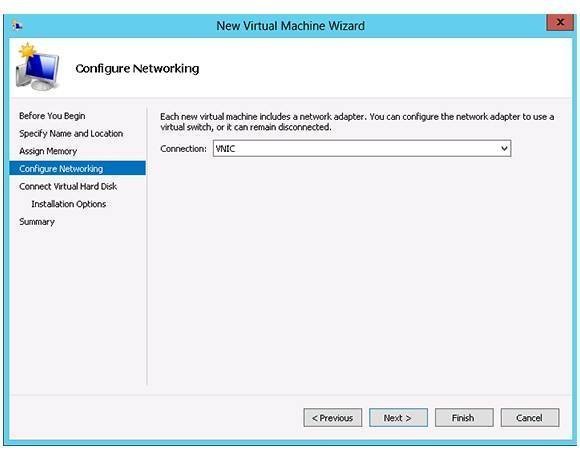 5. Configure the size of your hard drive. The default location of your virtual hard drive will be the same as the path in Step 1. You can change this to an alternate SMB or local path, but most Hyper-V administrators tend to keep all files associated with the VM at the same location.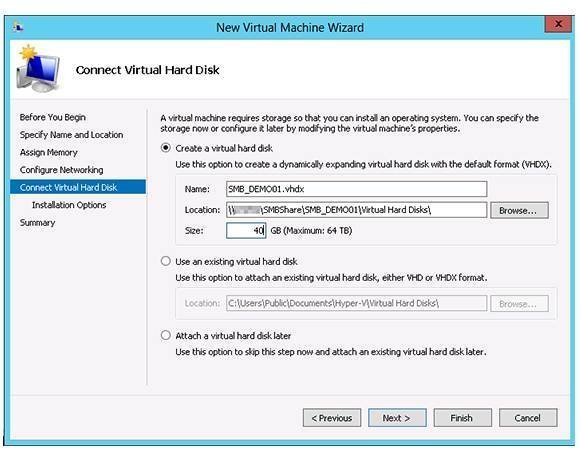 6. Click Finish. If you receive an error message, make sure your share location permissions are set up correctly, giving permission to both the computer account and the administrator account you're using to create the new VM.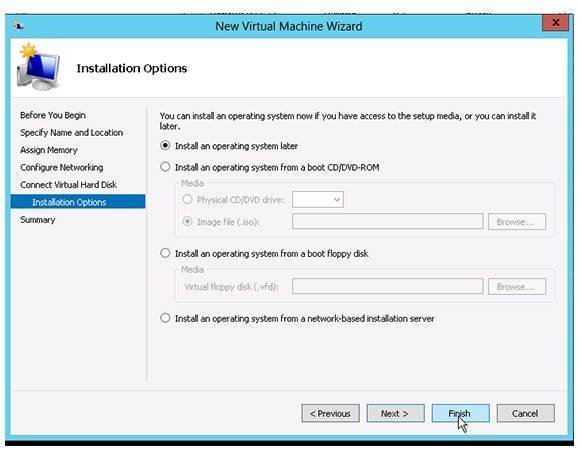 You no longer need to configure World Wide Name or Fibre Channel zoning. Simply configure \\Servername\ShareName, and boot your VM.
It remains to be seen whether SMB 3.0 can eliminate the stigma of adding production-ready VM workloads on a file share. The improvements to clustering and NIC teaming, and the increased availability of high-network bandwidth within the data center seem to be viable options to simplify storage provisioning for VM workloads.
Dig Deeper on Virtual machine provisioning and configuration