Evaluate
Weigh the pros and cons of technologies, products and projects you are considering.
Cross-platform virtualization management tools: Sharing is caring
Virtualization management tools tend to stick with their virtualization vendors. They're not easy to use in multiple platforms, but some can perform a few cross-platform tasks.
There are numerous challenges of using multiple virtualization platforms in your infrastructure. The multi-vendor approach promotes competition and prevents vendor lock-in, but it also means you have to convert virtual disks from one format to another. Yet another barrier to using multiple virtualization vendors is the lack of shared, common virtualization management tools.
The reality of virtualization management tools
Currently, VMware recognizes no other hypervisor other than an ESX product. Microsoft System Center Virtual Machine Manager (SCVMM) can manage natively the Hyper-V host and optionally manage VMware ESX but only if the organization already possesses the VMware virtualization management tools of vCenter.
The reality is that this interoperability from a virtualization management perspective is there to offer senior operational staff visibility from a single window of both VMware and Microsoft infrastructures. Although this is helpful for day-to-day monitoring, the virtualization management capabilities are extremely limited.
Microsoft SCVMM allows crude tasks to be carried out via the vCenter management system, such as powering on and off a virtual machine (VM). The reality is that if VMware administrators need to carry out higher level virtualization management tasks, they would be forced to open the VMware Client and manage the ESX hosts with native virtualization management tools -- another difficulty of using multiple virtualization vendors.
Additionally, advanced features such as VMware High Availability and VMware Distributed Resource Scheduler demand the purchase of vCenter for both initial configuration and long-term virtualization management (see Figure 1).
Figure 1
Adding vCenter into Microsoft SCVMM. (Click image for an enlarged view.)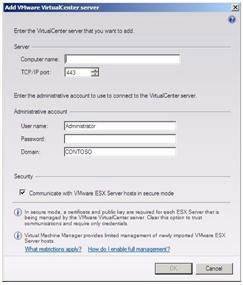 Scenarios like this also seem to indicate that the philosophy behind virtualization management tools has more to do with Microsoft wanting to offer its customers a route away from using the VMware virtualization management product rather than a providing them with a long-term interoperability strategy. In many respects this is similar to the vendor's virtual disk conversion tools -- they exist to allow the customer to easily leave a competitor -- rather than offering true open management between systems with multiple virtualization platforms.
There have been attempts to develop alternative virtualization management tools by the third-party eco-system. Such a project was started by a company called BlueBear with its Kodiak management system (see Figure 2). Unfortunately, the company failed to secure further venture capital. The technology is now licensed for open source development.
Figure 2
Kodiak is now licensed for open source development. (Click image for an enlarged view.)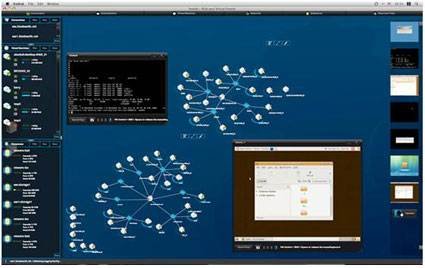 Bearing all this in mind, switching between virtualization platforms is likely to be a strategic decision that is reviewed every five to 10 years -- especially when data center managers consider the burden of having to convert terabytes of virtual disks from one vendor format to another.
It is not an easy decision to change virtualization platforms, but it is possible to mitigate risk by strategically adopting other virtualization vendors' technologies. A key milestone to invite change might be a review of the strategy if the business is building a new data center.
Change can be good. Keep in mind that the best approach is where there is a justifiable fit both from a technology and business perspective.
This article originally appeared in the Virtual Data Center E-Zine.