Sashkin - Fotolia
Don't forget to configure these SCVMM 2012 R2 settings
SCVMM offers a wide variety of configuration options but some settings can be overlooked or are unknown because they don't appear directly in the management console.
Managing an organization's entire virtualization stack with System Center Virtual Machine Manager requires extensive knowledge on virtualization technology as well as knowledge on various configuration options that are provided with the VMM management console. In a large production environment, you will be required to do planning before implementing SCVMM management servers. However, there are a few settings that are either overlooked during planning or do not directly appear in the VMM management console. These settings, once configured, might help you avoid any potential operational issues or might help you improve overall performance of VMM management servers. This tip explains a few settings that you should consider configuring on VMM management servers.
Increase live migration timeout value
SCVMM 2012 SP1 and later versions allow multiple live migrations of virtual machines running on Hyper-V hosts. If you initiate a live migration of three VMs simultaneously and if you have specified a maximum number of concurrent live migrations to two, SCVMM will wait for two live migrations to be completed successfully before the third live migration is initiated. The third live migration is put in a queue. By default, SCVMM waits for 15 minutes before it times out the queued live migration jobs. Live migration of some VMs, depending on their memory, might take longer than 15 minutes. Once the timeout value expires, and if the current live migration is still in progress, SCVMM will fail queued live migration jobs.
To avoid this, SCVMM provides a way to increase timeout value. To increase the live migration timeout value to 30 minutes, navigate to HKEY_LOCAL_MACHINE\Software\Microsoft\Microsoft System Center Virtual Machine Manager Server\Settings, create a registry entry by name called LiveMigrationQueueTimeoutSecs and then set the value to 00000708 (HEX). Once the registry entry is created, restart the SCVMM Management service for changes to take effect.
Library refresh settings
By default, the VMM management server refreshes library data in a library server every hour, ensuring that the newly added items to the library server are refreshed automatically and are available to the VMM users. You can also refresh library items manually by executing the "refresh share" action available on the right click context menu of a library share. Automatic refresh is useful when you are running hundreds of library servers and want to reduce the administrative overhead. You can consider changing the refresh interval to a value that is suitable for your environment. The Library refresh setting can be configured by navigating to SCVMM settings page, clicking on 'General' and then opening the Library settings window. In the Library settings window, configure the Library refresh interval as shown in Figure 1.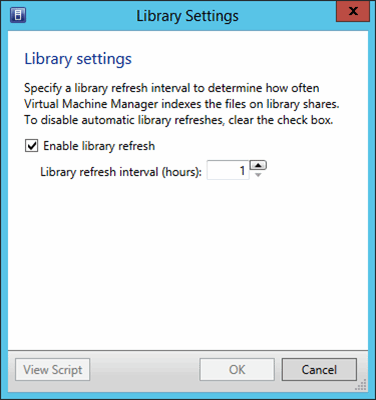 Overcommit for Replica VMs in SCVMM
In April 2015, Microsoft introduced Rollup Update 6 for SCVMM 2012 R2 to fix a number of bugs. As part of Update Rollup 6, VMM administrators now can configure overcommit for replica VMs placed on a private cloud or host group. In SCVMM 2012 R2, the VMM management server assumed all resources that were allocated to replica VMs were in use and therefore it did not allow other replica VMs to be placed on the private clouds or VMM host groups. Not introducing an overcommitting feature ensured that all replica VMs could boot up without any issues. However, it's not always true that you would be required to boot up all replica VMs simultaneously. Therefore, Microsoft introduced a registry entry that you can set up on the VMM management server, which, in turn, allows you to place more replica VMs to a private cloud or VMM host group.
After applying Update Rollup 6, configure a registry entry called IgnoreMemoryForStoppedReplicaVM located in the following directory: HKEY_LOCAL_MACHINE\SOFTWARE\Microsoft\Microsoft System Center Virtual Machine Manager Server\Settings\Placement. If you set the value of that registry entry to 1, VMM will ignore memory configured for replica VMs and therefore allow more replica VMs to be placed on a private cloud or VMM host groups. Changing the value to 0 of that registry entry would restore the original configuration.
Associate library servers
When planning branch locations, you always want to deploy at least one library server for each location. Whether to keep a library server for each branch location or not depends on your requirements, but the general idea for implementing is to allow users to deploy VMs from a local library server rather than contacting a library server across WAN links. The library servers must be associated with appropriate VMM host groups via VMM. For example, if you have deployed one library server for a location in Seattle, you must link library server to VMM host group that corresponds to a Seattle location. To associate library servers to VMM host groups, go to Fabrics, expand the Infrastructure node, click library servers, go to the property page of library server, and then associate the library server to a VMM host group as seen in Figure 2.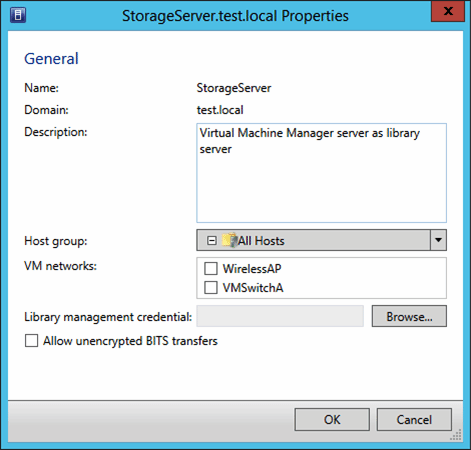 Associating library servers to appropriate or nearby VMM host groups helps prevent large file copy operations across WAN links. Remember, one library server can be associated with only one VMM host group. Child VMM host groups are automatically associated with the library server of parent VMM host groups. You can also associate more than one library server to a VMM host group.
You might also want to take a note of another setting on the property of Library Server, Allow unencrypted BITS transfers, also seen in Figure 2. As the setting suggests, by default, any file transfer operations between library servers are done over an unencrypted connection. In case you need to enable encrypted file transfers for library servers, enable this setting by checking Allow unencrypted BITS transfers on both the library servers.
Configure global network settings
SCVMM offers global network settings such as automatic creation of logical networks when Hyper-V hosts are added under VMM management and automatic association of physical adapters of hosts with a VMM logical network. Before adding virtualization hosts under VMM management, it is recommended that you configure the global network settings from the settings page to disable automatic behavior.

Apart from configuring all of the aforementioned settings on VMM management servers, you might also want to configure a remote control port number to allow VMM to connect to VMs running on Hyper-V hosts. By default, Hyper-V hosts listen on network port 2179 to allow VMM to take remote control of VMs running on that Hyper-V host. And, VMM installation configures port 2179 as a default port for connecting to VMs running on Hyper-V. In case you need to change port number, you can do so by navigating to the general settings page. It is also worth mentioning that port 2179 is applicable only for Hyper-V hosts. VMs running on ESXi hosts are controlled with the help of MKS client over network port 902 and there is no way to change that in VMM.
Dig Deeper on Virtual machine provisioning and configuration