Endpoint virtualization vs. server virtualization: Server requirements
Endpoint virtualization is a new level of server virtualization, but there are some important differences in the two implementations and how end users interact with the server.
Now that most organizations are using some form of server virtualization, many are moving to the next level in virtualization: endpoint virtualization (EPV) -- or more precisely, the virtualization of end user desktops in central repositories. Endpoint virtualization is similar to server virtualization in that it relies on central hardware that runs virtualized instances of each end user desktop. In this regard, EPV reuses several components that were implemented during an organization's move to server virtualization.
Endpoint virtualization also relies on physical host servers, usually running in some form of cluster to provide highly available virtual machines (VMs), storage fabrics to host VM disk files and virtualization management software to orchestrate the launching and closing of the VMs that make up each user's productivity environment.
Endpoint virtualization is making more sense, especially when organizations realize that their move to Windows 7 may well be their last. With the increased reliance on new platforms -- slate PCs such as the iPad, netbooks, even iPhones -- and the increased mobility of task forces and employees as well as the increase in home-based employment, moving away from a physical PC per employee is a solid value proposition.
If you can get rid of a complex physical endpoint device such as a full-blown Windows PC and move it to a virtual instance of a PC -- especially one that is only required when the end user is working with it -- then you can control initial costs, reduce deployment expenses and lower administrative overhead. And, if you already have a server virtualization infrastructure in place, then moving to endpoint virtualization is nothing but a step further into the virtualization arena.
Establishing EPV server requirements
There are, however, some key differences in the way you implement endpoint virtualization compared to server virtualization. After all, the VMs required for endpoint virtualization will be productivity machines running end user applications, not VMs running server-based workloads.
No one interacts directly with a server VM. Instead, they interact with the remote service the server VM runs -- directory services, file shares, printer shares, email systems and so on. With an endpoint virtualization VM, the end users are working directly with the machine, interacting with various applications and controlling the machine's environment to suit their taste. Because of this, EPV requires additional components to run.
These components include:
A directory server such as Microsoft Active Directory. While a directory service is useful for a server virtualization environment because it helps centralize all administrative access to the server virtualization environment, it is essential in an EPV environment because it is the element that ties an end user's account with his or her own particular desktop VM.
A desktop VM coordination service. This service links a user's desktop VM to the user account once the user has been validated by the directory service. It is also responsible for generating the VMs as required.
A remote access protocol. This protocol, often Microsoft's Remote Desktop Protocol (RDP), is responsible for linking the user's physical endpoint device to the endpoint VM. Note that both Citrix and VMware have their own remote access protocols and do not necessarily rely on Microsoft's RDP.
Other server components, such as file servers and application repositories. The inclusion of these components in your EPV architecture will depend on your endpoint virtualization model of choice.
Another major difference between endpoint virtualization and server virtualization is the nature of the VM. Server VMs are composed of a server operating system and then, usually, one single server application. Desktop VMs, on the other hand, are composed of a desktop OS, end user applications that can vary from desktop to desktop and the end user's machine state or data and machine configuration.
In fact, end user VM construction can be viewed as a bull's eye with the three required components. Each layer of the bull's eye requires the appropriate support services to make it run properly (see Figure 1).
Figure 1
This represents the components for VM construction. (Click image for an enlarged view.)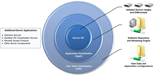 About the experts
Danielle Ruest and Nelson Ruest are IT experts focused on continuous service availability and infrastructure optimization. They are authors of several books, including Virtualization: A Beginner's Guide and Windows Server 2008, The Complete Reference from McGraw Hill Osborne as well as the MCITP Self-Paced Training Kit (Exam 70-238): Deploying Messaging Solutions with Microsoft Exchange Server 2007 from MS Press. Their latest book is a training kit for Microsoft exam titled 70-652: Configuring Windows Server Virtualization with Hyper-V from MS Press. Contact them at [email protected].
Dig Deeper on Desktop virtualization