olly - Fotolia
Explore the benefits of deploying Windows Server 2012 SOFS with SCVMM
There are two ways to deploy the Microsoft Scale-Out File Server, but only one method reduces install time, uses fewer IT resources and simplifies SOFS management.
Optimizing traffic to a file share and increasing the availability of applications in the process doesn't have to be an expensive undertaking. Microsoft Scale-Out File Server helps you increase the availability of file services such as Hyper-V VM and/or SQL applications. Scale-Out File Server can implement Active/Active failover cluster by using the Server Message Block 3.0 protocol and eliminates the need to buy expensive SAN devices. In this article, I'll show you how to deploy Sale-Out File Server using System Center Virtual Machine Manager 2012 R2.
Two types of SOFS deployment
Using System Center Virtual Machine Manager (SCVMM), you can deploy Scale-Out File Server (SOFS) on computers running Windows Server 2012 R2 and later OSes. You can also configure VMM to deploy SOFS on bare-metal computers. Note that SCVMM 2016 brings new functionalities when it comes to deploying SOFS on bare-metal servers. SCVMM 2016 provides the Zero Touch deployment method, which, in turn, can help you deploy SOFS on bare-metal servers by automatically provisioning the required roles and features and configuring the servers for production use.
Advantages of deploying SOFS with SCVMM
Although you can deploy SOFS on existing Windows Server 2012 R2 and later OSes by using the Server Manager, deploying SOFS via SCVMM comes with a number of advantages. First, it can take a considerable amount of time to install required roles and features, including failover cluster and file services role on destination servers, with the Server Manager. SCVMM takes care of installing and configuring required roles and features on destination servers.
If you use SCVMM for bare-metal deployments, you don't need to depend on multiple IT resources. If you were to use Server Manager, you would have to contact the Wintel team to install OSes on the destination servers and then hand those servers over to the IT team to install and configure the failover cluster feature and file server role. SCVMM does all of these jobs, from installing Windows OS to enabling SOFS on destination servers and making those servers available for production use.
Once deployed using SCVMM, the SOFS management is easy. If you need to remove or evict a node from the SOFS cluster, you can easily do so by right-clicking on the SOFS node and then clicking on the Remove action. SCVMM will take care of uninstalling the failover cluster feature, file server role and other components as necessary from the evicted node.
Finally, since SCVMM is designed to manage an entire virtualization data center, I recommend you use SCVMM to deploy and remove SOFS.
SOFS requirements
Before deploying SOFS using SCVMM, you need to ensure your system meets certain requirements. Before deploying SOFS on bare-metal servers, make sure you have completed the initial configuration. This includes setting up the basic I/O system for the destination servers to support virtualization, changing boot order to Preboot Execution Environment (PXE) and configuring the baseboard management controller (BMC) in the SCVMM console.
When deploying SOFS on existing servers, make sure you're running a Windows Server 2012 R2 OS or later. Since SOFS uses the Windows Failover Clustering feature to increase availability of file services, you must meet all of the Windows failover cluster requirements.
How to deploy SOFS with SCVMM
Whether you want to deploy SOFS on bare-metal or existing Windows Servers, you will be using the Create Clustered File Server wizard in SCVMM. You can open wizard by clicking Create and then clicking File Server Cluster as shown in the Figure A.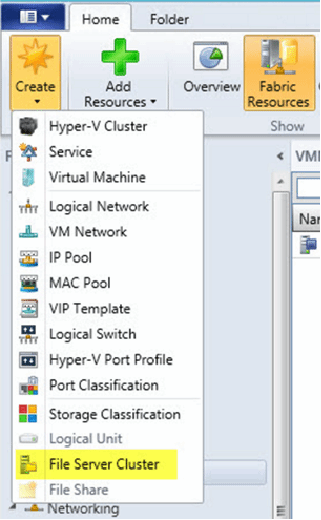 Once the wizard opens, provide the required information and then let SCVMM do the rest.
On the General Tab, provide the cluster name, file server name and cluster IP address as shown in Figure B.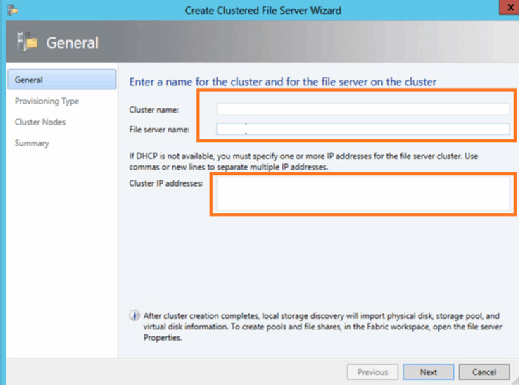 Note that "Cluster name" under the General Tab refers to the name of the actual cluster while "File server name" refers to the SOFS cluster role deployed on the cluster. If you have Dynamic Host Configuration Protocol deployed in a production environment, leave the "Cluster IP addresses" field blank.
On the Provisioning Type tab, shown in Figure C, select the first option if you want to deploy SOFS on existing servers pre-installed with Windows Server 2012 R2 OS or the second option if you would like to deploy SOFS on bare-metal servers.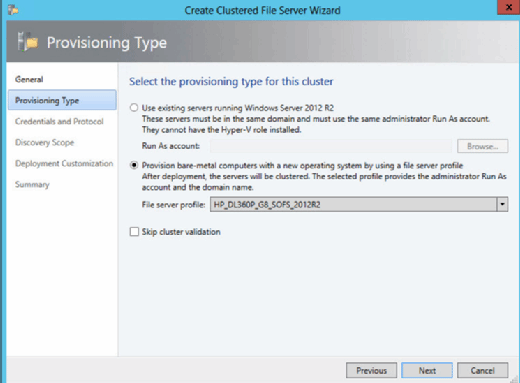 If you check the "Skip cluster validation" box, SCVMM won't proceed with the cluster validation tests that usually take place after installing and configuring the failover cluster on destination servers. I recommend you do not check this box and allow SCVMM to validate the cluster before SOFS cluster is ready for use in the production environment.
If you selected the second option -- "Provision bare-metal computers with a new operating system by using a file server profile" -- you will be required to select a Run As account that has permissions to access BMC on target servers. Note that you will also be required to select the right BMC protocol, so SCVMM can communicate with the BMC on the destination servers.
Next, on the Discovery Scope tab, enter the IP address range containing the BMC addresses as shown in Figure D.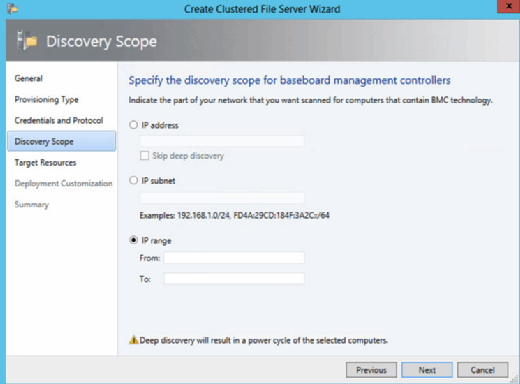 You'll notice there's a small warning displayed at the bottom of the Discovery Scope tab. When you perform a discovery within your chosen IP address range, SCVMM will power cycle the selected computers.
Once SCVMM has completed the server discovery, it will present you with the Target Resources tab, which contains a list of servers SCVMM has discovered. All you need to do is select the servers you wish to use for your SOFS deployment and then click Next.
When you click Next on the Target Resources Tab, SCVMM will restart selected servers into PXE boot and then start the PXE installation of Windows OS by deploying the WinPE image. The WinPE image also contains the SCVMM Agent that will help establish communication with SCVMM Server.
On the Deployment Customization tab, enter details such as computer name, configure the disk on which the OS will be installed and so on for each given server, then click Next to reach the Summary page. This last page helps you understand the deployment configuration for selected servers.
You are now ready to deploy an SOFS cluster via SCVMM. When you click Finish on the Summary page, SCVMM will create a PowerShell script containing necessary configuration settings and then create a SCVMM Job.
Next Steps
What to consider before deploying SOFS
Explore the HA capabilities of SMB protocol in Hyper-V
Big in 2016: scale-out architecture, data protection and more