Share this item with your network: BACKGROUND IMAGE: iSTOCK/GETTY IMAGES
Pros and cons of moving to the cloud

iSTOCK/GETTY IMAGES
Problem solve
Get help with specific problems with your technologies, process and projects.
Five virtualization sprawl warning signs
Quickly provisioning virtual machines can create virtualization sprawl. Here are five VM sprawl warning signs that may signal bigger virtualization infrastructure problems.
By
Rick Vanover, Contributor
Virtualization sprawl can negate the many benefits of virtualization, which include cost savings, operational efficiencies and consolidation.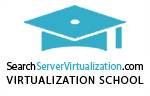 Virtualization is a fundamental shift in how infrastructures are architected, provisioned, managed and operated, but virtual machine (VM) sprawl can create bigger virtualization infrastructure problems down the line. In this tip, I explain virtualization sprawl and how to protect against it. What is virtualization sprawl?
virtualization sprawl occurs when the number of virtual machines on a network reaches the point where the administrator can no longer manage them effectively. VM sprawl warning signs can be remedied, but a single symptom does not necessarily indicate sprawl. Identifying these symptoms, however, can prevent virtualization sprawl from becoming an issue in the future. Below are some of the most common warning signs of larger virtualization infrastructure problems. Virtualization sprawl symptom No. 1: Lack of policy
The inability to manage consistent VM configurations is a contributing factor to virtualization sprawl. For most environments, operating systems (OSes) need to have consistent configuration in areas such as administrative access, encryption settings, antivirus or malware protection and network settings. While streamlining these operations can pose problems for physical infrastructures, it can cause even bigger virtualization infrastructure problems. Active Directory (AD) is key technology to help centralize these configurations. AD allows granular policy control to computer and user accounts. It can centrally manage how an OS -- either physical or virtual -- exists in the infrastructure. Having well-defined Active Directory principles prevents problems, such as scattered administrative permission assignments, uncoordinated antivirus software installations and configurations, inconsistent encryption settings for core services and unnecessary programs running on VMs. Virtualization sprawl symptom No. 2: Unmanageable updates
If the second Tuesday of the month causes a scramble to deploy Microsoft patches, it's not going to get easier in a virtualized infrastructure without planning ahead. Almost all virtualization deployments decrease amount of physical equipment, but increase the total number of OS installations. So, for example, how would this affect manually patching and updating systems after the amount of systems double? In most situations, it quickly becomes unmanageable to manually perform Windows Update scans and upgrades on a rapidly growing infrastructure. A planned approach, however, allows administrators to sleep at night. Tools such as Microsoft System Center and Symantec's Altiris centrally deploy updates to virtual (and physical) machines with policy and schedule. Although these products are not free, cheaper, less-sophisticated tools can update servers as well. One option is to make Windows Update automatically run through Group Policy. This includes pushing out configurations that check for updates automatically, either through the registry or a scheduled task. Each server can be configured to automatically update, but this method lacks the central configuration push. Virtualization sprawl symptom No. 3: Unmanageable inventory
If inventory management practices are not refined, the virtual world can be a nightmare. Take, for example, purchasing physical servers. Before virtualization, most IT groups had one or two people arranging the equipment purchases. With virtualization, however, there are usually more administrators with the permission to create VMs. But will everyone reconcile the inventory the same way? Probably not. But without implementing well-defined policies, you may eventually be overwhelmed by the growing inventory. There are free tools available to help address virtual inventory problems. For VMware environments, there is V-Scout by Embotics and VKernel's SearchMyVM. These products provide different functions, but each bridge the visibility gap in dynamically growing virtual infrastructures. Virtualization sprawl symptom No. 4: Licensing compliance and cost
If the number of VMs increases ahead of expectations, licensing and allocations figures may be at risk. No one wants a surprise at true-up time for software license inventories for servers or to run into a hard stop due to a license exceeded situation. VMs are quick and easy, but they are not free. One of the best ways to resolve licensing and allocation issues is to have a refined cost structure -- or allocation costs -- associated with each VM. For many environments, it can be represented as the following:
A slice of the virtual infrastructure. This represents the targeted consolidation ratio divided by the host cost. If you plan on a 15:1 consolidation ratio and a virtualization host's storage costs $30,000, for example, the server hardware and virtualization management slice is $2,000.
Operating system licenses. While VM cloning, templates and other features allow for quick OS deployment; the licensing burden still exists. Put in the average operating system cost for the edition most frequently used. Also, consider the unlimited virtualization rights option for Windows Datacenter editions.
Management software. If there are associated client costs for patching tools, antivirus software, compliance agents, backup software agents or other titles, these fees need to be added to the infrastructure cost.
Virtualization saves money, but you need to refine your cost model. A clearly defined cost model can prevent VM sprawl, which can create financial repercussions. Furthermore, use this opportunity to clarify the misperception that VMs are free in a virtual infrastructure. Virtualization sprawl symptom No. 5: Too many systems to back up
When a virtual environment grows so fast that the backup infrastructure cannot protect workloads, it can create the potential for disaster. In this situation, it's imperative to identify what needs to be backed up. If a VM runs a Windows service that was developed in-house and you are familiar with the installation process, a rebuild from a template may be a better option than investing the necessary time and storage required to protect the system. Then again, if all your systems need to be backed up, protection difficulties may arise. One possible solution: A provisioning approval process and a cost model can curtail infrastructure growth. When noticing these five VM sprawl symptoms, it's best to act immediately. In the planning stages, try to address these problems and other infrastructure issues before a virtualization environment is implemented. Having well-rounded policies and a defined cost model can protect an organization from virtualization sprawl in a data center. About the author:
Rick Vanover (vanover-rick@usa.net), VCP, MCITP, MCTS, MCSA, is an IT infrastructure manager at Alliance Data in Columbus, Ohio. He is an IT veteran specializing in virtualization, server hardware, operating system support and technology management.