Evaluate
Weigh the pros and cons of technologies, products and projects you are considering.
From VMware fling to supported tool: vCenter Multi-Hypervisor Manager
Take a look inside former VMware fling, vCenter Multi-Hypervisor Manager. Despite its name, the application may just be a way to prompt conversion.
VMware Inc. recently released VMware vCenter Multi-Hypervisor Manager, which is the first supported product developed from a VMware fling. This might lead you to believe that a vendor known for its exclusivity has embraced the idea of multiple hypervisors in the data center, but the idea behind this application is not so straightforward.
VMware vCenter Multi-Hypervisor Manager (MHM) 1.0 is similar to the XVP Manager fling, but it has some additional features and is now a free, supported VMware product.
Breaking down MHM's functions
This is some of what MHM can do for you:
Manage Hyper-V hosts and virtual machines (VMs) from vCenter. Only Hyper-V 2008 R2 is supported at this time, but the ability to manage other hypervisors is expected with future releases.
Provision new VMs on the managed hosts.
Edit VM settings and configurations.
Support integrated privileges, roles and users.
Auto-discover new VMs.
Power hosts and VMs on and off.
Connect and disconnect VM DVD disks and iSO images.
Figure 1 shows the architecture that makes all this possible.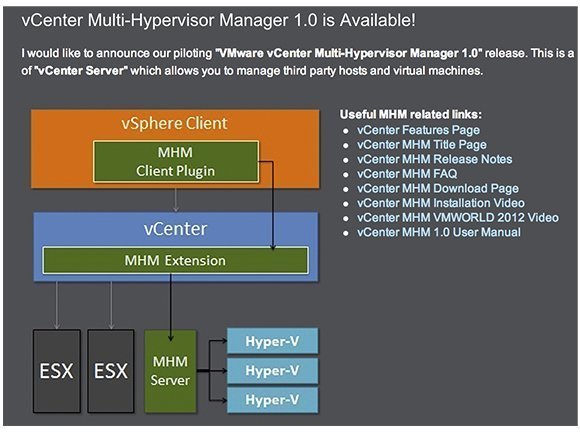 VMware vCenter MHM differs from the XVP Manager fling by offering these new features:
An integrated permission model between vCenter and the third-party hypervisor.
Improved security and HTTPS communication with the third-party hypervisors.
VM provisioning (i.e., VM creation).
Because MHM is the first of more than 25 flings that has become an official product, it now has VMware support. According to VMware, MHM will add features in future releases that are missing in MHM 1.0, including the following:
Support for Windows Server 2012 Hyper-V management.
Access to the VM console for third-party VMs.
VM conversion from a third-party hypervisor to VMware vSphere.
Diving into vCenter Multi-Hypervisor Manager
You can download MHM from inside the VMware vCenter 5.1 download page. You'll need both the server and the client.
MHM isn't a virtual appliance, but rather a 50 MB application that creates a Windows service. Begin by installing the server piece. If your vCenter Server is installed on Windows, you can install vCenter Multi-Hypervisor Manager Server on either that system or on a remote system. Before proceeding with the installation, be sure to install and correctly configure the Windows Remote Management service.
Once you have installed the server piece, you must install the vSphere Client plug-in.
Installing the MHM plug-in for the vSphere Client
You also install the vSphere client plug-in with a traditional Windows application install, but you must install the client on the same machine where you will run your vSphere client. Follow these steps:
In the vSphere client, select Manage Plug-ins from the Plug-ins menu.
Under Available Plug-ins, click the Download and Install link for VMware vCenter Multi-Hypervisor Manager.
Once you've accepted the patent and end-user agreements, click Install.
Follow the prompts, complete the installation and close the plug-in manager window.
Once you install the plug-in and run the vSphere client, you'll see vCenter Multi-Hypervisor Manager in the Inventory section.
Getting to work with MHM
Inside the vCenter Multi-Hypervisor Manager inventory, you can add your other hypervisors. Figure 2 shows that I added my two Hyper-V hosts and that I can see all the Hyper-V hosts in my infrastructure, their CPU and memory use and CPU count.

You also have a single view of tasks and events for all servers, as well as permissions and the server configuration. You can even shut down and reboot Hyper-V servers. Additionally, you can create new VMs on Hyper-V hosts.
You can power VMs on and off and reconfigure VM settings. Figure 3 is a view of the configuration and performance use of a VM, including virtual hardware that you can add or remove when the VM isn't running.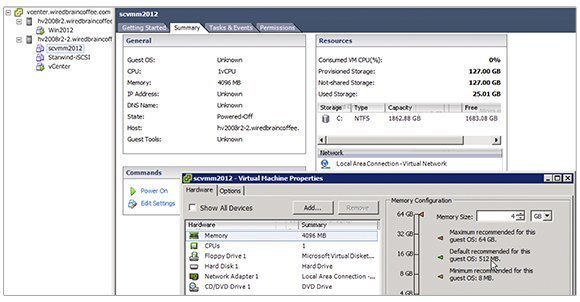 I applaud VMware for transforming a fling into a supported free product. I am a big fan of multi-hypervisor management, and I am impressed that VMware has announced plans to add support for Windows 2012 Hyper-V and other hypervisors.
Ultimately, VMware aims to show admins what other hypervisors are running, and to help them convert those VMs to vSphere. After all, XVP Manager offers a conversion feature, and VMware has said future releases of MHM will as well.
To learn more about vCenter Multi-Hypervisor Manager, visit the MHM community and MHM launch blog post with videos.
Dig Deeper on VMware management tools