Got multiple virtualization vendors? Learn to convert virtual disks
Virtualization vendors don't have virtual disk format standards. If you use multiple virtualization platforms, you'll have to convert from one vendor's disk format to another's.
Using multiple virtualization platforms in your infrastructure can help you avoid vendor lock-in, and it certainly promotes competition among virtualization vendors.
But it can be difficult to bridge different technologies, especially when it comes to virtual disk formats. There are no disk format standards, so you'll probably have to convert virtual disks from one vendor's format to another's.
Challenges of the multivendor approach
Using multiple platforms for virtualization can empower businesses to demand a more competitive approach to licensing costs when renewals from virtualization vendors are due. Stated bluntly, it is much easier and convincing to play virtualization vendors off one another if the business can actively demonstrate the successful deployment of a competitor's product, when compared to a closed single-vendor environment. Virtualization is game-changing technology, but in many respects the rules of the game remain the same.
Still, the lack of industry standards continues to plague enterprises that are considering using multiple virtualization platforms. The initial hurdle is that all virtualization vendors have their own proprietary formats for the virtual machine (VM) "virtual disk." In some cases, the files that make up the VM are stored on proprietary files systems such as VMware's Virtual Machine File System.
Although tools do exist to convert vendor A's virtual disks into vendor B's format, these tools provided by virtualization vendors are mainly there to facilitate the move away from a competitor's product. The process is typically slow and tedious and could require a temporary increase of physical storage capacity to complete the conversion process.
Most virtualization vendors have made their virtual disk formats open source. The trouble is that no other vendors have adopted their technologies. So a "standard" that no other organization recognizes is not really a standard. This means data center managers with multiple virtualization platforms are limited to using conversion tools such as VMware Converter (see Figure 1) to import "foreign" virtual disk formats.
Figure 1
VMware Converter is one of the conversion tools used to import "foreign" virtual disk formats.(Click image for an enlarged view.)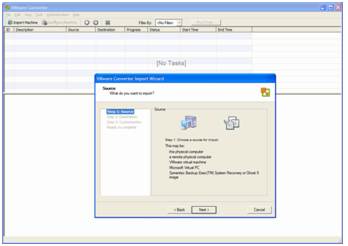 Third-party conversion tools to the rescue
It's also worth mentioning that vendors such as PlateSpin and Double-Take sell products that address an organization's full conversion needs, including P2V, V2P, P2P as well as V2V. Given your organization's overall needs, you might wish to consider these third-party technologies because they offer functionality over and above the free conversion tools that virtualization vendors offer.
You might also like to investigate free conversion tools that are supposed to be quicker and more reliable that the virtualization vendors' tools. For example, the website vmToolkit.com hosts VMware .VMDK to Microsoft .VHD convertor (vmdk2vhd). Similarly, StarWind -- an iSCSI provider for Windows -- also hosts a free conversion tool.
Additionally, it is worth noting that it's possible to store the organization's data in a more neutral format, for example, using VMware's Raw Device Mappings or Microsoft Pass-Through Disk. These features allow data to be stored on the SAN in a format that the guest operating system running inside the VM can recognize natively -- which would be useful if you have multiple virtualization platforms.
This would allow a VMware VM and Microsoft VM to access the same data without a conversion process. However, this type of approach does have its downsides -- because the business loses the "encapsulation" feature that all x86 virtualization offers. That means everything is just a file -- the virtual disk -- that can easily be copied from one location or media to another (see Figure 2). Once you start using a feature like VMware RDMs or Microsoft's Pass-Through, you lose the capacity to copy, clone or move the VM easily from storage location to another.
Figure 2
A virtual disk within VMware is being added to the VM.(Click image for an enlarged view.)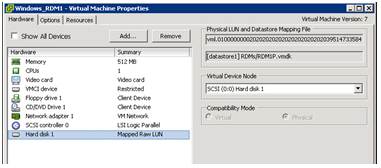 If you're working with different virtualization platforms, learn how to convert virtual disks from one format to another. That way, you understand the nuances of different virtualization vendors and can build an infrastructure with multiple virtualization platforms.
This article originally appeared in the Virtual Data Center E-Zine.