How to configure Citrix XenServer live migration
To set up XenServer live migration, all you have to do is install XenServer on server hosts, deploy XenCenter and install the XenServer Tools package in the virtual machine.
In this article you'll learn how to configure the Citrix XenServer live migration feature.
One of the main reasons that companies implement virtualization is to exploit the benefits of live migration. With the ability to live-migrate, it's no longer necessary to bring down a virtual machine (VM) for maintenance updates of the host operating system.
In Citrix Systems' XenServer, live migration is free in the base package, so there is no need for an additional purchase. To configure Citrix XenServer live migration, install XenServer on host machines, install XenCenter on a Windows computer, and you are ready to go.
Installing XenServer Tools
To ensure that XenServer live migration works correctly, however, you need to take additional precautionary measures. Everything in a VM has to be independent of the physical host. The disk file of the VM has to be on shared storage, and the installation source cannot be connected to a physical server. To accomplish the latter requirement, use an installation server or a Network File System/Windows share ISO repository to install the OS in a VM.
Then you have to install the Xen Tools package in the VM. Until you have done so, XenServer live migration won't be available. To install XenServer Tools, right-click the VM and select the "Install XenServer Tools" option.
On a Windows guest, this command starts the installation automatically. On Linux you have to mount the XenServer Tools image that is now connected to a DVD drive. In Figure 1, you can see that xs-tools.iso, which is the XenServer Tools package, is available on the /dev/xvdd device. Mount it using mount /dev/xvdd /mnt, then use cd /mnt to access the XenServer Tools directory. In the directory, you'll find a subdirectory for Linux. From this subdirectory, run the XenServer Tools installation script using ./install.sh and restart your computer.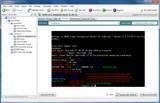 To install XenServer Tools on a Linux guest, you need to mount the XenServer Tools ISO image and run the installation script. (Click to enlarge image.)
Performing XenServer live migration
After installing the XenServer Tools package, performing a migration is easy: right-click the virtual machine from the XenCenter console and select "Migrate to Server" from the menu.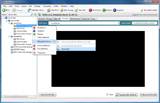 You can easily live-migrate a virtual machine by right-clicking it. (Click to enlarge image.)

The final step in XenServer live migration configuration is to select the server to which you want to migrate the virtual machine. That's it. Your virtual machine is now migrated, and as you configure live migration, your users won't notice a thing.

Sander van Vugt is an independent trainer and consultant based in the Netherlands. Van Vugt is an expert in Linux high availability, virtualization and performance and has completed several projects that implement all three. He is also the writer of various Linux-related books, such as Beginning the Linux Command Line, Beginning Ubuntu Server Administration and Pro Ubuntu Server Administration.