Fotolia
How to install Oracle VM Server for x86 and Oracle VM Manager
With Oracle VM Manager, not only can you easily manage VMs, you can also set up server pools, define your own networking and connect to different types of storage.
Oracle VM Manager provides a well-designed web interface that makes it easy to install and configure VMs. By offering this advanced management platform, Oracle VM Server goes further than other Linux-based Xen products and provides the functionality that is typically required in an enterprise environment. That means that Oracle VM has all it takes to provide a virtualization alternative for VMware vSphere or Citrix XenServer.
Oracle VM Server exists for x86 and Scalable Processor Architecture, but here we'll go over how to install Oracle VM Server for x86.
Install Oracle VM Server
If you want to install Oracle VM Server, start by downloading the software, which is available for free. You'll see several versions of the Oracle VM Server file; download the latest version, and skip the sources ISO. Oracle VM Server is completely open source. So, the source code of the software is provided with it, but you don't need it for installation. Next, install Oracle VM Server on physical hardware or in any VM that offers emulated CPU hypervisor extensions. This is offered by VMware products, such as VMware Workstation, but not included in Oracle Virtual Box.
The Oracle VM Server installation procedure is straightforward, and you should be fine sticking with the default choices. Notice that the default configuration will create a network-bonded device on top of your network cards, so it automatically provides for redundancy. If you're setting up a test environment that only has one network card, you might as well switch this option off. After copying over all packages, the installer will work for at least five minutes without showing anything. Just a warning: It isn't hanging; it's just working.
Install Oracle VM Manager
Apart from the Oracle VM Server, you'll also need to download and install Oracle VM Manager for Linux. You must install this package on Oracle VM Server. To do so, you'll need to update all software packages on Oracle VM Server , and that will only work if you have a valid account on Unbreakable Linux Network. To install the Oracle VM Manager, you'll find a setup script with the name Deploy_Manager_Tempalte.sh. This script will do the required checks after it installs Oracle VM Manager.
Oracle VM Manager is accessed from a browser and, by default, offers its services on port 7002. It organizes working with VMs in different tabs, as shown below, which provide anything you'd ever need to manage VMs at an enterprise level.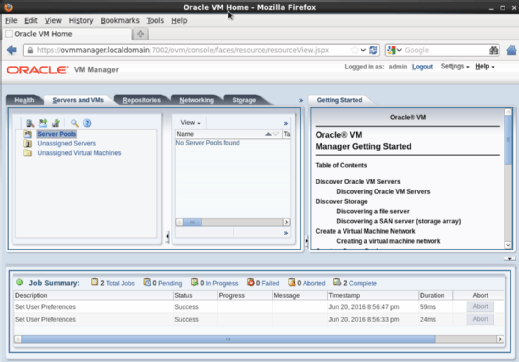 The core component in Oracle VM Manager is the Servers and VMs tab. On this tab, you can assign Oracle VM servers to server pools, which allow you to run VMs within a specific pool. You can also set up other vital elements of the virtualized environment, such as networking and storage. From the Networking and Storage tabs, you can access interfaces that allow you to define your own networking and connect to different types of enterprise storage.
A feature of Oracle VM Manager that you'll particularly like is the activity log in the lower part of the screen. From this log, you can see what has happened, and if any errors do occur, it provides an easy interface to get more information about what exactly went wrong.
Next Steps
Upgrade to a Oracle database version
Learn more about Oracle cloud services
Navigate Oracle's container management strategy
Dig Deeper on Oracle VM and other virtualization technologies