Problem solve
Get help with specific problems with your technologies, process and projects.
Inside Oracle VM virtualization
This section of our guide on open source virtualization software, we delve into Oracle VM virtualization architecture.
In this section of our guide on open source virtualization, we explore Oracle VM virtualization architecture. Oracle VM virtualization consists of two components: Oracle VM Manager and Oracle VM Server. Oracle VM Server is the back end of the Oracle virtualization technology and provides the hypervisor that enables you to create virtual machines. This hypervisor is a tuned version of the Xen-based hypervisor present in other virtualization technologies, such as Citrix XenServer, Novell Xen (or SUSE Linux) virtualization ,and Red Hat Enterprise Linux.
To manage the virtual environment, Oracle offers Oracle VM Manager. This Web-based user interface allows administrators to manage server pools, Oracle VM servers, virtual machines and server resources. Oracle VM Manager was developed as a complete technology that allows you to create and configure guest virtual machines and perform advanced administration tasks as well, such as load balancing of virtual machines, or virtual machine high availability.
Figure 1
Oracle VM Manager enables administrators to manage server pools. (Click image for an enlarged view.)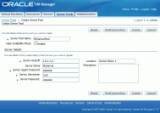 Oracle Virtual Machine has been developed as a technology that has to integrate with other Oracle products., Oracle Enterprise Manager 10g, for example, introduces the Oracle VM Management Pack, that allows you to manage not only the virtual machines but also OSes and software that run on these VMs from a well-integrated interface.
Oracle's effort to offer one integrated solution also shows from its Oracle VM Templates. These templates contain complete pre-installed, pre-patched and pre-configured Oracle product instances as a virtual machine. Using these templates makes it easier to complete even complex installation tasks rapidly way, because templates are available for various complex applications, including Siebel CRM and Oracle SOA Suite. As an administrator, you just have to integrate the template into your current management environment and start it to have a complete virtual solution up and running in a short time. (For more, check out this side-by-side comparison of how Oracle virtualization architecture compares with VMware virtualization.
ABOUT THE AUTHOR: Sander van Vugt is an author and independent technical trainer, specializing in Linux since 1994. Vugt is also a technical consultant for high-availability clustering and performance optimization, as well as an expert on SLED 10 administration.
Dig Deeper on Introduction to virtualization and how-tos