Installing Citrix XenServer for free
In this tip, site expert Sander van Vugt explains how to install the free version of Citrix XenServer in your virtual environment.
When talking about Xen virtualization, most people immediately think of the type of virtualization that is included in many Linux distributions. Unfortunately, in my experience, configuring these Xen versions can be tricky. I've had fewer problems, however, with Citrix XenServer Xen virtualization because it has a very accessible management interface. It's free, too.
There are three different versions of Citrix XenServer; the Enterprise Version, the Standard Version and the Express Version. Of these XenServer versions, the Express Version can be used for free. There are some limitations though; the most important of which being that XenServer Express offers virtualization for one server only. That is you can install more than one server with XenServer Express, but there is support for only one server in the XenCenter management application. Nevertheless, it offers an excellent way to get familiar with the Xen way of doing things.
Getting It
Getting Citrix XenServer Express is easy; it's a free download from Citrix . If you plan to install virtualized Linux machines as well, don't forget to download the XenSource Linux support cd image. Otherwise, you won't be able to virtualize Linux.
Once the XenSource installation cd is burned, installing the product itself is easy. Boot from the cd and all the work is done automatically. The installation program asks if you want to install a XenServer host or if you want to convert a physical machine to a virtual machine (VM). The latter is pretty cool since no open source Xen version offers an easy physical to virtual (P2V) solution.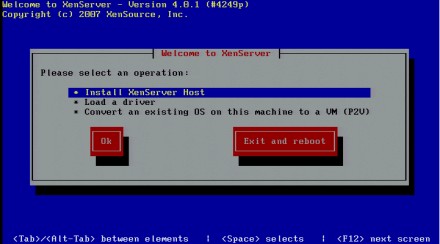 The XenServer installation cd offers you the option to install a XenServer host and an easy way of doing P2V conversion.
The installation process itself is pretty straightforward and looks a lot like the Red Hat Linux installation program. But there is one thing that you should always remember: To install Windows virtual hosts, you do need hardware support for virtualization. If you don't, then the installation program warns you that you can install Linux virtual hosts only. Of course, when Windows Server 2008 becomes available this will change since you can install it in paravirtualized mode.
Managing Virtual Machines
Once installed you can get familiar with the reason why you should have a look at Citrix XenServer: the XenCenter management application. Sorry if you like to use a Linux workstation because this application is available for Windows only. You can install it with the XenCenter client install program that is available on the XenServer installation cd.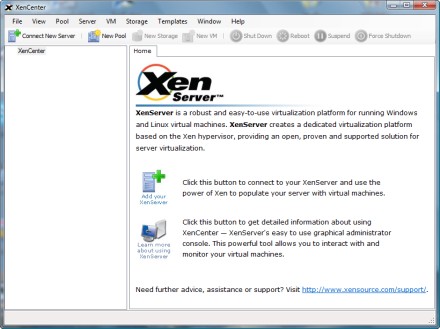 XenCenter offers the easy accessible XenServer management interface.
The first step in XenCenter is to add your server. Once you're connected to your XenServer hosts, you'll find that some prerequisites have to be met before you can continue. First, you need to configure storage. XenServer assumes that you're connected to an SAN so you need to indicate what SAN access protocol to use. Local storage can be used, but it's complicated to set up. Also, the installation of your favorite operating system isn't always easy.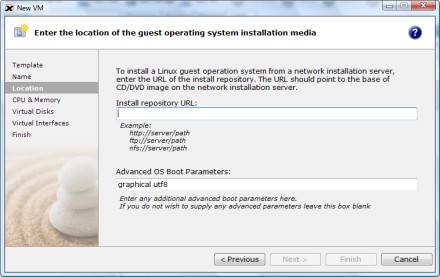 When installing Linux, the installer assumes that you're using an installation server.
You can install Windows from a local cd or dvd but if you want to install Linux, you must refer to a URL on an installation server. In future articles you will learn how to perform these tasks.
ABOUT THE AUTHOR: Sander van Vugt is an author and independent technical trainer, specializing in Linux since 1994. Vugt is also a technical consultant for high-availability clustering and performance optimization, as well as an expert on SLED 10 administration.