Problem solve
Get help with specific problems with your technologies, process and projects.
Installing Windows guest virtual machines on SLES 11
You can virtualize Windows at low cost with Novell SUSE Linux Enterprise Server (SLES). Here's how to configure SLES 11 as a Xen server and install Windows guest virtual machines.
In its recent release of SUSE Linux Enterprise Server (SLES) 11, Novell Inc. has updated the Xen virtualization stack. Included in the operating system, Xen is a cheap yet complete virtualization technology that can virtualize not only different brands of Linux but also Windows and offers great performance. In this tip, we outline step by step how to configure SLES 11 as a Xen server to host Windows virtual machines.
In previous versions of SLES, Xen was available as an additional install, so the Xen kernel and management packages were installed on top of the SLES operating system. In SLES 11, you can now select a Xen virtualization host as an installation pattern. The OS can be tuned as a Xen host, so no graphical interface is installed and only the Xen host packages are installed. This option allows you to create a Xen host in a matter of minutes.
Installing Windows virtual machines
To install and manage virtual machines (VMs), Novell offers the open source tool, the Virtual Manager (known as virt-manager). For more advanced configuration and management, the company offers the PlateSpin orchestrator, but if you just want to set up virtual machines without too much complexity, virt-manager does the job well. To install the Xen host installation pattern, virt-manager must run over a Secure Shell (SSH) connection from a workstation because there is no Web interface. Managing the virtualization setup from Windows requires an X server such as Xming and a terminal client such as Putty. Alternatively, if you prefer working directly from the server console, you can choose a complete graphical environment on the server. I like that the Novell Xen stack offers different ways to work with virtualization.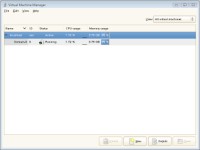 On SLES' Xen, you use virt-manager to create and manage virtual machines.
To create a Windows virtual machine, start virt-manager from a console with root permissions, click New, and select "I need to install an operating system." This brings up a list of operating systems; in this instance, let's assume that we want Windows Server 2003. Select the operating system and click Forward to configure your virtual machine.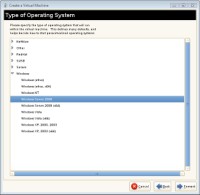 Virt-manager gives a list of all the operating system that you can virtualize in SUSE Xen.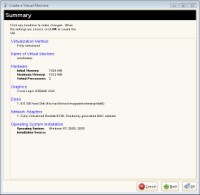 From the virtual machine manager, specify which settings you want to use for your virtual machine.
From the virtualization settings window, you can configure your virtual machine. The following options are available:
Virtualization method: Choose full virtualization because that is the only supported virtualization for Windows.
Name of virtual machine: Provide a name for the virtual machine. You'll use this name for VM management, so make sure it makes sense to you.
Hardware: Specify the settings for the VM you're creating. Configure the hardware you need, but never go beyond the amount of real CPU cores that are installed in your computer.
Graphics: Specify which graphical card is presented to your virtual machine. Accept the default; it works just fine.
Disks: Use this option to specify what you want to use as the back end for file storage. By default, a virtual disk with a size of 8 GB is created. This may be a bit tight for your needs, so increase this if needed. If you want to install from an optical disk, make sure to add a virtual CD-ROM drive that is connected to a physical optical drive or an ISO file.
Network adapters: Specify what to use as the back end for the network card in your virtual machine. Accept the default suggestion, which works fine in most situations.
Operating system installation: Use this to specify from what source you want to start the installation.
After specifying how you want to install the virtual machine, click OK to start the installation. After a while, the Windows setup screen will be displayed. Now follow all directions to install Windows.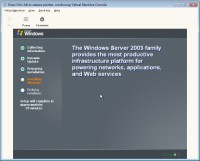 The Windows installer runs just fine from the virt-manager installation program.
Novell Virtual Machine Driver Pack
After installing the Windows machine, there are just a few more things to do. Novell has released its Virtual Machine Driver Pack to be installed inside Windows virtual machines. The benefit of this add-on is that it enables paravirtualization of the I/O-channels. That means that the network card and storage channel will use paravirtualization instead of the default (and much slower) full virtualization. The Novell Virtual Machine Driver Pack is not free, but it can improve performance by up to 30% in specific situations. Installing the driver pack is easy: Just download the installer file and run it. It will automatically update the drivers that are currently used to their paravirtualized equivalents.
Summary
If you're looking for a cheap but complete way to install Windows in a virtual environment, Novell's Xen stack in SUSE Linux Enterprise Server may be the solution for you. It offers a complete virtualization stack, where all functionality offered is free. Don't forget to install the Novell Virtual Machine Driver Pack in each Windows host because it will greatly enhance the performance of your Windows virtual machines.

Sander van Vugt is an independent trainer and consultant living in the Netherlands. Van Vugt is an expert in Linux high availability, virtualization and performance and has completed several projects that implement all three. He is also the writer of various Linux-related books, such as Beginning the Linux Command Line , Beginning Ubuntu Server Administration and Pro Ubuntu Server Administration.