Share this item with your network:
Not playing games: The GPU vs. CPU question gets more interesting

.shock - Fotolia
Invest in HCI and SDN for a modern data center
Address any outdated data storage techniques by adopting a hyper-converged infrastructure and software-defined networking to modernize your data center.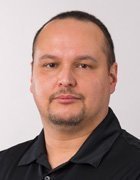 By
A new year comes with a replenished IT budget and a fresh chance to think about how to improve your data center. Virtualization has allowed us to consolidate and improve hardware efficiency, but this is only the first step. Now it's time to implement a more modern data center. A good place to start is storage -- specifically your storage area network and network-attached storage frames.
Time to refresh storage
Big storage has had a central place in the modern data center for many years, and for good reason. Data storage needs have continued to grow; our consumption of data is at an unprecedented level, with no sign of slowing down. However, we have changed how we store and access that data.
Hyper-converged infrastructure (HCI) has changed the server and storage hardware design at a scale that hasn't been seen since virtualization. As hardware components continue to shrink, it makes sense to combine storage, compute and networking in the same package. Some skeptics, however, remain unconvinced that HCI is ready for the enterprise.
HCI originally found a foothold supporting lower-tier needs, such as virtual desktop infrastructure (VDI), but adopters found its performance exceeded expectations. In fact, VDI environments have become the proving ground for HCI, and its reputation is growing.
Software-defined networking will help our data centers better use the cloud.
While it might be hard to say goodbye to your old storage frames, the decision to replace them comes down to simple math -- after a time. As you look at all of the costs and complexity of external storage, including maintenance and connection costs -- Fibre Channel or iSCSI -- HCI has a clear future in the enterprise.
If you're not ready to fully invest in HCI, which comes with an upfront cost, VMware's vSAN and related technologies may be another way to break from big storage. These software-defined storage products help bridge the gap between what you have today and what you could have in the future with HCI. VSAN and the related products can be a great option if you're finding your capacity stretched too thin.
But there are valid concerns about performance and failure when using local storage across multiple hosts connected by a network. Therefore, these technologies will most likely not replace your core enterprise storage in the near future. Still, they can supplement your capacity and handle many middle-tier storage needs.
SDN is ready
There has been a lot of deserved attention to software-defined networking (SDN) lately. The portability and microsegmentation that VMware's NSX brings is becoming an enabling technology that's needed in a modern data center. Most organizations will use the cloud in some fashion -- for burst loads or test and development -- and the challenge now is ensuring a seamless and secure cloud presence that allows you to move workloads without reconfiguring them.
Many people envisioned the cloud making the data center obsolete, but security and ownership concerns have kept the local data center intact. That doesn't mean we don't want to use the cloud in some fashion. Software-defined networking will help our data centers better use the cloud. While NSX and other SDN platforms are still expensive and complex, they should be on your radar. Critics can argue about whether the cloud portability SDN offers is necessary or just an expensive convenience, but microsegmentation is a different story. Security can no longer be an afterthought. Placing custom firewalls in front of each virtualized node is a security person's dream and a hacker's worst nightmare, so the microsegmentation SDN offers needs to be in your modern data center.
While many of these technologies represent drastic changes in infrastructure design, they are mostly evolutional. Storage was already virtualized; taking advantage of distributed local storage is simply the next step. Network routers and firewalls are a part of every data center; microsegmentation just adds more. The challenge to a lot of this new technology is where to start. Much like any project, it can pay to start by cleaning out the old stuff. Some of those legacy storage frames might have to give way to HCI nodes or vSAN. This realignment will help you reduce costs and free up additional funds to move toward a more modern data center next year.
Dig Deeper on Application virtualization