Problem solve
Get help with specific problems with your technologies, process and projects.
Linux virtualization with Novell's SLES
Novell's SUSE Linux Enterprise Server offers its own flavor of Linux virtualization. In this section of our open source virtualization software guide, we explore SLES virtualization.
Novell SUSE Linux Enterprise Server (SLES), is yet another incarnation of Linux virtualization. In this section of our guide on open source virtualization software, we explore Novell's breed of Linux virtualization and its virtualization architecture.
Since it abandoned its flagship NetWare operating system, Novell has invested greater resources in its Linux technolgoy -- and especially data center Linux. SUSE's Xen-based virtualization is an important part of that strategy. In this technology, SLES is used as the virtualization host. On top of that host, Linux and Windows virtual machines can be created. Kernel-based Virtual Machine (KVM) is not yet available for SUSE Linux Enterprise Server, but for future releases of SLES, Novell is working on a stable KVM solution as an alternative offering.
While KVM is not yet available as a stable solution in SLES, the Novell offering is comparable to the Red Hat offering. Novell virtualization is also based on the Xen hypervisor, with libvirt as the application programming interface, which offers access to management interfaces such as virsh, Virtual Machine Manager, and more. Apart from the standard technologies, Novell also offers the more advanced management solution PlateSpin Orchestrate, a versatile product that enables you to manage (or "orchestrate" in Novell terminology) virtual and physical resources from one interface. But this product is so complicated that you can't download it for a free test-drive and can order it only from Novell, which creates a custom technology based on the needs of the customer.
Creating virtual machines with Novell's technology is easy. On the installation of the SLES operating system, you indicate what you want to do: install a specific virtualization host or integrate the Xen virtualization software in an existing instance of SUSE Linux Enterprise Server. Both options create the same result, but some customers feel better when their virtualization host is a dedicated virtualization host.
After the installation of the host platform, you can create virtual machines right away. To do so, use the difficult but versatile virsh command line interface, or the graphical Virtual Machine Manager. In case you believe that this utility is available directly from the console of the host itself, that's not the case. Using an SSH connection you can start Virtual Machine Manager from anywhere in the network, as long as an SSH connection is available, it will just work (with PuTTY and a Window Manager like Xming combined it even runs from Windows).
Figure 3
Novell offers PlateSpin Orchestrate as their extensive proprietary solution for virtual machine management. (Click image for an enlarged view.)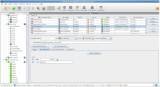 ABOUT THE AUTHOR: Sander van Vugt is an author and independent technical trainer, specializing in Linux since 1994. Vugt is also a technical consultant for high-availability clustering and performance optimization, as well as an expert on SLED 10 administration.
Dig Deeper on Virtualization vendor comparisons