Managing virtual machines with Microsoft System Center
Microsoft System Center is a strong asset in Microsoft's growing family of virtualization products that automates many administration tasks. But while the Windows Server management tool streamlines VM management, there is still room for improvement according to our expert.
Is it really possible to have too much of a good thing? When it comes to virtual machines (VMs), that often seems to be the case. More is not necessarily better from the standpoint of systems administration. The issue of VM sprawl – the rapid proliferation of virtual machines in a production environment – can present a challenge. Apart from the larger number of operating systems and application stacks to manage, the entire process of IT systems management can be upended.
For most IT departments, automation is a necessity for managing more than a few systems, whether physical or virtual. In this tip, I will offer a solution: Microsoft's System Center application suite. While this software package is only one option, I'll use it to illustrate how automation can help resolve real issues.
An overview of Microsoft System Center
Recognizing the many challenges of managing IT infrastructures, Microsoft has created a suite of tools for managing both physical and virtual systems. The current lineup of products in the System Center roster includes the following:
System Center Essentials: Designed for smaller network environments that favor simplicity over scalability, the Essentials edition provides the System Center features that are most relevant to mid-size organizations.
System Center Virtual Machine Manager: As its name clearly states, this product is designed to manage an organization's virtualization environment. It provides a wide variety of functions for creating, deploying and monitoring VMs.
System Center Operations Manager: Operations Manager is designed to provide monitoring and automation support for an entire IT environment. It provides general features, such as service and uptime monitoring, and is also extensible through the use of management packs. Dozens of these packs are currently available from Microsoft, focusing on specific services such as Exchange Server and Microsoft SQL Server.
System Center Configuration Manager: Implementing automated configuration management is a best practice for all IT environments. SCCM allows administrators to create desired configuration templates for their systems and then compare them to actual system configuration. The templates can include details such as security configuration, a list of updates and specific settings. SCCM also provides asset management and reporting features.
System Center Data Protection Manager: SCDPM is designed with continuous data protection and disk-based backups as primary goals. It supports standard file system backups, as well as the creation of transaction-consistent copies of virtual hard disks, databases and other difficult-to-protect files.
That's a fairly lengthy list. It might be difficult to understand how the products fit together. However, each product does fit into an important aspect of overall IT operations and automation. For more information about this entire suite (and for access to trial versions and other materials), see the Microsoft System Center website.
System management with SCVMM
Our topic at hand, of course, is the management of virtual machines. This is the job of SCVMM. SCVMM is designed to run on Windows Server 2003 and Windows Server 2008. Its architecture allows for installing all of the necessary components on a single server or for scaling out the installation. The main components include the Virtual Machine Manager server service, the VMM Administration Console and the VMM Self-Service Portal. A VMM Agent must be installed on all managed host servers (but is not required within VMs.)
The product uses Microsoft SQL Server 2005, and you can choose to install use an existing SQL Server installation or automatically install SQL Server Express as part of the installation process. SCVMM requires an Active Directory domain, although the product connects securely to host servers that are located on other networks.
Working with SCVMM
The SCVMM Admin Console application provides a central location for managing settings and details related to the virtual environment. The first step you'll perform when deploying SCVMM is to add the relevant host servers to the configuration. If a host is located on the primary LAN, you add it by providing the computer's name and the necessary credentials. You can also manage host servers that are located on a perimeter network (where the server might not be a member of the same domain or might not be directly accessible via the network.) Figure 1 shows an example of the user interface.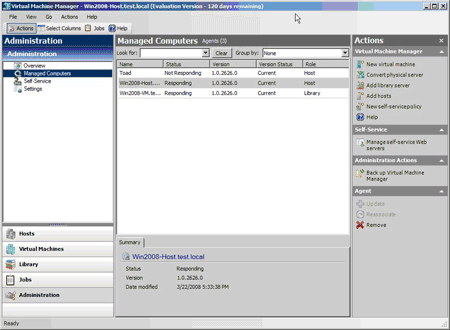 Figure 1: Using the SCVMM Admin Console
The left pane provides a list of the most common administration tasks, including a view of all virtual machines. SCVMM, integrated with Microsoft's Windows PowerShell scripting technology, enables admins to use the GUI to generate scripts viewable and modifiable to further automate common operations. In future tips, I'll discuss the use of the VM Library, self-service options and other best practices for managing virtual machines.
The Future of System Center
Although the current version of System Center Virtual Machine Manager provides some very useful automation features, it does have its limitations. Most significantly, SCVMM is currently limited to managing Microsoft Virtual Server 2005. Organizations that are using VMware, XEN or other virtualization platforms won't be able to take full advantage of the management features of this version.
Microsoft has promised that future versions of SCVMM will add support for managing other virtualization platforms, including VMware and XEN. Such a feature will make SCVMM much more useful for organizations running heterogeneous environments. It will also support Microsoft's forthcoming Hyper-V platform. SCVMM also integrates with the other tools in the System Center suite and can be used to monitor physical and virtual servers, to implement data protection and to enforce configuration management.
The future of real-world virtualization lies in the availability and capability of useful and relevant management tools. Microsoft's System Center provides a good basis for automating many of the most difficult or time-consuming tasks of managing virtual environments.
About the author: Anil Desai is a Microsoft MVP and a Microsoft Certified Professional with numerous credentials including MCITP, MCSE, MCSD, and MCDBA. He is the author or coauthor of nearly 20 technical books, including several study guides for Microsoft Certifications.

Dig Deeper on Server virtualization compliance and governance