Sashkin - Fotolia
Master clustered storage with Storage Spaces and Scale-Out File Server
As part of its effort to develop a robust cloud OS, Microsoft has released a slew of new features in Windows Server 2012, including Storage Spaces and Scale-Out File Server.
Part of Microsoft's latest effort to provide a robust cloud operating system, Windows Server 2012 builds on previous versions by including new virtualization, software-defined networking and software-designed storage features, as well as massive improvements to existing features. Since its release, two features in particular have caught the attention of customers: Storage Spaces and Scale-Out File Server.
Windows Storage Spaces (WSS) enables organizations to use just a bunch of disks (JBOD) to provide reliable storage for virtual and physical deployments. For example, you can use industry-standard storage, such as serial-attached SCSI (SAS) JBOD enclosures, combine them into a single management unit called storage pools and then create virtual disks from the storage pools. Once virtual disks are created, you can use them to provide storage for cluster or standalone deployments. Each virtual disk you create from the storage pools can support four types of resiliency: simple, two-way mirrored, three-way mirrored or parity set. WSS supports different-size disks and commonly used interfaces such as SCSI, Serial Advanced Technology Attachment, iSCSI and SAS.
On the other hand, the Scale-Out File Server (SOFS) feature is designed to provide continuous availability and scalable storage for failover clusters. SOFS is intended to be used with application servers such as Hyper-V and the SQL Server. An SOFS cluster can provide the reliability, availability, manageability and high performance that you would expect from a SAN.
SOFS requires a supported storage subsystem; it is not necessary to deploy a new storage subsystem to support an SOFS deployment. You can use existing storage that also includes WSS. As you can see in Figure A, an SOFS cluster can use WSS to provide shared storage for Hyper-V and SQL clusters.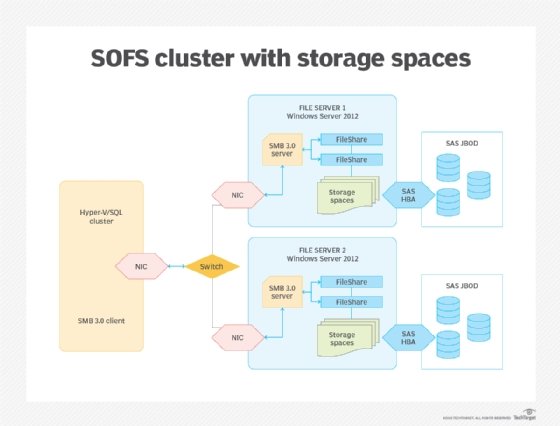 As noted in Figure A, there are two file servers running Windows Server 2012 in a file server cluster that supports WSS and SOFS features. Both file servers act as Server Message Block (SMB) servers, which in turn serve requests coming from SMB clients. The WSS feature is configured on a file server cluster to provide shared storage for Hyper-V and SQL clusters. There are a number of products you can use to manage WSS, including the Windows Failover Cluster Manager, System Center Virtual Machine Manager, Server Manager and Windows PowerShell. Make sure that you're running a supported OS, including Windows Server 2012, Windows Server 2012 R2 and Windows Server 2016, before configuring WSS.
During its initial release, WSS provided features such as on-demand storage provisioning and storage pool scaling. Windows Server 2012 R2 introduced new WSS features, including storage tiers. Storage tiers automatically move frequently accessed data to faster disks, such as solid-state drives, and infrequently-accessed data to slower disks, such as hard disk drives. Storage tiers also have the ability to automatically rebuild storage space.
It is imperative to understand that WSS can only use JBODs to provide storage for cluster use and that the JBOD enclosure you use must be Windows Server 2012-certified.
SOFS implements active-active clustering in which file shares created on an SOFS cluster are available to all cluster nodes at the same time. The primary benefit of using SOFS is that it gives cluster nodes the ability to access file shares simultaneously. In the event of a failure with a clustered file server node, the cluster will redirect the client storage requests to a cluster node that hosts the requested file server data. This is achievable by configuring the Continuous Availability attribute on the file shares when deploying SOFS.
Windows Server 2012 and later OSes support two different file server cluster deployments: SOFS and a clustered file server for general use. SOFS can only be used for supported applications such as Hyper-V and SQL Server.
While Windows Server 2012 and R2 can only use JBOD disks with WSS, the upcoming Windows Server 2016 will enable organizations to provide cluster supported storages by utilizing local direct attached storage with WSS.