ltstudiooo - Fotolia
Microsoft deprecates the SCVMM P2V feature: Now what?
SCVMM 2012 R2 no longer supports P2V, but Microsoft didn't leave virtual administrators completely in the dark.
Microsoft has done a great job of enhancing the capabilities of its System Center Virtual Machine Manager over...
Continue Reading This Article
Enjoy this article as well as all of our content, including E-Guides, news, tips and more.
the years, adding new features and becoming a selling point for the Hyper-V platform. SCVMM has helped many organizations move to virtualization, but SCVMM 2012 R2 no longer supports the well-known physical-to-virtual function. It was easy as pie to use SCVMM's P2V feature to convert a physical computer to a virtual machine with minimal steps, so what will organizations do now?
Undoubtedly, many organizations are still running workloads on physical servers. If they eventually decide to convert remaining physical workloads to virtual machines (VMs), there are still plenty of P2V tools available, but they are not supported by Microsoft. You could also use the Disk2VHD tool from Microsoft to perform physical to virtual conversions, but again, this approach lacks Microsoft's support.
One option would be to use the P2V function with earlier versions of SCVMM. However, if you already have SCVMM 2012 R2 deployed in your environment, all you have to do is to use a standalone tool called Microsoft Virtual Machine Convertor 3.0 (MVMC).
Why introduce a new tool?
There are several reasons for introducing a standalone VM conversion tool rather than including the conversion functionality in SCVMM. Including VM conversion functionality in a management product (such as SCVMM) might delay the conversion process. For example, if a new version of vSphere releases and it imposes a new algorithm before the conversion can happen from VMware to Hyper-V, it would be difficult for Microsoft to enhance the product because the current SCVMM version does not support the new algorithm imposed by VMware. A standalone tool might also help VMware customers evaluate Hyper-V quickly and with minimal cost.
Not all Hyper-V users use SCVMM to manage their infrastructure. Releasing a standalone tool will make it easier for customers to install and begin using it anywhere on the network. Having a standalone conversion tool makes it easier for Microsoft to have a team of developers working on that standalone tool and have it to customers with enhancements in a time. Finally, consider the scenario in which a P2V operation halts or freezes. If the conversion tool were integrated within SCVMM, you wouldn't be able to perform other management tasks using the SCVMM management console.
How MVMC can help
Since MVMC is a standalone tool, it can be deployed on a server with minimal requirements. You will need Windows Server 2008 R2 with SP1 or later OS. If you are installing MVMC on Windows Server 2008 R2 SP1, install .NET Framework 3.5 and 4.0. The .NET Framework 4.5 is required if you plan to use MVMC on Windows Server 2012 or later OS. You will also need to install Visual C++ Redistributable for Visual Studio 2012 Update 1 and Microsoft Management Framework 3.0.
MVMC is supported by Microsoft, so if you encounter any issues during the conversion process, Microsoft is ready to help you -- provided you are ready to give them money.
Finally, apart from providing a graphical user interface (GUI) to perform conversions, MVMC is closely integrated with PowerShell, which, in turn, enables scripting for automated conversions.
MVMC has more to offer
MVMC not only allows you to perform a P2V conversion, but it can also be used to convert VMs and disks from VMware to Hyper-V, as well as Microsoft Azure. If you are performing the conversion through MVMC GUI, you will be presented with a walk-through wizard as shown in the screenshot below.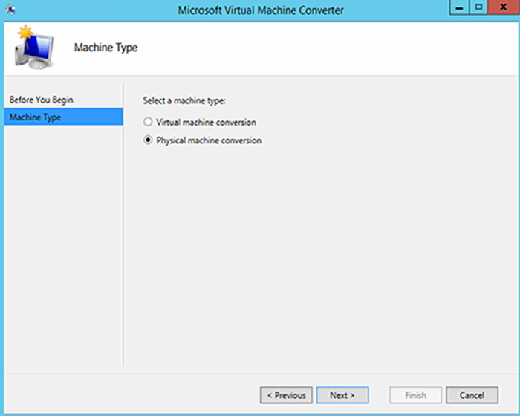 Depending on your selection, you will be presented with various options, such as specifying the destination Hyper-V server, path for storing the converted VM, specifying which virtual switch to use for the VM being converted and whether the migrated VM be automatically turned on.
The more I work with MVMC, the stronger my belief that Microsoft's move to deprecate P2V from SCVMM is perfectly reasonable, considering the fact that you have a new tool dedicated entirely to conversion purposes that is very well supported by Microsoft.
However, if you are unsatisfied with MVMC, you can always use an earlier version of SCVMM or one of several third-party management products available. Since MVMC also performs virtual conversions in addition to physical to virtual, I would not be surprised to see Microsoft also retire the virtual-to-virtual functionality in the next SCVMM release.