Evaluate
Weigh the pros and cons of technologies, products and projects you are considering.
Migrating to Hyper-V VMs: Conversion tool options
If you want to try out Hyper-V, you can convert existing workloads to Hyper-V virtual machines with Microsoft System Center Virtual Machine Manager or with Vizioncore's vConverter tool -- without building VMs from scratch.
As Microsoft Hyper-V continues to grow in popularity, it may end up in your data center whether you want it or not. As organizations consider whether to integrate the hypervisor into their data centers, they need to convert existing workloads to Hyper-V to sample the platform.
In this article, I explain how to migrate existing systems to a Hyper-V environment with either Microsoft System Center Virtual Machine Manager (MSCVMM) or third-party tools, specifically Vizioncore Inc.'s vConverter.
Will Hyper-V work in your data center?
As you determine whether Hyper-V can suit your data center's needs you should consider how systems will be moved to the platform. So consider the following operations:

new installation of an operating system;
migration from Microsoft Virtual Server;
migration from VMware ESX Server; and
conversion of a physical system.
Hyper-V and its supporting management utilities can handle each scenario. If you want to use only Microsoft tools for these tasks, the critical one is Microsoft System Center Virtual Machine Manager (MSCVMM). Although MSCVMM is part of the larger System Center offering from Microsoft, this article focuses on tasks related to migrating virtual machines (VMs) to Hyper-V.
Migrating to Hyper-V with MSCVMM
Although MSCVMM has broad functionality, this article focuses on getting VMware ESX-based VMs into a Hyper-V environment. To populate a virtual environment, you need to be able to perform physical-to-virtual (P2V) conversions. Microsoft System Center Virtual Machine Manager has a native P2V capability for creating Hyper-V virtual machines which allows the MSCVMM server to push out an agent to make the conversion to Hyper-V. Figure 1 shows the link to launch the P2V agent: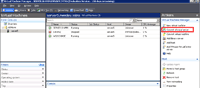 Figure 1: Click image to enlarge
Once initiated, the configuration wizard easily converts a system to a Hyper-V virtual machine. The P2V agent native to MSCVMM supports the following operating systems:

Windows Server 2008 (x86 and x64)
Windows Server 2003 (x86 and x64 with SP1+)
Windows 2000 Server (Standard and Advanced with SP4+)
Windows XP Professional (x86 and x64 with SP2 +)
Windows Vista (x86 and x64 with SP1 +)
Notably absent from this list are versions of Windows NT. Microsoft does not provide a conversion capability for this platform. If you want Windows NT systems to run on a Microsoft virtualization platform, check out the Virtual Server 2005 Migration Toolkit which offers support for Windows NT guests.
Once MSCVMM has completed the P2V conversion, you'll find that the guest driver package has already been installed. This is listed in the Windows Control Panel as Hyper-V Guest Components. Like other live P2V tools, Hyper-V's MSCVMM conversions are crash-consistent; so during a conversion, ensure that there is scant traffic on the system to prevent failure. After conversion, a VM has no configuration items available, but from a driver perspective, drivers are updated to make the system nearly ready for use. Figure 2 shows the relevant drivers and the Hyper-V Guest Components of a system following a P2V conversion: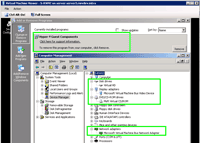 Figure 2: Click image to enlarge
For systems that are built from scratch in Hyper-V, guest drivers must be installed explicitly for selected OSes. The Integration Services disk needs to be installed after the creation of the guest. Beyond the installation and P2V features of MSCVMM, there is a virtual-to-virtual conversion (V2V) functionality for Virtual Server 2005 and ESX-based virtual machines.
In addition to Microsoft System Center Virtual Machine Manager, third-party products can move VMs to Hyper-V. Familiar virtualization vendors have solid offerings to help migrate systems to Hyper-V. Vizioncore, PlateSpin Ltd., Acronis Inc. and other providers perform migration tasks just as well as MSCVMM.
Migrating to Hyper-V with Vizioncore vConverter
Many administrators think that the art of conversions is dead. I beg to differ because the selection of any new virtualization platform requires some conversions to be made. In the case of P2V conversions, it's pretty simple how that will work. On the other hand, we assume that we can conduct V2V conversions seamlessly, but likely have only attempted occasionally. Many virtualization software bundles provide V2V functionality, including Vizioncore's vConverter. For the following example, I will explain how to move an ESX-based VM to Hyper-V using vConverter.
Vizioncore is a leading provider of virtualization management software, and vConverter is one of its newer offerings. vConverter is a task-driven conversion tool that has an intuitive interface. It can also perform several tasks beyond simple conversions for several virtualization platforms, including Microsoft Hyper-V. Figure 3 shows vConverter in the process of converting an ESX virtual machine to a Virtual Hard Disk (VHD) format system: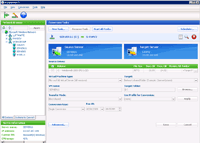 Figure 3: Click image to enlarge
Once the conversion is complete, the system (Server11 in the example) can be imported into Hyper-V. Hyper-V systems that are managed by MSCVMM (management functionality is another feature of MSCVMM) use a library of VHD files that are imported into new virtual machines. Once the driver is imported and started, the VM will likely run a disk check. After that, the virtual machine is running and subject to the conventional steps needed after this kind of conversion. One of the first tasks is to allow a VM to discover all hardware. After a reboot, uninstall VMware Tools and launch your instance of Integration Services for the guest virtual machine. If the Hyper-V Manager feature is used in lieu of MSCVMM, the VHD library will not be used and the new VM task would point to the VHD files that were created by vConverter.
Converting existing systems to VHD files may require a staging area for these files. It could take some time to copy files and require a lot of storage space. So you may want to convert the systems directly to the MSCVMM library or to the Hyper-V server itself. In the Hyper-V settings menu within Hyper-V Manager, the default path is C:\Users\Public\Documents\Hyper-V\Virtual Hard Disks.
Hyper-V systems migration options plentiful
Using either MSCVMM or a third-party conversion tool, you can populate Hyper-V with virtual machines in a variety of ways. There are several more options for this procedure than the examples I have covered in this tip, and no one technology can fit all IT shops' virtualization needs. Above all, if you decide to use Hyper-V, select the conversion mechanism that works best for you. The mechanism should work not only in test and experimentation situations but also in your entire workload if you like what you see.

Rick Vanover, (MCITP, MCTS, MCSA) is a systems administrator for Safelite AutoGlass in Columbus, Ohio. Vanover has more than 12 years of IT experience and focuses on virtualization, Windows-based server administration and system hardware.
And check out our Server Virtualization blog.