Fotolia
Evaluate
Weigh the pros and cons of technologies, products and projects you are considering.
Nine steps to a successful Hyper-V to VMware migration
Before you migrate from Hyper-V to VMware, you should take a comprehensive inventory, set an agreed-upon schedule and communicate the potential impact to all relevant parties.
In a previous article, we discussed the steps to migrate from VMware to Hyper-V, but you can't follow the inverse...
Continue Reading This Article
Enjoy this article as well as all of our content, including E-Guides, news, tips and more.
of that process if you're going from Hyper-V to VMware. If you're looking for a hypervisor that offers broad OS support and that doesn't require frequent security patches, you might consider making this switch. No matter your reasoning, though, here are some specific tips and tricks on how to get the best results.
To start, the best way to migrate from Hyper-V to VMware is to use VMware vCenter Converter. What's great about this approach is that it's exactly the same way that VMware Professional Services does it. The only difference is that VMware Professional Services has some secret sauce to automate Converter to migrate VMs en masse.
You can download VMware vCenter Converter from the VMware Product Evaluation Center site. Before attempting any migration, VMware advises that you address the following items in the interest of performing -- in VMware's words -- "safe, efficient migrations at scale," and to prevent any issues:
Inventory
How many machines are you looking to migrate?
Does the destination infrastructure have the capacity to cope with migrations and still provide acceptable levels of performance?
Make sure that any application dependencies are documented and dealt with appropriately.
Make sure the servers to be migrated have been cleaned up and defragmented as needed. A clean source equals a clean destination.
Scheduling
Have the relevant parties been consulted on the migration, and has an agreed-upon time been chosen to minimize impact?
Impact
Application dependencies: Group machines with dependencies together.
Management buy in: Downtime is going to occur; make sure everyone signs off on it.
I would also recommend using a dedicated server to run the converter, as you want to leave it be while it migrates. The last thing you want is a crash midconversion.
Migrating from Hyper-V to VMware
Step 1: Download and run VMware vCenter Converter.
Install VMware vCenter Converter. Open it and select "Convert machine" from the conversion tool menu bar.
Step 2: Provide the source Hyper-V details to the converter.
Use the IP or domain name system of the VM you intend to migrate. The administrator will need to select the appropriate machine type from the drop-down menu. As shown in Figure A, we are migrating a Windows Server VM. To ensure a successful migration from Hyper-V to VMware, the administrator will need to use an account with local admin privileges.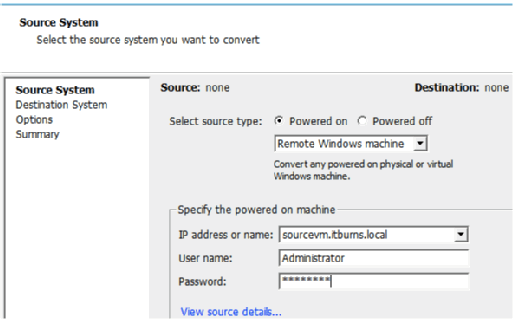 Step 3: Set up the destination for the migration.
Use the fully qualified domain name or IP of the destination server in the server dialog. This can be a single host or a vCenter server. As shown in Figure B, we're using a test vCenter server. The administrator will need to provide an account that has administrator privileges in vCenter.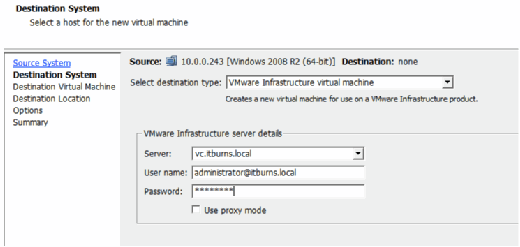 Step 4: Install the conversion agent.
The conversion agent needs to be installed on the source VM before migrating from Hyper-V to VMware. You will also need to choose whether to automatically uninstall files after the import or to manually uninstall them.
Step 5: Set up destination location.
Choose an appropriate destination folder. This is the folder in which you want to place the VM -- not the host, but the logical structure. There is a flat structure in this lab, so we'll just chose the default. You can change the VM name if you desire, but unless you have overriding reasons to do so, I would suggest leaving it until the migration is complete.
Step 6: Chose destination host resource.
At this point, the administrator should select which host to use. Normally, you would add the host to the cluster, but this isn't mandatory, as can be seen in Figure C. The data store location and VM version can be adjusted as needed.

Step 7: Choose any migration options to be set.
The screen shown in Figure D gives an overview of the machine you plan to migrate. Here, you can set various options, such as the VM format. You can also update disks as needed. The administrator may need to edit the network settings to make sure the correct port group is selected.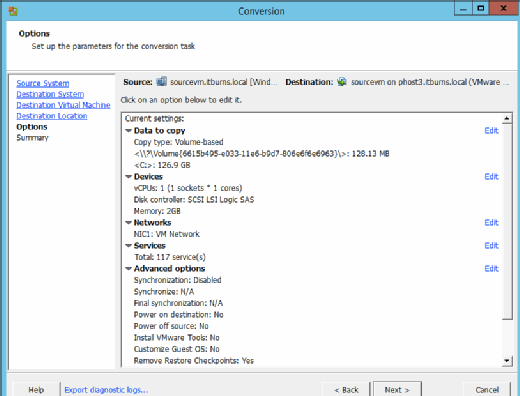 I advise that you enable the power off and power on functionality. This is done under the advanced options. You can also automatically provision VMware Tools installation if required.
Step 8: Review items.
The penultimate page is just an overview of what's going to happen. Check and review the page as required and click next.
Step 9: Submit job.
Lastly, submit the job. Once submitted, it will display the amount of time remaining for the Hyper-V to VMware migration, as well as the completion status.
Tips and suggestions
To avoid common issues, there are a few other things to keep in mind.
Firewall ports are frequently problematic, but the port requirements for a successful virtual-to-virtual conversion using the VMware vCenter Converter can be found on the VMware Knowledge Base site. Also, I strongly recommended that you install VMware Tools. Failing to do so could potentially result in extremely poor performance of the migrated VM.
As long as the migration from Hyper-V to VMware is planned properly and you keep these tips in mind, the migration should be successful.
Dig Deeper on P2V, V2V and V2P migration