Open Virtual Machine Format to benefit users
Virtualization vendors plan to adopt the Open Virtual Machine Format (OVF) to facilitate virtual appliance deployment. An expert discusses how VMware users can benefit from the new format.
While downloading an evaluation version of the VKernel Capacity Bottleneck Analyzer for VMware Infrastructure, I was presented with the OVF, or Open Virtual Machine Format. This prompted me to do some research on exactly what OVF is and why I would want to use it. I'll share that information in this tip, explaining how the OVF file format can help you and why it the ideal solution for sharing virtual appliances.
What is the Open Virtual Machine Format?
Having a standard format makes allows vendors to offer downloadable versions of their virtual appliances without having to release them in different formats, one for each of the different types of virtualization software. Software providers benefit because the end users can quickly see the power of their software product. The ability to download a fully functioning operating system and pre-installed software appliance is also a huge benefit to the end user. Additionally, fewer tech support calls need to be made because the end user doesn't have to install and configure the software.
If software vendors must offer a downloadable version of that appliance for every type of virtualization software available, this can become an inconvenience to the vendor. The best solution is to have one version of an appliance that will work with all brands and types of virtualization software. That is exactly what the Open Virtual Machine Format aims to do.
In October 2007, a group of virtualization vendors, including Dell, Hewlett-Packard, IBM, Microsoft, VMware and XenSource, proposed a standard format for the sharing of virtual machines as virtual appliances. They created a single, interoperable format for virtual appliances and submitted this specification to the Distributed Management Task Force (DMTF), which will develop this standard and promote it worldwide. According to the DMTF, the standard "uses existing packaging tools to combine one or more virtual machines together with a standards-based XML wrapper, giving the virtualization platform a portable package containing all required installation and configuration parameters for the virtual machines."
There is more than just an agnostic packager at work here. The OVF format offers features like integrity checking, license checking and the ability for the VM to learn about the virtualization platform it is running on.
For specifics on the OVF format, see the VMware/Xen OVF Whitepaper and the VMware OVF webpage with multiple resources available for anyone interested in OVF.
Using the Open Virtual Machine Format
The many benefits of OVF are not limited to software companies that distribute virtual appliances. Virtualization administrators who want to download virtual appliances, upload appliances or share virtual guest machines between virtualization platforms will appreciate this new format.
I was very impressed at the ease of downloading the VKernel appliance in OVF. All I did was click on the link to get the OVF URL.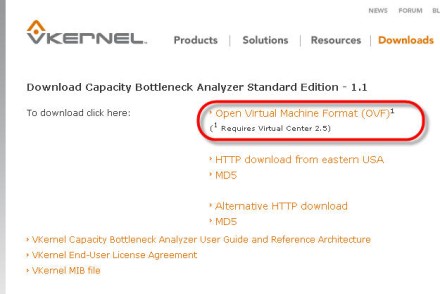 I went to VirtualCenter and selected "Import an Appliance". For the import location, I pasted the OVF URL and the appliance was downloaded and imported within minutes.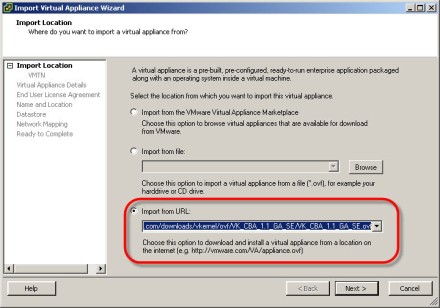 Comparing VMDK and OVF formats
VMware users may wonder, why not use the VMware VMDK virtual machine format? Here is VMware's official response on the difference between the two from the VMware OVF web page:
"VMDK is a file format that only encodes a single virtual disk from a virtual machine. A VMDK does not contain information about the virtual hardware of a machine, such as the CPU, memory, disk and network information. A virtual machine may include multiple virtual disks or VMDKs. An administrator who wishes to deploy a virtual disk must then configure all of this information, often manually, using incomplete documentation.

The OVF format, on the other hand, provides a complete specification of the virtual machine. This includes the full list of required virtual disks plus the required virtual hardware configuration, including CPU, memory, networking and storage. An administrator can quickly provision this virtual machine into virtual infrastructure with little or no manual intervention. In addition, the OVF is a standards-based, portable format that allows the user to deploy this virtual machine in any hypervisor that supports OVF."
The OVF Tool and how can it help you
If you are using VMware VirtualCenter, you already have support for OVF. You can Import OVF appliances by going to File  Virtual Appliance  Import in the VMware Infrastructure Client. You can also export VMware guests in OVF format using the same Virtual Appliance option.
But if you use VMware Workstation, Fusion or VMware Player, you need the experimental and unsupported OVF Tool to import and export OVF appliances.
The VMware OVF Tool requires that you have Java installed and your Java path must be set correctly. Currently, it is only available as a command line tool. You can read more about the OVF tool at the VMware OVF Tool PDF.
The OVF file format is expected to be approved sometime in 2008. I look forward to this new standard, which make it easier to download, share and distribute virtual appliances. I anticipate that the OVF Tool will be integrated into applications like VMware Workstation as OVF becomes a standard for all virtualization platforms.
About the author: David Davis (CCIE #9369, VCP, CWNA, MCSE, CISSP, Linux+, CEH) is the Director of Infrastructure at Train Signal, Inc. He has written hundreds of articles and six video training courses – including the Train Signal VMware ESX Server video training series. His websites are Happy Router.com and VMwareVideos.com.

Dig Deeper on Server virtualization compliance and governance