Performing Windows P2V conversion with PlateSpin Migrate
This step-by-step lesson explains how to use PlateSpin Migrate to perform physical-to-virtual conversion for Windows servers and simplify a sometimes-complex process.
Physical-to-virtual (P2V) machine migrations can be complex operations, but some tools can make the process easier. This tip teaches you how to use one such tool, PlateSpin Migrate, to perform P2V conversions.
You can use PlateSpin Migrate to do all kinds of workload management, not just P2V migrations. For instance, it also supports virtual-to-physical conversions, and the more advanced PlateSpin Portability Suite even enables servers to be synchronized to images for fast disaster recovery. This article discusses how to do a P2V conversion of a Windows server.
Before you start the conversion, you have to locate all servers in the network. PlateSpin Migrate can discover Linux and Windows machines. If the Windows server on which you have installed PlateSpin Migrate is in the same domain as your other Windows servers, PlateSpin Migrate can automatically discover them and add them to the Workgroup item in the discovered servers view. If you want to work on a server that is outside your Windows domain, you can use the manual discovery option by clicking the Discover Server Details button. In this dialog box, enter either server name or IP address and administrator name and password. Enter the administrator name in the "domain\username" or "servername\username" convention.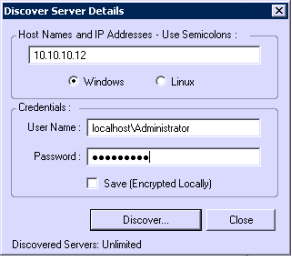 Figure 1. To perform discovery on a Windows Server, make sure to enter the administrator name in the "domain\username" convention.
Once discovery has been completed, a message will indicate that the server has been added to the list of available servers in the main PlateSpin Migrate interface. If you hadn't done so already, ensure that the virtualization server you want to migrate this server to has been discovered as well. VMware, Citrix XenServer and Novell's SUSE Xen are currently supported as migration targets.
There are two ways to do a P2V conversion: Copy and Move Workload. The Copy Workload task allows you to keep the source server up and running and copy all files and settings to the target server. You will need to provide a new server name and IP address for the copied machine, but if anything went wrong after the conversion, the source server would still be available. The alternative is to start a Move Workload task, where the target server takes the identity of the source server and you have to physically shut down the source server at the end of the task.
The easiest way to start a Copy Workload task is to drag the source server in the left-hand pane of the PlateSpin window to a discovered virtualization platform in the right-hand pane of the window. This will automatically open the Action window, which you can see in Figure 2.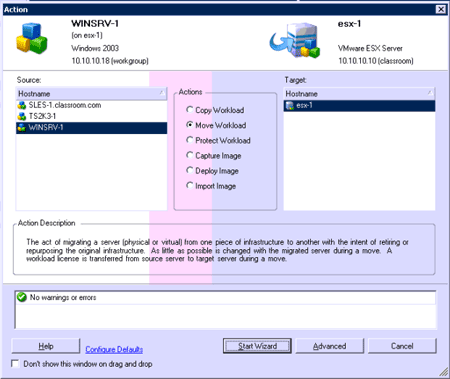 Figure 2. From the Action window, you can select what kind of conversion task you want to start.
Before starting the conversion, you need to enter additional information or the migration will fail. Click the Advanced button. This opens the interface that you see in Figure 3, where a clear error indicator marks where you need to enter additional information.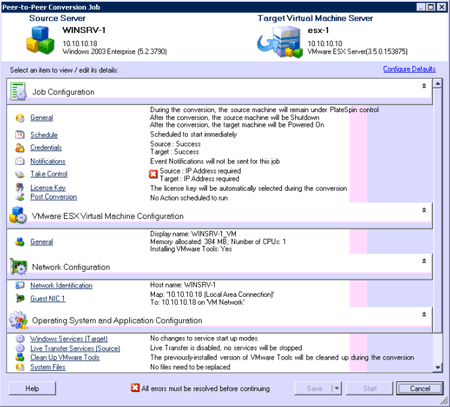 Figure 3. If the wizard needs more information, you can provide that by using the Advanced button.
When copying a workload from a physical environment to a virtual environment, you need to provide a unique host name and IP address for the target machine. To do so, click "Network Configuration > Network Identification" first. From here, enter a new host name and also select the button "Generate New System Identifier" to make sure the new server is seen as a unique server. Next, click Network Identification and select all guest network interface card links to provide unique IP addresses for the target virtual machine. Next, select "Job Configuration > Credentials" to enter the credentials that allow you to log in to the source Windows server whose workload you want to convert and the credentials you need to log into the target virtualization host. If additional warning indicators remain, follow the links in the conversion job window to resolve these issues.
When you have resolved all issues, start the conversion by clicking the Start button. Depending on the amount of data you need to migrate, the process can take a substantial amount of time to complete.
Easing P2V burdens with flexibility
PlateSpin Migrate is a versatile tool that helps you convert workloads and simplify the P2V process. Physical to virtual, virtual to image, image to physical -- you name it, PlateSpin Migrate migrates it. You can use this product to migrate a physical Windows server to a virtual environment, no matter which virtualization platform you are using.
More resources
Using PlateSpin 7.0 for server discovery during P2V conversion
Killing complexity: New virtualization management strategies
Deploying and migrating virtual machines faster with VSM tools
About the expert


Sander van Vugt is an independent trainer and consultant living in the Netherlands. Van Vugt is an expert in Linux high availability, virtualization and performance and has completed several projects that implement all three. He is also the writer of various Linux-related books, such as Beginning the Linux Command Line, Beginning Ubuntu Server Administration and Pro Ubuntu Server Administration.
Dig Deeper on Server virtualization compliance and governance