Manage
Learn to apply best practices and optimize your operations.
RHEV 3.0 management: No Windows, new opportunities
Without the Windows requirement, managing RHEV will never be the same. RHEV 3.0 includes browser-based management and a host of new RHEV-M features.
Red Hat Enterprise Virtualization 3.0 users will have a plethora of new management options, because the latest version no longer requires Windows Server.
RHEV 3.0 management is browser based, so customers can manage it from any platform they want -- an effort by Red Hat to be 100% open source. The management server, also called RHEV-M, includes new features for viewing virtual machine (VM) storage reports and easily importing VMs.
Red Hat announced details about RHEV 3.0 at the Red Hat Summit in May, so its features might still see further adjustment before its release at the end of the year.
Figure 1
The RHEV 3.0 architecture was developed to be as open as possible. (Click image for an enlarged view.)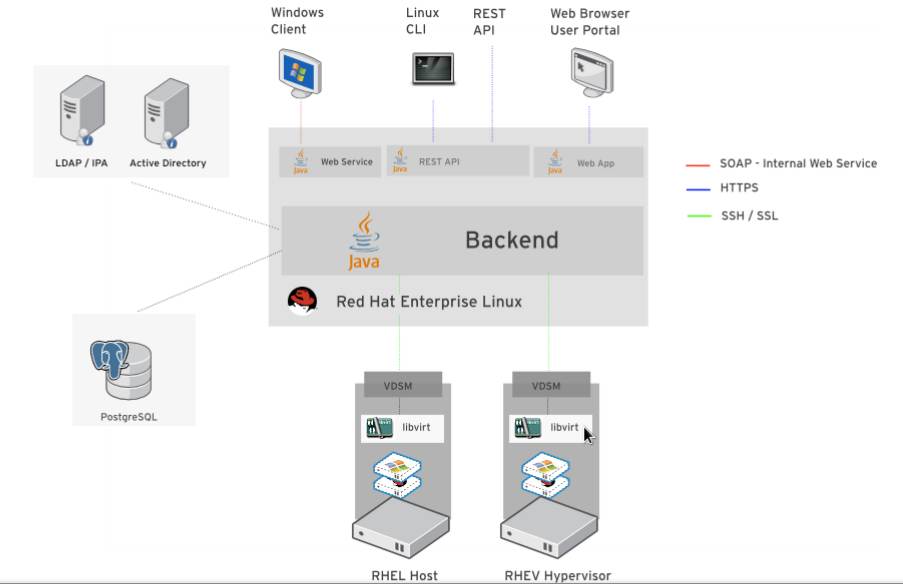 RHEV 3.0: From Windows to whatever
The new architecture of RHEV 3.0 includes a Java stack that talks to libvirt, which manages RHEV hosts and Red Hat Enterprise Linux 6 servers. Because RHEV 3.0 is based on Java and libvirt, any Java tool that can communicate with the libvirt library is capable of managing RHEV. The Web-based client will be the standard for RHEV-M if you want to take advantage of all the new features.
In addition to the underlying platform, the management interface itself will see significant changes. Storage and VM information in particular is re-organized into a new, more complete tree view. This view is comprehensive and makes it easier for admins to find reports on VMs, hosts and available storage.
Figure 2
The re-engineered RHEV-M interface. (Click image for an enlarged view.)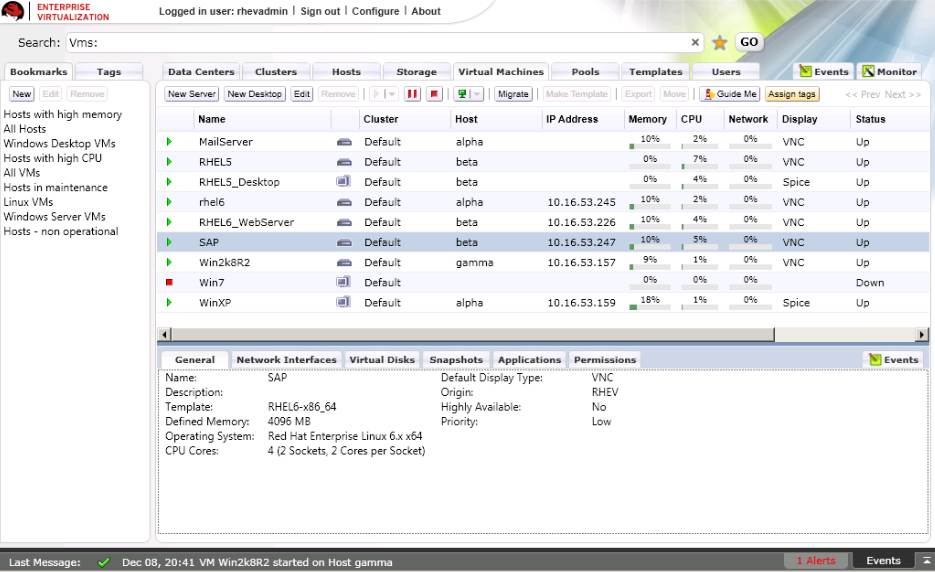 More management features in RHEV 3.0
3.0 will see other changes as well. New application programming interfaces make it possible to work with the command line. And there's also an HTTP-like interface that allows system managers to script tasks using a language similar to HTML. Details about this interface aren't clear yet, but at the back end it allows users to easily import VMs using an HTML-like scripting language.
Red Hat is also working on an easier method to import VMs using templates in RHEV-M. Here's an example:
curl -v -u "vdcadmin@rhev.example.com"
-H "Content-type: application/xml"
-d '
<vm>
<name>new_vm</name>
<cluster><name>web_cluster</name></cluster>
<template><name>apache_template</name></template>
</vm>'
'http://10.35.1.1/rhevm-api/vms'
This is an advanced XML-like method of importing VMs, which can also be done using the rhevsh command:
rhevsh create vm --name new_vm --cluster web_cluster --template apache_template
Other interesting management features in RHEV 3.0 include the option to use local storage for VM image files. This feature is useful for small environments with one host and no budget to install a storage area network.
In addition, a new multi-level admin feature can define administrative users for different levels. That means you can set up accounts with permissions to manage the entire cluster or just a single host.
More details about RHEV 3.0 will emerge, but for now, the biggest change is the underlying management platform. No longer tethered to Windows, Red Hat is making RHEV-M more open source, more flexible and more competitive with new features.