Problem solve
Get help with specific problems with your technologies, process and projects.
RHEV 3.1 updates place the hypervisor in ranks of Microsoft and VMware
Updates to RHEV 3.1, expected later this year, will make the open source hypervisor more competitive with market leaders Microsoft and VMware.
Red Hat has been making its push for a larger share of the virtualization market. Its last hypervisor iteration, RHEV 3.0, spurred some adoption but still left the open source vendor lagging behind VMware, Microsoft and Citrix. With its soon-to-be-released RHEV 3.1, Red Hat is hoping to make up ground, and a few competitive features may help.
A new management interface and snapshot updates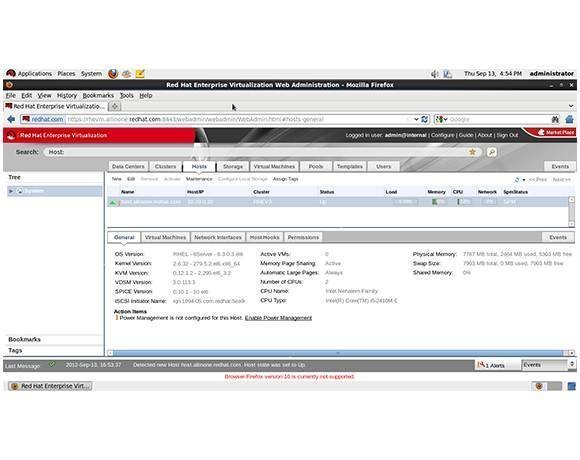 Even though RHEV 3.1 isn't set to release until the end of 2012, all its new features have been included in the beta release. And one of the most significant changes is the Web admin interface.
RHEV 3.0 only supported Internet Explorer for its Web Admin interface, which isn't popular among many customers who use RHEV to virtualize Linux workloads. The current release of RHEV 3.0 offers the new Web client interface as a tech preview. However, in RHEV 3.1, the new Web Admin will be the default interface, so the typical Linux admin won't need Windows to manage the hypervisor.
The ability to take live snapshots of virtual machines (VMs) is another feature Red Hat has added to RHEV 3.1. In RHEV 3.0, you had to shut down the VM the hypervisor could take a snapshot. By taking advantage of new features in the underlying Linux storage layer, RHEV 3.1 enables it to take a snapshot of a running machine without having to bring it down.
Administrators will find a few other additions beneficial, including improved scalability. RHEV 3.1 will support up to 2 TB of RAM per VM, up from 2 TB of RAM for hosts in RHEV 3.0. To support a large amount of RAM with RHEV 3.1, admins can also configure up to 160 virtual CPUs per VM. This update targets enterprise customers that run business-critical applications on Linux servers and need to support huge amounts of hardware resources.
Important storage improvements in RHEV 3.1
RHEV 3.1 also boasts some significant storage features. First, the inclusion of more storage types, such as direct LUN access and Red Hat Storage (Gluster file system) means storage is more flexible. In RHEV 3.1, you can also perform storage migration, which adds a new layer of flexibility. A VM configured in one storage domain cannot be connected to another storage domain.
Support for storage migration facilitates live migration of a VM from one storage domain to another storage domain. This means administrators who want to migrate VMs to a new SAN don't need to wait hours until the VM disk file (VMDK) is copied over to the other site. And because RHEV 3.1 supports live migration, there is no delay in this process.
Quota support, which allows you to put quotas on the use of RAM, storage and CPU a VM can consume, will be a boon to data centers. Because RHEV is built on top of Red Hat Enterprise Linux, it can take advantage of new features in the Linux kernel, including cgroup, which is the underlying technology in quota support.
RHEV 3.1 will offer several interesting new features -- some help evolve an almost-mature product (RHEV 3.0) into a mature product (RHEV 3.1). And that should help Red Hat strengthen its market position.
Dig Deeper on Open source virtualization