Red Hat Enterprise Linux virtualization architecture
In this section of our guide on open source virtualization software, we explore Red Hat Enterprise Linux virtualization architecture and libvert, RHEL's default management tool.
In this section of our guide on open source virtualization software, we explore Red Hat Enterprise Linux (RHEL) virtualization and libvirt, the default management application programming interface for Red Hat Enterprise Virtualization (RHEV) virtual machines.
Red Hat is the second major player in open source virtualization, with its Red Hat Enterprise Virtualization technology. In the current version of RHEL 5, RHEV is based by default on the Xen hypervisor. But since the September 2008 acquisition of Qumranet, the creator of the Kernel-based Virtual Machine, or KVM, hypervisor, Red Hat's future position is clearly trained on KVM virtualization. According to Paul Cornier, Red Hat's executive vice president of engineering, the acquisition was meant to position Red Hat alongside Microsoft as the only two providers with a comprehensive technology that spans operating system, management, infrastructure and virtualization.
In the meantime, Red Hat has worked hard to integrate KVM in its Red Hat Enterprise Linux (RHEL). The fact is that RHEL 5.4, the default hypervisor, is still based on Xen. KVM virtualization is available, but only if you perform an installation that deviates from the defaults.
In RHEV, management is based on the libvirt interface. This is a generic API, to which different management solutions can talk. Such solutions include the command line based virsh, the basic graphical management utility virt-manager and the relatively new advanced Web-based management tool oVirt. The latter tool, however, is a relatively new development which is not available yet for RHEL in a final version.
Figure 2
The libvert interface is the default management technology for Red Hat Enterprise Virtualization virtual machines. (Click image for an enlarged view.)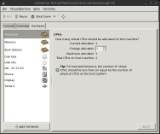 The advantage of libvirt is that managing virtual machines can be done in similar ways whether you use Xen or KVM as your hypervisor technology. That means that solutions such as virtual machine live migration (moving a machine from one host to another without creating VM downtime) and high availability are available from both technologies. Of these, live migration is offered from the Virtual Machine Manager interface. To create a high availability solution, apart from RHEV, the additional configuration of Red Hat Cluster Suite is required as well.
ABOUT THE AUTHOR: Sander van Vugt is an author and independent technical trainer, specializing in Linux since 1994. Vugt is also a technical consultant for high-availability clustering and performance optimization, as well as an expert on SLED 10 administration.
Dig Deeper on Introduction to virtualization and how-tos