Manage
Learn to apply best practices and optimize your operations.
Reducing virtual and physical management redundancy
In the mad rush to adopt virtualization, many IT managers have overlooked the redundancy between their virtual and physical infrastructures. This tip outlines how to manage physical and virtual silos and redundant tools.
In the mad rush to adopt systems virtualization software, many IT managers fail to fully evaluate their virtualization vendor's ability to mesh virtual machine management with physical systems management. As a result these IT managers create two distinct management silos: one for the management of physical systems, storage and network resources, and one for the management of virtualized resources. In this tip, you'll learn how vendors are eliminating separate virtual and physical management structures.
What is most disconcerting about this situation is that redundant functionality is being purchased for each silo. For instance, the virtual infrastructure stack has facilities for updating virtual machines, while the physical infrastructure stack has facilities for performing software distribution and updates. The same holds true for back-up and restore functions with each stack having redundant functionality for performing this task. Figure 1 shows just a few more of the many areas of overlap in virtual and physical systems management.

Figure 1: Redundancies and overlap in physical and virtual systems management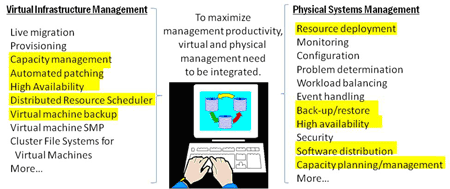 Source: Clabby Analytics, September 2008
Also of concern is the management complexity created by running two overlapping silos. By running two separate infrastructures, IT managers and administrators need to be cross-trained to switch between physical and virtual environments. And they often need to change settings or check status in one environment to allow tasks to be performed efficiently in the other environment.
As a result of creating separate silos, enterprises are wasting precious IT funds on redundant software and enterprises are not maximizing productivity benefits that should be derived by purchasing management software from their virtualization vendors. Fortunately, major systems software and infrastructure vendors such as Microsoft, IBM, Dell and Hewlett-Packard have recognized this situation and are building integrated management software to market that can seamlessly manage both physical and virtual systems environments. The remainder of this article describes the general market situation that is creating these silos – and the actions that vendors such as Microsoft, HP and IBM are taking to help remedy this situation.
How separate stacks are created
Although systems virtualization has been around for over forty years, it only started to catch-on in the x86 server world in the late 1990s. Starting simply as with an x86 hypervisor, VMware has managed to expand its business to become the industry's largest provider of x86-based virtualization infrastructure software, related management software, and services. (In 2007, VMware revenues exceeded $1.33 billion).
Taken completely by surprise by the rapid market adoption of VMware, the big software makers scrambled to either build or acquire x86 virtualization software. Microsoft bought Connectix – and other major players acquired smaller companies that offered various different virtualization components.
The x86 virtualization marketplace shifted in the 2003-04 timeframe as virtualization software vendors started to add their own infrastructure and management software to their respective product lines. And IT buyers, hungering for better control over large x86 server farm, rack and blade environments began to buy new infrastructure tools, utilities and management software from their virtualization suppliers.
The reason this happened was because the major systems infrastructure suppliers were extremely slow in implementing x86 virtualization products. Microsoft is a prime example of this phenomenon as the company has just recently released its Hyper-V virtualization software almost a decade after the founding of VMware.
This buyer purchasing pattern resulted in a schism in the systems virtualization marketplace as IT buyers have bought physical systems infrastructure management software from one supplier and virtualization management software from other suppliers.
Leading systems infrastructure vendors
The leading vendors are working on integrating separate stack management:
Dell is working with Alteris and VMware to blend physical and virtual systems management.
Hewlett-Packard is working with VMware and Microsoft to create a heterogeneous management environment. HP will blend its physical systems management environment (HP Insight Control) with Microsoft's Hyper-V as well as with VMware infrastructure and management environments. HP is also working to integrate its HP Business Service Management environment that monitors physical and virtual environments and that includes products such as HP Business Availability Center, HP Operations Center and HP Network Management Center into a cohesive x86 virtualization offering.
Having just released Hyper-V, Microsoft is now working to blend Hyper-V and Configuration Manager 2007 environments into a single physical/virtual systems management environment.
IBM has implemented "IBM Director", a complete physical systems management environment. IBM Virtualization Manager is an extension to IBM Director that currently provides integrated support for VMware, Xen, Microsoft – as well as IBM Power-based virtual server environments. This extension includes tools that provide image and availability management as well as templates and server images that simplify the deployment and management of new physical and virtual server environments.
Summary
The rush to adopt x86 virtualization software, combined with a paucity of infrastructure and management tools to manage virtual environments, has resulted in the purchase by many IT buyers of specialized virtualization infrastructure and management software packages. These packages are generally excellent and do lead to increased IT manager/administrator productivity; however, these packages are also often redundant with existing enterprise physical system software that has already been purchased, frequently lacking sufficient physical systems management facilities.
As a result, enterprises are buying the same type of software twice and enterprise IT managers and administrators are being forced to run two different management environments, causing skill set difficulties and increases management overhead.
IT buyers who need to manage heterogeneous systems environments and who want better physical and virtual systems integration should reconsider their respective strategies accordingly. VMware's tools and utilities are excellent when running a homogeneous VMware environment but are comparatively lacking in integrated physical systems management support. In the meantime, vendors such as Dell, IBM, Hewlett-Packard and Microsoft are looking to solve this problem. About the author: Joe Clabby is a 30-year veteran of the information technology industry with experience in sales, marketing and research/analysis. He currently focuses on consolidation, virtualization and provisioning of IT resources.

Dig Deeper on Server consolidation and improved resource utilization