markrubens - Fotolia
Security concerns delay public cloud adoption
The TechTarget New PI/Cloud Infrastructure Survey sheds light on common public cloud concerns that have held businesses back from widespread adoption.
With the ubiquity of cloud computing and the significant financial, continuity and scalability benefits, public cloud adoption may seem like a no-brainer. However, not everyone is convinced, and certain public cloud risks have motivated many enterprises to keep their workloads closer to home.
The TechTarget New PI/Cloud Infrastructure Survey asked respondents how they intend to deploy their server resources within the next year. A whopping 68% indicated that they would continue to house resources on premises, with 37% opting to use the private cloud and 31% sticking with the traditional data center. Despite the perceived advantages, only 30% responded saying they'd deploy new workloads to the public cloud.
Public cloud concerns hinder adoption
Why are so many businesses reluctant to make the move to public cloud? Respondents indicated that their primary public cloud concern is security (65%) and, for the most part, experts agree. Major security breaches at multiple companies have resulted in the loss of email addresses, passwords and more, giving potential public cloud users pause. But this is only part of the problem.
"The other piece is reliability," said Brian Kirsch, IT architect and instructor at Milwaukee Area Technical College. Many enterprises are afraid to put their resources in unfamiliar hands, and for good reason, Kirsch said. For many companies, there's a sense of comfort in handling things internally and knowing their staff will be there until the issue is resolved. Public cloud adoption comes with a set of unknowns, putting companies ill at ease. "To the public cloud [provider], you're a phone call, and that's a scary thing," Kirsch said.
Some experts, however, argue that security concerns are misplaced.
"I think the reality is that clouds -- public clouds -- are as secure as anything we do in the private space," said Jim O'Reilly, a consultant specializing in cloud computing and storage. The real source of this anxiety is job security, O'Reilly contends. As the public cloud gains momentum, many administrators are afraid that the traditional physical data center will be left behind and forgotten, leading to significant job loss.
I think the reality is that clouds -- public clouds -- are as secure as anything we do in the private space.

Jim O'Reillycloud computing and storage consultant
This isn't to say that the concern is unfounded. Networking and cloud service latency issues and difficulty migrating workloads between in-house systems and cloud providers have also slowed down the transition to public cloud, with 44% and 31% of respondents citing them as major concerns, respectively. Managing workloads that span across public clouds and in-house systems can be a daunting prospect, especially for businesses looking to move large amounts of data over, as networking issues can easily lead to major outages. Although major companies such as Amazon and VMware have made efforts to address migration issues, there's no one-size-fits-all fix for this problem.
Other public cloud concerns consist of computing resource scalability and elasticity (27%), cloud vendor reputation (22%) and data center infrastructure compatibility (23%). O'Reilly and Kirsch also expressed concern over the migration of legacy equipment to the public cloud and the cost of public cloud.
Looking for solutions to public cloud problems
So what can be done to avoid public cloud risks and ease the transition? Our experts had a number of potential solutions. Networking latency issues can be solved by incorporating "SDN within the corporate environment, AWS adoption on the outside, and then bridging the two together [to get] true hybrid cloud," Kirsch said. A distributed application stack would go a long way in resolving security and reliability concerns, Kirsch said, citing Netflix's approach to the application stack, which allows for multiple outages while keeping the core infrastructure and product going.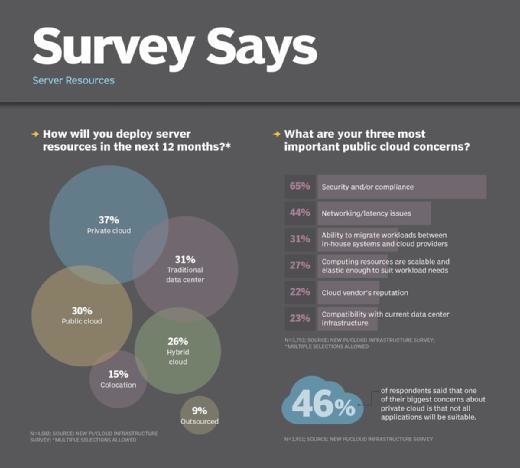 Businesses contemplating a move to the public cloud are also mindful of how cloud providers interact with their customers. "Traditional vendors have their feet on the street when they're dealing with their customer database in a way that perhaps the Amazons of the world don't," O'Reilly said. A more hands-on approach -- particularly one that actively takes customers' feedback into account -- may do the trick when it comes to convincing businesses to take a leap of faith.
The move to public cloud won't happen overnight, but as cloud computing technology grows more sophisticated, wide-scale public cloud adoption is likely inevitable. It'll just take a little time, dedication and, most importantly, trust.
Next Steps
Is location the key to Reducing network latency in the cloud?
Tips for finding the right cloud computing career path
Compare and contrast the top public cloud providers