Rawpixel - Fotolia
SCVMM 2012 R2: Exploring storage support options for virtualization
System Center Virtual Machine Manager supports multiple storage types, but it's up to the administrator to classify and provision that storage.
The need to support different types of storage is becoming more important, given that different virtualized workloads have different storage requirements. Luckily, System Center Virtual Machine Manager is able to recognize both local storage that is directly connected to the server and remote storage that is connected via a medium such as iSCSI or Fibre channel.
If allocating storage for a less-critical VM, I would utilize file-based storage rather than block-based storage. Similarly, if I needed to allocate storage for I/O intensive applications, such as SQL and Exchange Servers, I would instead consider block-based storage. SCVMM 2012 R2 provides support for both file-based storage, such as Windows-based file servers, and block-based storage, such as Fibre Channel, iSCSI and serial attached SCSI storage devices.
Although SCVMM provides support for both file-based and block-based storages, it does not automatically differentiate between critical and non-critical workloads. However, SCVMM provides an easy way to manage storage by means of storage classification. Storage classification helps you define allocation of expensive storage to critical workloads and less expensive (and often slower) storage to less-critical workloads.
Support for file-based storage
SCVMM 2012 R2 supports adding file servers as storage under SCVMM management. File-based storage includes network shares that have been created on a Windows-based file server or Network Attached Storage (NAS) devices. It is important to note that SCVMM does not provide support for network file storage.
To add a file-based or block-based storage device, you will need to launch the Add Storage Devices Wizard as shown below.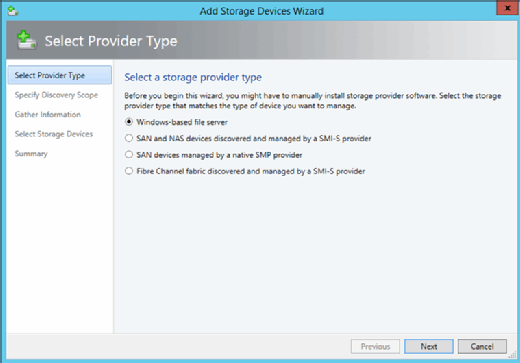 When adding Windows-based file server as storage, all you need to do is to specify the fully qualified domain name (FQDN) or IP address of the storage device. Click next, and the wizard presents you the list of shared folders available on the Windows file server. You then select the list of shared folders you want to add under SCVMM management. At this stage, you may also add shared folders to storage classification for easy management. SCVMM 2012 and later versions also support SMB 3.0 protocol, which enables scale-out file server clusters running on Windows Server 2012 and newer operating systems to take advantage of capabilities such as storage pools and thin provisioning.
Support for Block-based Storage
Microsoft has been collaborating with storage vendors to provide support for block-based storage devices compliant with SMI-S or symmetric multiprocessing (SMP) storage specifications. Microsoft introduced Windows Storage Management API (SMAPI) in Windows Server 2012 to manage block-based storage devices compliant with either Storage Management Initiative Standard (SMI-S) or SMP.
SCVMM includes a component called SMI-S provider that helps integration of existing and new block-based storage devices under SCVMM management. SCVMM supports a large number of storage arrays from storage vendors, including EMC, HP, NetApp, Hitachi, Dell and IBM.
Starting with Windows Server 2012, Microsoft introduced its iSCSI Target Server. Once its role is enabled, it functions as a network-accessible block storage device. Microsoft iSCSI Target Server can be added under SCVMM management as a block-based storage, but you would first need to install the SMI-S provider for Microsoft iSCSI Target Server so that SCVMM can communicate with the Microsoft iSCSI Target Server.
There is no need to install the SMI-S provider component if the Microsoft iSCSI Target role is enabled on Windows Server 2012 R2. But if you have enabled Microsoft iSCSI Target role on a Windows Server 2012, then install SMI-S Provider from the VMM installation folder located at \amd64\Setup\msi\. The MSI for SMI-S provider is iSCSITargetSMISProvider.msi. In case you need to add Windows iSCSI Target Server under SCVMM management, you would need to select "SAN and NAS Devices discovered and managed by SMI-S Provider" as shown in the illustration above.
SCVMM enables integration of existing and new storage devices that are compliant with SMP or SMI-S storage specifications. And although storage vendors provide storage tools for managing different aspects of the storage device, the integration of SMAPI has made it easier to provision and classify block-based storage without installing additional software.