Problem solve
Get help with specific problems with your technologies, process and projects.
The benefits of virtualizing storage
Virtualized storage provides benefits, such as flexibility and application awareness. An expert demonstrates virtualizing storage with FalconStor Network Storage Server (NSS).
The cornerstone of any virtualization deployment is the storage system, though every implementation involves a different approach. This tip discusses storage as a layer of abstraction in a virtual deployment and the benefits of virtualizing storage systems for server administrators, such as flexibility and application awareness. We'll also cover how FalconStor's Network Storage Server (NSS) can ease data storage management in VMware environments.
Just another layer of abstraction
For smaller storage implementations begin with a server and a disk connected to each other. The infrastructure can be designed as a bunch of disks directly attached to a server through interface cards, Fibre Channel host bus adapters (HBAs) or on a network with storage protocols such as iSCSI. Each of these architectures has disk systems connected to a server and are managed manually, with the storage resources provisioned to that single server.
When organizations grow and move to larger architectures or high-performance storage systems, this model changes. When a storage area network (SAN) is introduced to a data center, one approach for storage provisioning is to have a storage server manage disk access. We'll cover a few examples of integrating this approach, but the principles described at the simplest level of server storage are critical to making the transition to virtualized storage.
Just as server-based virtualization is a layer of abstraction for a guest virtual machine (VM), virtualized storage is a layer of abstraction for the physical disks involved. For virtual environments, it means that the normal practice of obtaining disk information may work, but it may not deliver precise disk information. Figure A shows how this looks architecturally to a virtualization server administrator.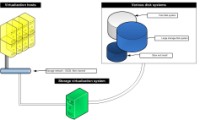 Figure A: Click image to enlarge
Advantages and disadvantages of virtualized storage
For server administrators, storage systems have traditionally been quite disjointed. The architecture addresses several problems in typically jumbled systems. By having a storage virtualization controller in place, many obstacles can be removed; namely a system managing access to disks lives separately from a system providing storage to the hosts connected to the storage network.
Another benefit is a storage system's ability to move around logical unit numbers (LUNs) assigned to a server. This background task is executed in a way that is transparent to the virtual host system connected to the storage. Unfortunately this administrative convenience comes at a cost: the lack of a direct path to the disks. Specific technologies such as VMware's Storage VMotion allows virtualization administrators to move VMs from one storage system to another with no downtime.
To an extent, this provides the same functionality provided on the back end of a storage system. The storage system is aware of the entire LUN and can move the contents to another disk system, but Storage VMotion can move specific VMs to specific LUNs. The same result can be achieved with either process, only through different mechanisms and levels of administrative overhead. As the direct path to a disk is masked by the storage virtualization system, some details of storage become harder to interpret. One example is accessing disk serial numbers, which I explain in an article on using an IBM System Storage SAN Volume Controller.
Virtualizing storage with FalconStor Network Storage Server (NSS)
Virtualized storage systems can offer flexibility and be virtualization-specific. One example is the FalconStor Network Storage Server (NSS). While the storage systems are presented virtually to hosts, there are additional features, such as thin provisioning of LUNs and application awareness. In addition, FalconStor has a less complex offering that provides storage virtualization to smaller environments via a virtual appliance, specifically a VMware VM, which acts as the iSCSI target on an iSCSI network. This functionality for small virtual environments does have limitations, though: namely, NSS cannot migrate a virtual appliance because the iSCSI target would no longer exist in its required location.
NSS can also exist as a physical system. Unlike other storage systems, NSS can be built on customer-purchased server hardware. Known as NSS Enterprise, this option allows administrators to save money compared with storage systems on purpose-built hardware.
Perhaps the best feature of NSS is that it has application awareness, which addresses some limitations that come with the added layer of abstraction that virtualized storage brings. Specifically, FalconStor NSS offers an application-aware agent known as Application Snapshot Director for use with VMs and host systems to protect volume data. Application Snapshot Director keeps data transactions intact by interacting directly with VMware ESX. The key benefit is that this approach of managing storage with transactions allows for rapid recovery and no-impact backup. Further, Application Snapshot Director can integrate with VMware's Site Recovery Manager to fit a disaster recovery model. Figure B shows how Application Snapshot Director interacts with a VMware implementation.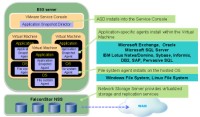 Figure B: Click image to enlarge
Thanks to its transactional architecture, NSS offers mirroring, time-based viewing of volume snapshots and replication functionalities. As mentioned previously, the thin-provisioning feature for LUNs with NSS is a plus for storage. On a storage system, thin provisioning functions like it would with VM disk files in Microsoft Hyper-V or VMware Server. The LUN is presented at its full size, but the storage system is aware of what the storage client uses on the volume. When this occurs, what is consumed on a "virtual" LUN is consumed on the disk, which is illustrated in Figure C.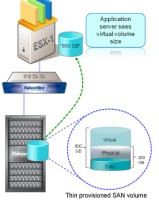 Figure C: Click image to enlarge
Conclusion
Virtualized storage is pretty cool. The features we've touched on are only a sample of the functionality available from virtualized storage platforms. Planning storage systems for virtual environments is a challenge, especially for organizations that have separate server and storage teams. Also, if other systems can access a SAN, the case for a virtualization-optimized storage system becomes a tougher sell because broader interoperability becomes a requirement. But virtualization administrators that manage their own storage will discover that virtualized storage eases the burdens of storage management.

Rick Vanover

, (MCITP, MCTS, MCSA) is a systems administrator for Safelite AutoGlass in Columbus, Ohio. Vanover has more than 12 years of IT experience and focuses on virtualization, Windows-based server administration and system hardware.
And check out our Server Virtualization blog.