Sergey Galushko - Fotolia
Use Azure Storage Explorer to manage Azure storage accounts
With Azure Storage Explorer, you can perform all Azure storage operations-related tasks from an easy-to use GUI tool that is installed on a desktop machine.
You might have used third-party tools to manage Azure storage accounts -- including managing storage blobs, queues and table storages -- and VM files in the past, but there's another option. Microsoft developed an Azure storage management tool that can manage multiple Azure storage accounts, which helps increase productivity. Meet certain requirements before installing the tool, and you can realize other benefits of using Azure Storage Explorer, such as performing complete Azure storage operational tasks from your desktop in a few simple steps.
Azure Storage Explorer was released in June 2016. Although Azure Storage Explorer is in preview, many organizations use it to efficiently manage Azure storage accounts. There are several previous versions of Azure Storage Explorer, but the latest version that is reliable and is in production use is 0.8.16.
Benefits of using Azure Storage Explorer
One of the main benefits of using Azure Storage Explorer is that you can perform Azure storage operations-related tasks -- copy, delete, download, manage snapshots. You can also perform other storage-related tasks, such as copying blob containers, managing access policies configured for blob containers and setting public access levels, from a single GUI installed on your desktop machine.
Another benefit of using this tool is that if you have Azure storage accounts created in both Azure Classic and Azure Resource Manager modes, the tool allows you to manage Azure storage accounts for both modes.
You can also use Azure Storage Explorer to manage storage accounts from multiple Azure subscriptions. This helps you track storage sizes and accounts from a single UI rather than logging into the Azure portal to check the status of Azure storage for a different Azure subscription.
Azure Storage Emulator, which must be downloaded separately, allows you to test code and storage without an Azure storage account. Apart from managing storage accounts created on Azure, Azure Storage Explorer can connect to other storage accounts hosted on sovereign clouds and Azure Stack.
Requirements and installing Azure Storage Explorer
Azure Storage Explorer requires minimum resources on the desktop and can be installed on Windows Client, Windows Server, Mac and Linux platforms. All you need to do is download the tool and then install it. The installation process is quite simple. Just proceed with the onscreen steps to install the tool. When you launch the tool for the first time, it will ask you to connect to an Azure subscription, but you can cancel and add an Azure subscription at a later stage if you want to explore the options available with the tool. For example, you might want to modify the proxy settings before a connection to Azure subscriptions can be established.
Configuring proxy settings
It's important to note that, because Azure Storage Explorer requires a working internet connection and because many of the production environments have a proxy server deployed before someone can access the internet, you'll be required to modify the proxy settings in Azure Storage Explorer by navigating to the Edit menu and then clicking Configure Proxy as shown in Figure A below: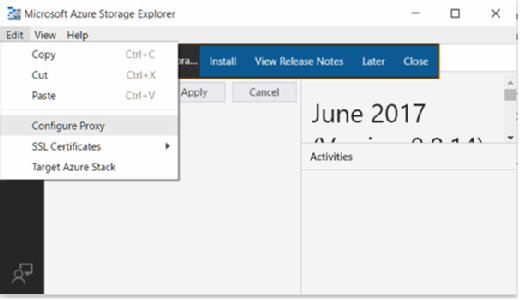 When you click on Configure Proxy, the tool will show you the Proxy Settings page as shown in Figure B below. From there, you can enter the proxy settings and then click on OK to save the settings.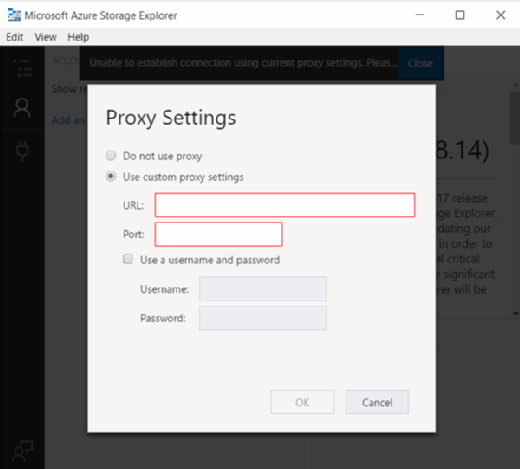 When you configure proxy settings in Azure Storage Explorer, the tool doesn't check whether the settings are correct. It just saves the settings. If you run into any connection issues, please make sure that the proxy settings are correct and that you have a reliable internet connection.
How to use Azure Storage Explorer
If you've worked with third-party Azure storage management tools, you're already familiar with storage operational tasks, such as uploading VHDX files and working with blob containers, tables and queues. Azure Storage Explorer provides the same functionality, but the interface might be different than the third-party storage management tools you've worked with thus far. The first step is to connect to an Azure account by clicking on the Manage Accounts icon and then clicking Add an Account. Once it is connected, Azure Storage Explorer will retrieve all the subscriptions associated with the Azure account. If you need to work with storage accounts in an Azure subscription, first select the subscription, and then click Apply. When you click Apply, Azure Storage Explorer will retrieve all of the storage accounts hosted on the Azure subscription. Once storage accounts have been retrieved, you can work with blob containers, file shares, queues and tables from the left navigation pane as shown in Figure C below: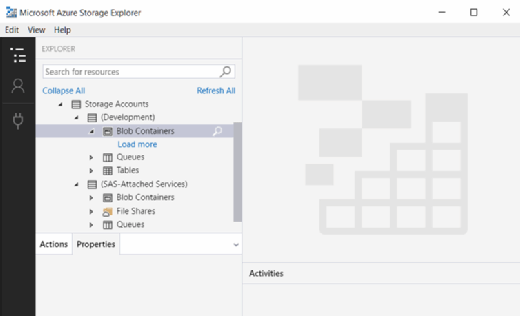 If you have several Azure storage accounts, you can search for a particular storage account by typing in the search box located on top of the left pane as it is shown in Figure C above. Azure Storage Explorer provides easy management of blob containers. You can perform most blob container-related tasks, including creating a blob, setting up public access for a blob and managing access policies for blobs. As you know, by default, a blob container has public access disabled. If you want to enable public access for a blob container, click on a blob container in the left navigation pane, right-click on the blob container and then click on Set Public Access Level… to display the Set Container Public Access Level page shown in Figure D below.

Next Steps
Learn more about different Azure storage types
Navigate expanded Microsoft Azure features
Enhance cloud security with Azure Security Center