Fotolia
Use SCVMM to diagram VM network connectivity
Diagraming VM networks makes it much easier to visualize the way the various infrastructure components relate to one another. Learn how to create diagrams in SCVMM.
Virtual networks that service virtualized servers used to be rather simplistic. The VMs residing on a specific host were commonly all connected to a single virtual switch, which was tied to a physical network interface card or network interface card team.
Over time, however, virtualized networks have become far more complex. No longer is it the norm for VMs to share a single, common virtual network. Instead, a virtualized infrastructure might contain any number of physical, virtual, logical or software-defined networks.
Of course, this increased complexity can sometimes make life difficult, especially when troubleshooting is required. Thankfully, System Center Virtual Machine Manager (SCVMM) contains native tools to help administrators make sense of the often complex VM network web. Better still, these tools are really easy to use -- if you know where to find them.
Create a VM network diagram
The easiest way to view VM network connectivity is to open the SCVMM console and then go to the VMs and Services workspace. From there, right click on the VM you wish to examine, and then choose the Connect or View > View Networking commands from the resulting shortcut menus. You can see what this looks like in Figure A.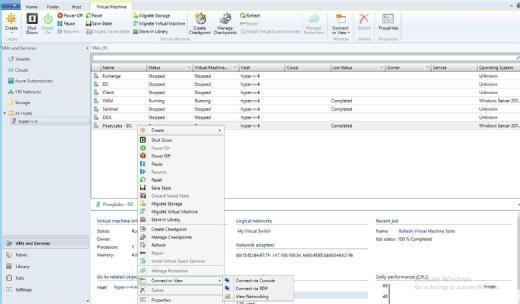 At this point, you'll be taken to a screen that is similar to the one in Figure B, below. As you can see, this screen shows the VM name and the name of the virtual switch to which the VM is connected. At first, this screen might seem minimally helpful. After all, you can easily get this information from the VM's settings screen or PowerShell. However, there's more going on here than meets the eye.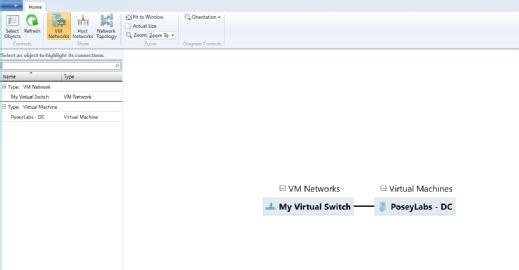 If you look at the figure above, you'll notice that the toolbar contains several different icons, and that, currently, the VM Networks icon is selected. Clicking the Host Networks icon causes System Center to display a completely different view of the networking resources.
As you can see in Figure C, the Host Networks view displays the virtual switches that exist on a host and the physical network interface controllers (NICs) to which the virtual switches are attached. The diagram also shows the relationship between VM networks and logical networks.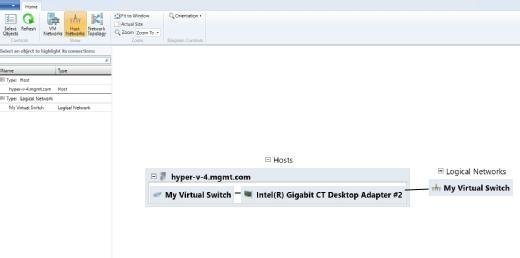 The Network Topology view, which you can access by clicking on the Network Topology icon, displays a higher level view of the relationship between VM networks and logical networks. You can see an example of this in Figure D.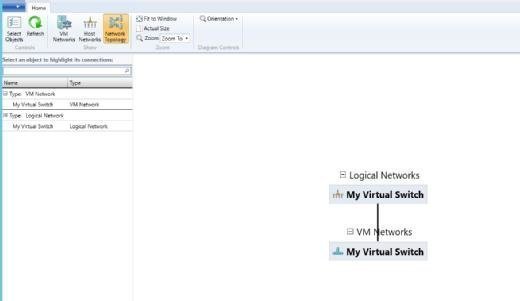 Of course, my lab environment is really simple, but in the case of a more complex environment, these diagrams can become somewhat cluttered. If necessary, you can reduce some of the clutter -- and customize the look of your diagram -- by using the plus and minus signs to expand or collapse various parts of the diagram.
Oh, and in case you are wondering, even though I've created these diagrams using a VM as a starting point, you aren't limited to creating diagrams in this way. You can use the SCVMM console to create network diagrams from other levels of the infrastructure. For example, when I create a diagram from a host server, the diagram displays all of the VMs that are connected to the host's virtual switch, as shown in Figure E.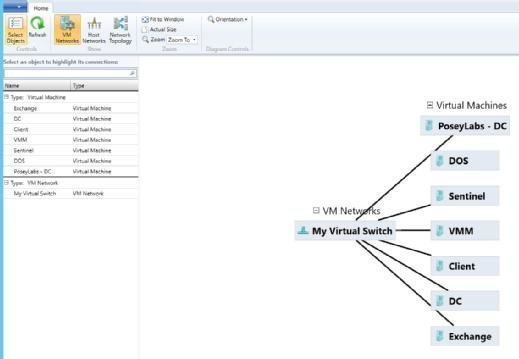 Export the VM network diagram to Visio
As helpful as it might be to have a graphical diagram of your VM network, SCVMM has one more feature that's worth mentioning.
If you look back at Figure B, you'll notice that the upper left corner of the screen capture contains an icon that looks like a down arrow -- the icon is located just above the Select Objects icon. Clicking on this icon reveals an option to export the diagram to Microsoft Visio. From there, you can print, edit or modify the diagram as needed.