Rawpixel - Fotolia
Using SCVMM 2012 R2 to manage your virtualization infrastructure
There is a lot of flexibility when you manage your virtualization infrastructure with SCVMM 2012 R2. But here are some guidelines to follow when doing so.
Microsoft's System Center Virtual Machine Manager does a great job in managing the multi-hypervisor platform. You can manage Hyper-V, Citrix XenServer, and VMware ESXi virtualization hosts, but handling all aspects of a virtual environment can be complex if SCVMM isn't properly configured. You would need to follow basic guidelines when configuring the SCVMM environment for managing Hyper-V and other virtual platforms. Before adding the virtualization hosts under SCVMM management, you would need to prepare the environment, for example creating Run As accounts, defining user roles, creating SCVMM hosts groups, configuring SCVMM general settings, defining VM networks and creating port profiles. Here are the basic guidelines you can follow to provide you greater flexibility and control when managing the virtualization environment through SCVMM.
Create Run As accounts: Don't just jump into adding virtualization hosts with SCVMM. I recommend that you create the necessary Run As accounts. Run As eliminate the need for typing in the username and password repeatedly when performing several administrative tasks on the virtualization hosts. The Run As accounts are also required when adding a virtualization host and storage devices with SCVMM.
However, think about how many Run As accounts you will need to create in the SCVMM. It depends on the virtualization hosts you are running in the environment. For example, since you should join the Hyper-V hosts to an Active Directory domain, you would need an Active Directory user account that has administrative privileges on the destination Hyper-V hosts. For ESXi hosts, you would need a user account that has root credentials on the ESXi hosts. Similarly, you would be required to add a root user account that has administrative credentials to manage Citrix XenServer hosts. Please note that Active Directory domain accounts are not supported for ESXi hosts.
When naming the Run As accounts, plan a proper naming convention. Doing this can help you identify the accounts when performing a task. In terms of management, naming the Run As account after the host could help you differentiate between hosts. For example, naming the Hyper-V host, "Hyper-VRunAs Account" would make it easier to identify. Once you are done creating the necessary Run As accounts, proceed to define the user roles in SCVMM. Note that only administrators and delegated administrator user roles can create Run As accounts in SCVMM.
Define user roles: You may not be the only one responsible for managing all the aspects of the SCVMM. You may want to assign SCVMM tasks to a number of IT teams. Since SCVMM is modular in design, it supports role-based access model. You can create the necessary user roles depending on your requirement. These user roles, once created, can be used to define the management of objects such as network, private cloud, SCVMM and host group among others. There are four user roles that can be defined in SCVMM: fabric administrator, read-only administrator, tenant and application administrators. SCVMM supports adding Active Directory user accounts to these roles. I recommend that you create necessary security groups in the Active Directory, add user accounts to these security groups and then add Active Directory security groups to the user roles in the SCVMM. As you can see in the screenshot below, when creating user roles you can also select the Run As accounts that you wish to make available to the user role. This indicates that Run As accounts must be setup prior to defining user roles or proceeding with other tasks.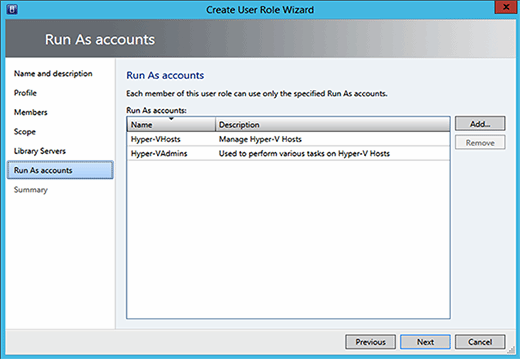 Create SCVMM host groups: Create necessary host groups in SCVMM based on the physical locations and your requirements. There is a default group available in SCVMM called "All Hosts," which can't be deleted or renamed. All other SCVMM host groups are created beneath the All Hosts SCVMM group. Keep in mind that a host group in SCVMM is a management unit for storage and networking components. The SCVMM host groups provide granular control over management of storage and networking as well as benefits such as allocating storages, configuring placement rules and configuring other properties for the virtualization hosts that have been added under these host groups. To decide on the number of SCVMM host groups, think about how many physical locations you have. If you have four data centers located in Seattle, Dallas, Singapore and South Africa, you would create four parent SCVMM host groups. But you might not just be limited to four parent SCVMM host groups. If you have four buildings in a data center and each building is running a group of virtualization hosts, you might also want to create four child SCVMM host groups as shown in the screenshot below: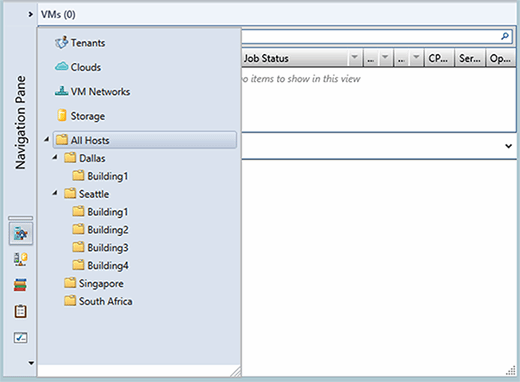 Configure SCSCVMM general settings: Before you start to proceed with the next task, configure the SCVMM general settings. When you add a Hyper-V host that already has a virtual switch defined, SCVMM will automatically create a logical network based on the criteria defined in the Network Settings page. The logical network is created based on the first DNS suffix label configured on the network adapter of the Hyper-V host. The automatic creation of logical networks is not desirable if you have already your own planning. This might create confusion later when you want to define the logical networks in the SCVMM. Therefore, as a best practice, you must disable the automatic creation of the logical networks. To disable automatic creation of logical networks, all you need to do is to uncheck "Create Logical Networks Automatically" option from the Network Settings page as shown in the screenshot below.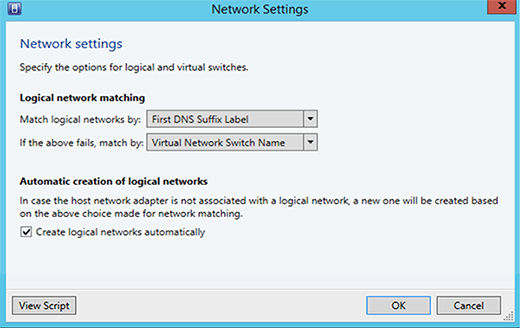 Define VM networks and creating port profiles: At this stage, you can define the VM networks, logical network sites and create IP pools. You will need to pay particular attention to IP pools. The basic idea behind creating an IP pool is to allow SCVMM to deploy virtual machines with IP configuration. You may or may not want to create IP pools. For example, if you have DHCP servers running on one of the locations, you might not want to create the IP pools for a particular location. SCVMM also offers creating port profiles for an object with identical capabilities. For example, you can configure identical capabilities, such as enabling DHCP guard, enabling router guard or enabling SR-IOV in a port profile and then apply the port profile to the network adapters of virtualization hosts.
Next Steps
How to add new Hyper-V hosts to SCVMM
Manage SCVMM from anywhere with PowerShell Remoting