Using and configuring Hyper-V virtual Fibre Channel
You won't use Hyper-V's virtual Fibre Channel feature for every VM, but it can help you virtualize more storage-demanding workloads.
One of the challenges virtualization admins face is deciding whether to virtualize workloads that might require a lot of storage or high disk I/O. In past versions of Hyper-V, there have been options for adding pass-through disks that linked to volumes directly mounted to the Hyper-V host to a VM, but that approach added complexity and had serious limitations.
Windows Server 2012 Hyper-V includes a new feature that allows the use of virtual Fibre Channel adapters, opening the door for admins to virtualize workloads with high storage demands.
Why do you need virtual Fibre Channel?
In general, you will not use virtual Fibre Channel on the majority of your VMs, but it allows you to bring in workloads that you may have excluded from your virtual infrastructure in the past.
VMs with large storage footprints: In the past, VMs that needed production performance required fixed or fully expanded disks. Fixed disks, however, require that you provision the full size of the VHD/VHDX disk space on expensive storage area networks (SANs). Virtual Fibre Channel connections now allow you to better utilize the native features of your SAN storage (i.e., thin provisioning and deduplication). Now you can provision multiple terabyte disks without having to utilize all of that space at the time you provision the server.
VMs demanding high performance storage: Pass-through disks were the only option for getting optimum disk performance before Windows Server 2012. Performance loss was acceptable for some workloads, but pass-through disks had some limitations -- especially their lack of true Live Migrations. Virtual Fibre Channel removes the limitation on Live Migration by allowing for the native use of multipath software to accommodate the coordinated transition between Hyper-V cluster nodes without losing disk connectivity.
Clustered VMs for application high availability: Fault-tolerant VMs have been a key feature of Hyper-V. If a node in the cluster failed, all VMs would start on another surviving host. This works from an operating system level, but many applications do not restart after such a failover. The ability to cluster VMs using a shared Fibre Channel connection to shared storage enables application high availability as well as VM cluster node fault tolerance. Virtual Fibre Channel attached disks give you the best of performance to mimic your physical server configurations.
How to create a virtual Fibre Channel SAN for Hyper-V
Having a VM directly target a SAN reduces the virtual host complexity and limitations of pass-through disks. Before you start, however, there are a few important host considerations.
Firmware and drivers of your host bus adapters (HBAs) and LAN on motherboard (LOM) chips need to be up to date for all nodes of a cluster. Standardization is critical to maintaining stability.
You will also need to make sure the HBA/LOM cards support N_Port ID virtualization (NPIV) and that it is enabled on the card. This will effectively allow the HBA/LOM to hand out World Wide Name (WWN) or World Wide IDs to the virtual Fibre Channel adapters within your VM. The image below shows an example of how to enable NPIV, using the Emulex OneCommand Manager software.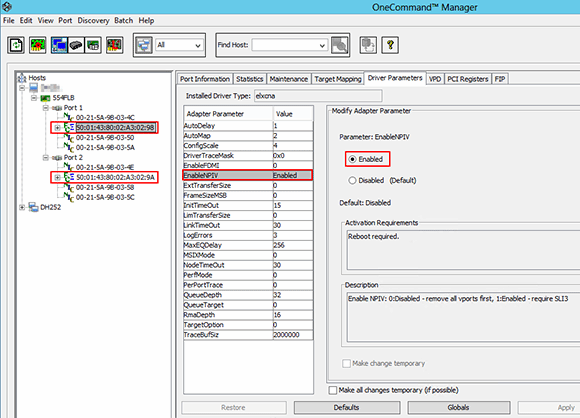 How to enable NPIV, using the Emulex OneCommand Manager software
Once you have the correct drivers and firmware on your hosts and you have enabled NPIV, you will need to define a virtual Fibre Channel SAN on the hosts. Since the configuration of this feature is not yet supported in System Center Virtual Machine Manager 2012, you will have to use Hyper-V Manager to perform these steps on each host individually. An important tip to remember for your configuration is, like configuring virtual network switches, having the exact name across all of your Hyper-V hosts is critical if you want to reduce configuration changes when your VM is moved to another host. This standardization is a requirement if you are going to have a VM with a virtual Fibre Channel adapter that resides on a Hyper-V host cluster or if you will be utilizing Live Migration between standalone hosts. See the video below on how to configure a Virtual Fibre Channel SAN.
Considerations for using Virtual Fibre Channel attached disks
The Hyper-V VSS writer does not allow for the backup of virtual Fibre Channel attached disks using host based backups. For VMs utilizing these types of disk, you will need to install a backup agent inside the VM and disable your backup software. From a backup perspective, you will essentially be treating this VM as if it was a physical server.
You will have to work with your network or storage teams more as there will be Fibre zoning that needs to take place at the Fibre switch level and at your SAN storage.
Using the new virtual Fibre Channel option to virtualize more workloads will translate into hard dollar savings, which CEOs and CIOs love to hear.
There will be some technical differences from other VMs when using virtual Fibre Channel attached disks that need to be taken into consideration, but the method of backing up and additional Fibre zoning mimic what you would do in a physical environment except without the physical server footprint. With the disk I/O speed and the small data-center footprint of a VM, you can now have the best of both worlds. You will have to determine for yourself whether these slight differences make sense to pursue in your virtual environment strategy. What would you use virtual Fibre channel attached disks for? See any potential pitfalls?