Virtual desktop infrastructure with Sun Ray 2 devices
The Sun Ray 2 series of physical client devices allows you to manage bandwidth, support multimedia and gives you options for peripheral connectivity in a virtual desktop infrastructure (VDI) at a competitive price. An expert looks at the capabilities of Sun Ray 2 in this tip.
Getting started with a virtual desktop infrastructure (VDI) is no easy task. Any administrator in the process of choosing a device and broker will tell you that in many areas, desktop virtualization requires more planning than server virtualization. While the benefits of VDI are clear concerning management, data protection, security, device cost and lifecycle, the mechanics of getting started can be daunting. In this tip, I will introduce you to one option for VDI: The Sun Ray 2 series of devices.
VDI starts with device selection
Selecting a VDI product is really a choice among three main categories: Device, broker, and hypervisor. While each component is critically important, the device selection is often one of the first steps in most scenarios. This is due to the user experience requirements usually steering the device selection process to match needs. The Sun Ray 2 series of devices includes refined products that operate nicely in today's VDI landscape regarding network transport, multimedia, I/O redirection and a price point that may surprise you.
Thin is in, but bandwidth use is still important
Each VDI product will manage bandwidth uniquely, but for Sun Ray devices this is actually old hat. Sun Ray devices communicate to Sun Ray Server Software (SRSS), which is currently at version 4.10.08. The communication between the Sun Ray device and SRSS uses Sun's proprietary Appliance Link Protocol (ALP). ALP is an optimized, mature protocol for delivering the display to the Sun Ray device and transferring input from devices to the SRSS.
Since its initial release in 1999, ALP has continually made improvements; most recently for wide area network (WAN) usage scenarios. The original Sun Ray devices, which are nearing 10 years old, can still connect to a brokered SRSS connection and deliver current guest operating systems such as Windows Vista and XP to the first generation Sun Ray.
For any VDI solution it's important to determine the volume of network traffic from the user device, and also to the destination virtual machine (VM). In the case of a Sun Ray device deployment, ALP is used only from the device to the Solaris or Linux system that is running SRSS. The SRSS server functions as a protocol broker of sorts to deliver whatever desktop is configured. Communication to the actual Windows XP, Vista or Windows Server 2003/2008 system would exist as remote desktop connection traffic between the actual Windows-based VM and the SRSS server. This functionality exists in the form of connector software for the Sun Ray series. At VMworld 2008, Sun announced that SRSS will connect into VMware-based VDI in order to broker Windows-based VMs to Sun Ray devices. This will put the guest virtual machines in a VMware-based hypervisor environment, which is a popular choice for VDI infrastructures due to the memory overcommit technology of ESX.
Sun Ray I/O and multimedia support
Multimedia support and performance are some of the more hot-button topics related to any VDI implementation, and the Sun Ray devices deliver robust options. While there is no OS on the Sun Ray devices, the architecture between the APL, SRSS and various connectors allow the Sun Ray 2 series of devices to use local computing resources, including the processor, to perform the decoding of the video.
This is made possible when the Sun Ray Connector for Windows is used on the guest virtual machine. If you do not have current multimedia support in the client computing environment, it would be a good time to plan on what type of multimedia redirection (MMR) you plan on supporting. In my opinion, it's just a matter of time before it's a requirement that MMR be available. By building a VDI solution around an optimized transport system like Sun's APL, a framework is in place for solid multimedia utilization while keeping the network usage reasonable.
The Sun Ray devices also offer unique options concering peripheral connectivity. While the USB connectivity is relatively standard for accessing removable media on the device and can be configured through policy, the Sun Ray devices also offer an RS-232 serial port. While mainstream IT has long since moved away from the serial interfaces in favor of USB and Ethernet-attached peripherals, there are plenty of use cases for serial ports. For example, they can be used for point-of-sale and industrial technology applications. The Sun Ray devices can support local RS-232 serial port mapping to the back end Windows system. This is welcome news for a line of business applications that may otherwise be inhibited from embracing desktop virtualization due to the connectivity requirements.
A Sun device? It must be expensive, right?
The Sun Ray 2 series of devices is a slick unit from a design engineering perspective, and you may be surprised at the actual price of the device. One feature that may seem to make the price point of the device go up is the ISO-7681-1 smart card reader. This is available on other VDI devices, but all models of the Sun Ray 2 series include this interface. Even with the smart card reader, the Sun Ray 2 Virtual Display Client (VDC) device has a list price of US $249. The price point is either competitive with, or a better than, any top brand device in the market. The figure below shows a Sun Ray 2 VDC: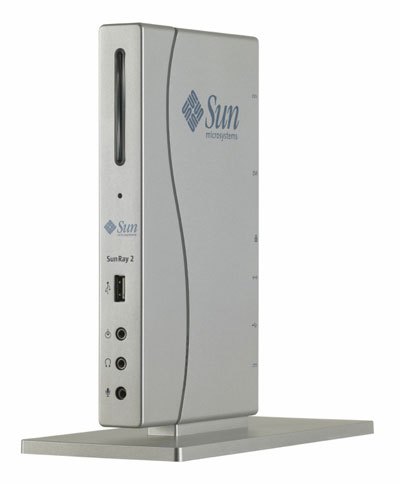 For VDI applications where a monitor and thin client device would be best suited as one piece of equipment, the Sun Ray 270 VDC features a built-in 17 inch flat panel monitor which creates an attractive all-in-one device. The Sun Ray 270 VDC has a list price of $699 and includes the smart card reader like the other models as well as additional peripheral connectivity. The Sun Ray 270 is shown below with the built-in display: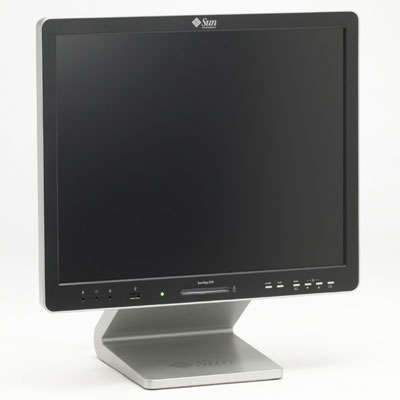 Rounding out the current series of Sun Ray 2 devices, the Sun Ray 2FS VDC offers a native dual-display device using DVI video adapters as well as a fiber networking interface. The Sun Ray 2FS has a list price of $499 to deliver the dual screen functionality, as well as expanded connectivity.
Is Sun rising?
While the device selection process is important, it is not the only factor. Administrators and managers must consider cost, infrastructure investments, platform footprints, storage, networking and other factors which are critical in the process. The Sun Ray 2 devices deliver a great user experience and have several options for back-end configuration to meet most requirements. The use of the Appliance Link Protocol, while proprietary to Sun, is an optimized transport that allows the device to be simply a device. Updates and connection changes at the Sun Ray server-level allow administrators to be quite agile in what is delivered to the devices compared to most device, broker and hypervisor relationships.
ABOUT THE AUTHOR: Rick Vanover (MCSA) is a systems administrator for Safelite AutoGlass in Columbus, Ohio. Rick has over 12 years IT experience and focuses on virtualization, Windows-based server administration and system hardware.

Dig Deeper on Oracle VM and other virtualization technologies