Manage
Learn to apply best practices and optimize your operations.
Virtual machine management with Virsto One
There are only a few virtual machine management tools for Hyper-V, but Virsto One can help with storage provisioning and improving VM performance.
As IT pros add more virtual machines (VMs) to their infrastructure, they need virtualization management tools for role-based management. Virsto One virtual machine management software provides better control over thin storage provisioning for Microsoft Hyper-V installations.
Using Virsto One for virtual machine management
Administrators want to provision virtual drives to have plenty of room to grow when demand arises, but they also don't want to overprovision, leaving a lot of empty space on physical hard drives that never gets used by VMs.
This is where Virsto One can help. Virsto One virtual machine management software only works with the Windows Server 2008 R2 version of Microsoft Hyper-V and must be installed on every Hyper-V physical server to manage its storage pools. The virtualization management tool is a snap-in module to the same Microsoft Management Console (MMC) that runs Hyper-V, so the learning curve is short (see Figure 1).
Figure 1
This is the main MMC console for Hyper-V, showing our running VMs that were setup by Virsto One. (Click image for an enlarged view.)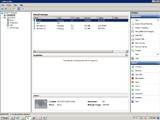 Virsto One storage provisioning
The idea of this virtual machine management tool is to make dynamic storage provisioning easier and provide the best possible performance. No matter how your storage is attached -- Fibre Channel, network-attached, iSCSI, direct-attached or Ethernet -- you only have to configure a new storage device once when it is first hooked up to your storage network. From there, Virsto One provides storage provisioning by managing the storage pools and parceling it out to the appropriate VMs.
There are several ways to create virtual disks with Virsto One virtual machine management software. You can import or copy existing virtual hard disk images that were created by ordinary Hyper-V or Virtual PC hypervisors, or you can create one from scratch. Once you have a virtual disk, mount it under Virsto One, attach it to the appropriate Hyper-V server and start the VM. You can start and stop VMs in the Hyper-V control panels, just as you would normally (see Figure 2).
Figure 2
As you can see here in Hyper-V's main control panel, you start and stop the VMs in Hyper-V the same way with or without Virsto One. (Click image for an enlarged view.)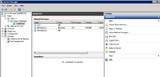 But when it comes to backup software, Virsto One is tricky. To ensure that VMs are properly backed up, you need to understand how to make VM snapshots, to clone them, and to present the clone to another host machine. The host machine needs to be accessed by backup software that provides Microsoft's Volume Shadow Copy Service (VSS).
Also, Virsto One is an MMC snap-in, which means anyone with rights to the Hyper-V Role can make adjustments to your storage pool -- perhaps unintentionally. So it's important to carefully audit your permissions for this role and give access only to trusted users.
Virsto One virtual machine management software makes it easier for admins to control storage provisioning but here are some key details before you begin.
About the author
David Strom is an expert on network and Internet technologies and has written and spoken on topics such as VOIP, convergence, email, network management, Internet applications, wireless and Web services for more than 20 years. He has had several editorial management positions for both print and online properties in the enthusiast, gaming, IT, network, channel, and electronics industries.
Dig Deeper on Virtual machine performance management